Demonstrators and activists gathered worldwide on Sunday for a second day of Women's Marches, a year after millions worldwide rallied to highlight women's issues and challenge the presidency and policies of Donald Trump.
This year's marches coincide with the anniversary of Trump's first-year in office, and activists have focused the agenda on voting.
In the United States, thousands attended the Women's March: Power to the Polls event as the official anniversary rally in Las Vegas on Sunday.
Planned Parenthood President Cecile Richards lauded the progress activists had made since the march a year ago.
"When our country was in free fall, the Women's March got us out of our despair and out of our homes and into the streets, and ever since that day, women have been shaking the foundation of America," she said Sunday at Sam Boyd Stadium in Las Vegas.
Related: The anti-Trump 'Resistance' turns a year old — and grows up
Democratic Nevada lawmakers who are in Washington working to resolve the government shutdown — including Sen. Catherine Cortez Masto and Reps. Jacky Rosen and Dina Titus — gave their support for the march via video messages.
"I wish I could be with you, but I'm in Washington trying to reopen to government for the good of the American people," said Titus, who represents of Nevada's 1st Congressional District.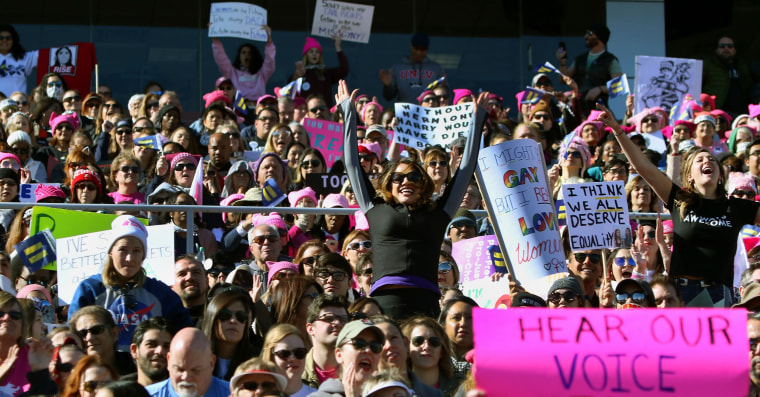 "But today, we march in the streets, then we march to vote, and then we march into the halls of government — into statehouses, school boards and the U.S. Congress," she said. "So much is at stake, and women can make the difference for our children, our Dreamers, our environment and our economy."
Nina Turner, president of activist group Our Revolution and a former Ohio state senator, noted that many of the march's leaders were women of color.
"Some folks don't want to give the Women's March the credit that they deserve for being an organizational movement that is led by women of color," she said to cheers and applause.
Organizers described the rally as "an event that will launch a national voter registration tour one year after the historic Women's March on Washington," according to a statement on the march's website.
"This next stage of the movement will channel the energy and activism of the Women's March into tangible strategies and concrete wins in 2018," the statement said.
"We are the leaders we have been waiting for," reads a banner atop the statement.
Alicia Garza, co-founder of Black Lives Matter and special projects director for the National Domestic Workers Alliance, echoed the sentiment Sunday.
"Let me just start off by reminding us that we are who the world is waiting for," she said. "There is no force in the world that is more powerful than those who have been denied justice and safety and dignity, because these things are our birthright."
"This moment calls us to change the balance of power so that all of us get to access our birthright," she added.
Marches were scheduled take place in other cities, including Phoenix; Miami; Orlando, Florida; Knoxville, Tennessee; and Topeka, Kansas.
This year's rallies are also taking place amid the global #MeToo movement against sexual harassment, misconduct and abuses of power.
More than 14,000 demonstrators gathered in downtown Knoxville on Sunday, according to the Knoxville Police Department. Meanwhile, while about 20 white nationalists marched against them before leaving area about an hour later, according to the Knoxville News-Sentinel.
In Miami, more than 1,000 demonstrators gathered, waving signs and cheering in the city's Wynwood district, according to NBC Miami.
Demonstrations were also expected in London, Paris, Berlin, Sydney and other European and Australian cities.
In London, demonstrators carried placards reading "We Are Powerful" and "Time's Up" and chanted outside Prime Minister Theresa May's office as they raised grievances ranging from workplace inequities to misogynistic abuse on social media, according to The Associated Press. The demonstration drew thousands of people, despite sleet and snow.
On Saturday, hundreds of thousands gathered nationwide, many with signs and signature pink hats, for the first round of this year's Women's Marches.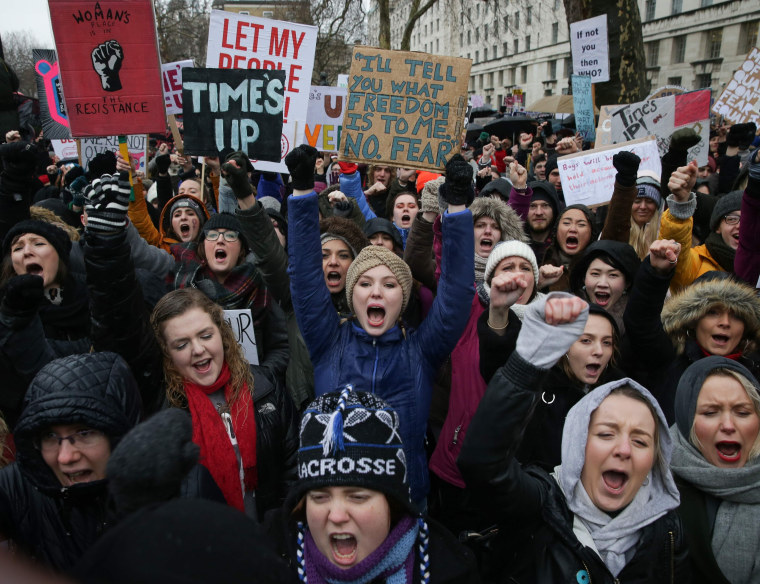 The largest demonstrations appeared to take place in Los Angeles, where authorities said there were about 600,000 attendees, and in New York, where about 200,000 people participated. Tens of thousands of people gathered in San Diego and Oakland, California, according to authorities. Demonstrators also rallied in Milwaukee, Denver, Dallas, Montgomery, Alabama, and many other towns and cities all over the country.
"We are proud that the movement ignited one year ago today is strong, loud, and undeterred," the organization said in a statement on the eve of the March. "It's exciting to see how many people are still eager to organize marches and hit the streets."