Former House Speaker Dennis Hastert could get up to six months in prison after pleading guilty Wednesday in his hush-money case.
The once-powerful Republican admitted making illegal bank withdrawals for payoffs, which sources say were used to quash allegations of sexual misconduct with a student when he was a high-school teacher and coach decades ago.
Hastert did not plead guilty to a second charge that he lied about the transactions, but admitted he misled investigators.
"I didn't want them to know how I intended to spend the money," he said.
The reason for the payoffs was not detailed in court. It was referred to only as "past misconduct." The identity of the former student — called Individual A in court papers — also was not disclosed and may remain secret.
Prosecutors told the court that Hastert agreed to pay Individual A $3.5 million and illegally structured $952,000 in withdrawals to avoid triggering red flags.
"Guilty, sir," Hastert said when asked his plea.
U.S. District Judge Thomas Durkin asked him if he knew what he was doing was wrong.
"Yes, sir," he replied.
Hastert, 73, will be sentenced Feb. 29. Prosecutors are recommending up to six months behind bars, but the judge could impose a stiffer sentence.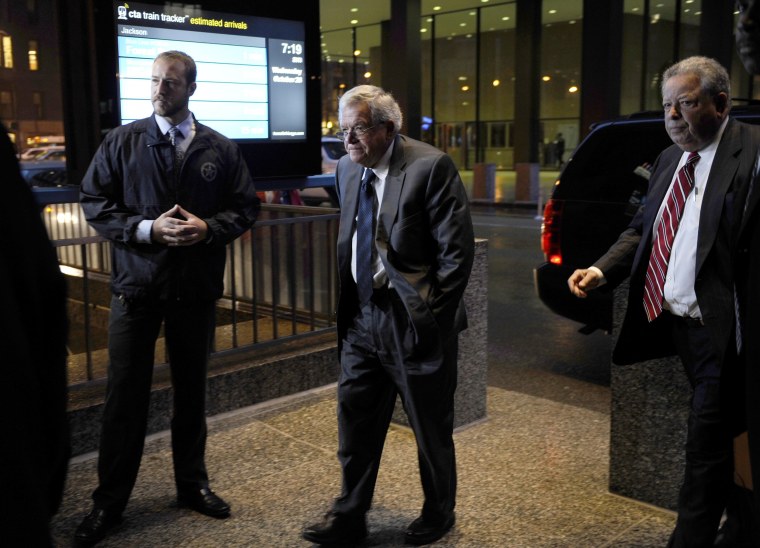 "As part of the sentencing process in this case, as in all cases, we will provide the Court with relevant information about the defendant's background and the charged offenses, and the defendant will have an opportunity to do the same, so that the Court can impose an appropriate sentence taking into account all relevant factors in the case," the U.S. attorney's office said in a statement.
Hastert, who led the House for eight years before retiring in 2007, was indicted in May.
The court papers did not accuse him of sexual abuse; instead, he was charged with evading banking laws to pay off Individual A. Federal law enforcement sources have said "Individual A" was a student at Yorkville High while Hastert was a teacher and coach there decades ago, and that the misconduct was sexual in nature.
Shortly after Hastert was indicted in May, a Montana woman named Jolene Burdge came forward with claims that Hastert had abused her brother, Steve Reinboldt, a Yorkville grad who died in 1995 of AIDS complications. Reinboldt, however, is not Individual A.