DENVER — A Denver police officer fatally shot a man she thought was armed with a knife when he lunged at her, but he actually was holding only a black marker, investigators said Monday.
Body-worn camera video showed the man, Brandon Cole, 36, raising the marker to chest level as he charged the officer the night of Aug. 5. The officer, whose name has not been released, shot Cole twice.
A woman and a young child directly behind him in the video were not injured and were not involved in the initial call to police.
"This is a tremendous tragedy," Chief Ron Thomas said during a news conference Monday. The Denver District Attorney's Office will determine if the officer acted legally when she shot Cole.
A neighbor had called 911 to report potential domestic violence involving Cole, his wife and his teenage son, The Denver Post reported. Police Cmdr. Matt Clark said Monday the caller reported that the woman may have been pushed out of her wheelchair, and said Cole was "going after" his son.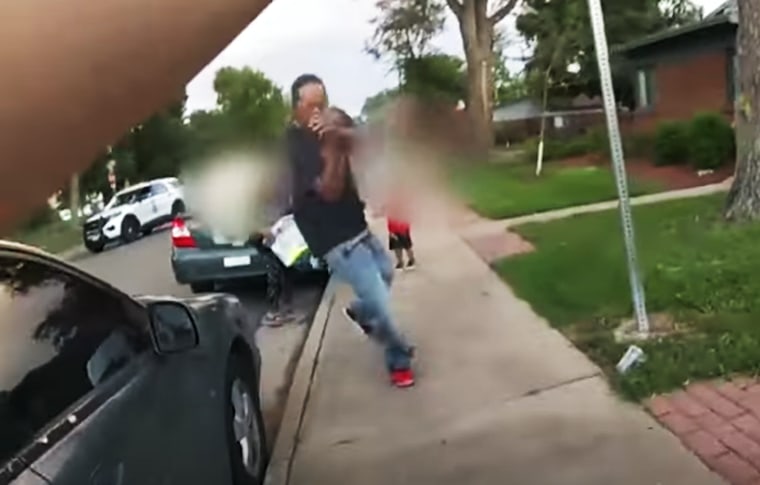 When officers arrived, the woman was sitting on the street next to a wheelchair and told an officer, "Don't, don't pull your gun out on my husband, please," the body camera video showed. Cole then started shouting and was shot with a stun gun when he walked toward one of the officers.
Investigators said they believe only one probe from the stun gun struck Cole and did not prevent him from charging the other officer, who shot and killed him.
"You can see in the video that when she finally deploys her duty weapon, the person is so close to her that the view of the young child and other person are not even clear to her," Thomas said. "Certainly that was a consideration, but there was not much time to act before she was overrun by that individual."
The officer who shot Cole has been with the police department since 2019 and has not been involved in any other shootings.