Donald Trump Jr. is expected to appear in a closed-door session before the House Intelligence Committee next week, a committee source told NBC News.
President Trump's eldest son has met with the Senate Judiciary Committee, but this would be his first appearance before an intelligence committee investigating possible collusion between the Trump campaign and Russia.
Trump Jr. is expected to be asked about his June 2016 Trump Tower meeting with Russians and his May 2016 encounter with Alexander Torshin, a Russian close to the Kremlin, among many other things.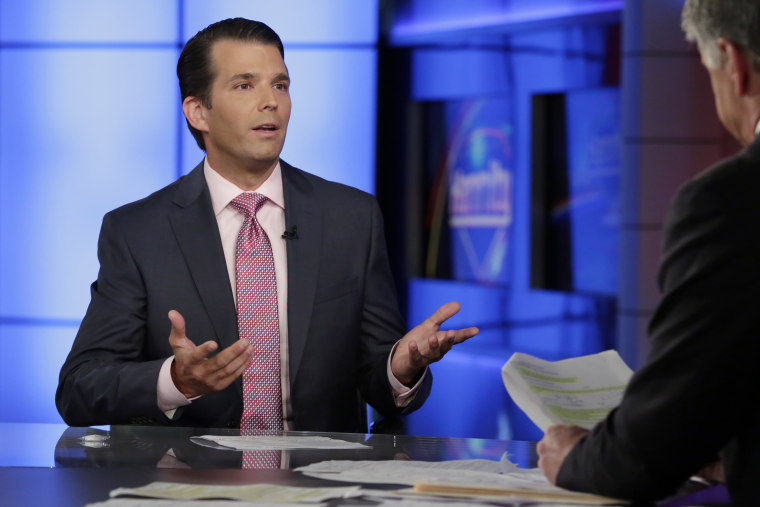 Donald Trump Jr. told Senate investigators in September that he met with a Russian lawyer at Trump Tower during the 2016 election to find out what information she had about Hillary Clinton's "fitness, character or qualifications" for office but that nothing came of the meeting.
Trump Jr. told the Senate Judiciary Committee in a closed-door meeting that he never colluded with the Russian government about the election, but did have legal concerns about using any information that might be provided by the attorney.
"To the extent they had information concerning the fitness, character or qualifications of a presidential candidate, I believed that I should at least hear them out," he said in prepared remarks obtained by NBC News.
A month prior to the Trump Tower meeting, Torshin sat with Trump Jr. during a private dinner in Louisville, Kentucky, according to an account Torshin gave to Bloomberg. The dinner was an NRA event during the gun rights organization's convention. Congressional investigators have no clear explanation for how that meeting came to pass, according to sources familiar with the matter.
Alan Futerfas, lawyer for Trump Jr., confirmed to NBC News that his client spoke with Torshin at the dinner, but he said the men were not sitting together.
"Donald J. Trump Jr. was attending an NRA convention and having dinner when an acquaintance asked him to say hello to Torshin and made an introduction," Futerfas said. "They made small talk for a few minutes and went back to their separate meals. That is the extent of their communication or contact."
Futerfas said the men didn't talk politics, but instead talked about guns.
Spanish anti-corruption officials have identified Torshin, a former senator and deputy head of Russia's central bank, as a "godfather" in the Russian mafia — something Torshin has denied.