Workers in the United States from health care to transportation continue to provide critical services during the pandemic, from delivering packages to driving across the country to distribute supplies to local businesses preparing for emergencies. The NBC News' Social Newsgathering team interviewed essential workers in America about their roles and how they're filling an essential need and meeting demand as cases of the coronavirus increase across the U.S.
Ben Hertle, UPS delivery driver, Minnesota
Ben Hertle has been working as a delivery driver for the United Parcel Service in Maple Grove, Minnesota, for the past decade and is doing so now as packages are needed during this critical time.
"I'm watching person after person after person lose their job, and I have a job and I'm grateful for that, but at the same time, there's so much pain around me that I'm seeing as a driver," Hertle told NBC News.
Hertle, 34, lost his job delivering groceries during the U.S. financial crisis in 2008 and carries a feeling of gratitude for his current position.
He remembers applying for a seasonal job opening on the UPS website in 2010 and then becoming a full-time delivery driver.
"I feel that I'm bringing something that's more than just a box. It's bringing healing and hope," he said from his delivery truck.
Hertle said he and his colleagues maintain limited contact to comply with social distancing guidelines, and he is using hand sanitizer and washing his hands as much as he can.
"I'm carrying medical supplies, I'm carrying very important critical medicine to people, and that's the difference for me," he said.
Douglas Mcconnaughhay, truck driver, Arkansas
An essential need is also being filled by "over the road" truck drivers like Douglas Mcconnaughhay in Arkansas.
"My uncle was a truck driver, and ever since I was a tot and I sat up on his truck, it was just something about it, it just got in my blood," Mcconnaughhay told NBC News.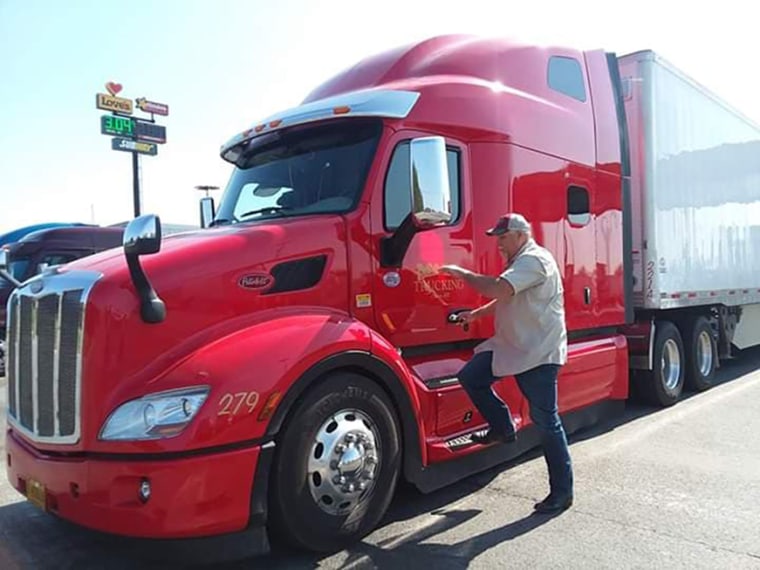 Mcconnaughhay, 54, has been a truck driver for about 25 years and drives across the country delivering a variety of supplies like paper for cardboard boxes and recycling to farmers' supplies and lawn mowers.
He drives 70 hours a week Monday through Friday in a Peterbilt truck and only has about 34 hours to spend with his family in Cabot.
He said one of his biggest challenges is finding a place to buy food while on the road with many restaurants and eateries closed during the pandemic.
He also worries about the fear of exposing his family to the virus when he returns home each week.
"My main issue is I can't bring the virus back home to my wife because of her health issues. I just want to be able to be safe and make sure that my home stays healthy and safe," Mcconnaughhay said.
"To the truck driver, just stay strong and keep on keep on. There's some that have it a lot worse than me," he said.
Matt Kinley, interim fire chief, Seminole County Fire Department, Florida
Matt Kinley is the interim fire chief for the Seminole County Fire Department in Florida, where he's served for 19 years.
Kinley wants to ensure that his staff stay safe and healthy while collectively working to stop the spread of the virus. "We don't want to be in the same position where everybody is sick overwhelming the system," he said.
Kinley said he and his colleagues are spending long hours managing and guiding paramedics and firefighters and command staff on preparation and ensuring that they're protected in the process.
He said his fire department acts as an "all-hazards fire department" helping anyone from a sick patient to responding to a radioactive spill.
"So much extends to our families," Kinley said. "We're all just blessed that we're out here providing a community service, trying to keep the rock stable at home."
The chief has split up command staff into two separate buildings, a public safety building and a training center and identified primary and backup people.
At home, Kinley said his wife is taking care of their two children, 4 and 7, and home-schooling them while taking care of her parents and in-laws.
"I couldn't do what I do without them," he said.
Dr. Alastair Cribb, dean, Cummings School of Medicine at Tufts University, Massachusetts
Dr. Alastair Cribb is a veterinarian and dean of a Massachusetts veterinary school and is ensuring that animal patients continue to get treatment during this pandemic.
"It's very important that veterinary medicine is still available for people that need to care for their animals while keeping everyone as safe as possible," Cribb told NBC News.
For precautionary measures, Cribb said that his clinics are not allowing owners of animals to enter with their pets but instead to allow their staff to pick them up outside.
He said that the Cummings School of Veterinary Medicine loaned out ventilators and donated personal protective equipment to support Tufts Medical Center in Boston to fill a scarcity of resources for health care workers. He said that other U.S. veterinary hospitals have done the same.
"We have other ventilators that we could use short term with our patients," Cribb said.