Glenn Palmer, the longtime sheriff of a rural Oregon county, was preparing to speak at a town hall with protesters who had been occupying a nearby federal wildlife refuge when word trickled through the crowd that something was wrong.
The news traveled fast: While en route to the meeting from the sanctuary, the protesters were stopped by state troopers and the FBI on a deserted stretch of highway. Authorities opened fire after one of the armed occupiers ran from a vehicle, fatally wounding him. It was the most dramatic moment of the 41-day occupation.
"There was sadness. There was shock. There was disbelief," said Jim Sproul, one of the more than 400 residents who packed the Jan. 26 meeting in the town of John Day.
Sproul said some residents looked to Palmer, a 54-year-old law enforcement veteran, because "if there was a threat to citizens of Grant County, he wanted to be there and know about it."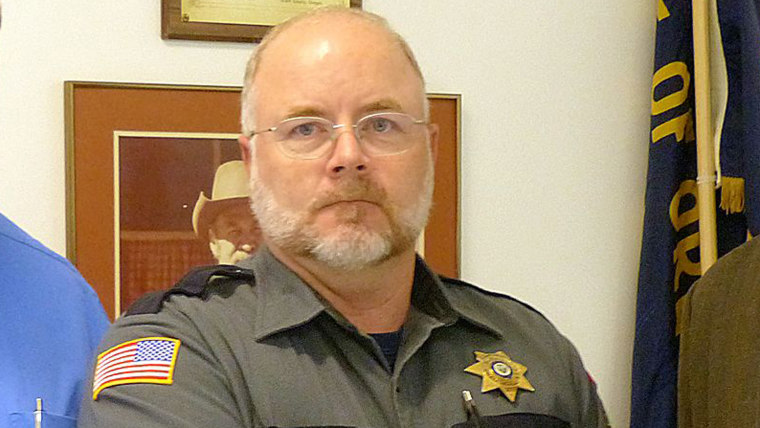 The sheriff, it turned out, had a special interest in the anti-government protest at the wildlife refuge.
The state Department of Justice opened an investigation this week into Palmer, who faces nine complaints, some from government employees, accusing him of promoting a personal agenda "over the welfare and safety of the general public he is sworn to protect."
A state DOJ spokeswoman told NBC News that some of the complaints sent via the Oregon Department of Public Safety and Standards go back several years, even before the occupation began on Jan. 2.
Related: Feds Intercepted Occupation Leaders as Part of Plan: Official
"DOJ's Criminal Justice division is now following-up and investigating one specific complaint," spokeswoman Kristina Edmunson said in an email, declining to provide additional details.
While some of the complaints were filed confidentially, as permitted by law, one was made by John Day Police Chief Richard Gray, who wrote on Feb. 5 that Palmer was seen spending time on the clock with occupiers of the Malheur National Wildlife Refuge in Burns.
Grant County neighbors Harney County, where the wildlife sanctuary is located.
Gray also claimed that Palmer in January spent more than three hours having lunch with two members of the occupation, Jon Ritzheimer and Ryan Payne, who are now both jailed on federal conspiracy charges. Ritzheimer later told The Oregonian that Palmer asked the pair to autograph his pocket version of the Constitution.
"The sheriff has a practical plan for helping unravel the federal government," Payne told the newspaper.
Payne reportedly held a second meeting with Palmer, and law enforcement officials also said the sheriff met with occupation leader Ammon Bundy, according to The Oregonian. Palmer later wrote in an email to the newspaper that no such meeting with Bundy, who is also jailed on a conspiracy charge in connection with the occupation, ever happened — although he did receive a text from him about visiting the refuge.
If there was any question as to where Palmer stood in the debate over the occupation, he told the newspaper at the time that he believed the FBI should be the one to leave the sanctuary.
PHOTOS: A Look Back at the Oregon Occupation
Palmer's apparent blurring of lines between his role as a government official and endorsement of protesters has rankled people such as Gray.
Other local officials, including those in Harney County, sought to distance themselves from the occupiers, many of whom came from out of state and were described by U.S. Attorney General Loretta Lynch as "unlawful" and "criminal."
"I have a great public safety concern when the Grant County sheriff is allowed to openly meet with and be part of this group of lawbreakers," Gray wrote in his complaint. He declined to speak to NBC News this week, citing the open DOJ investigation.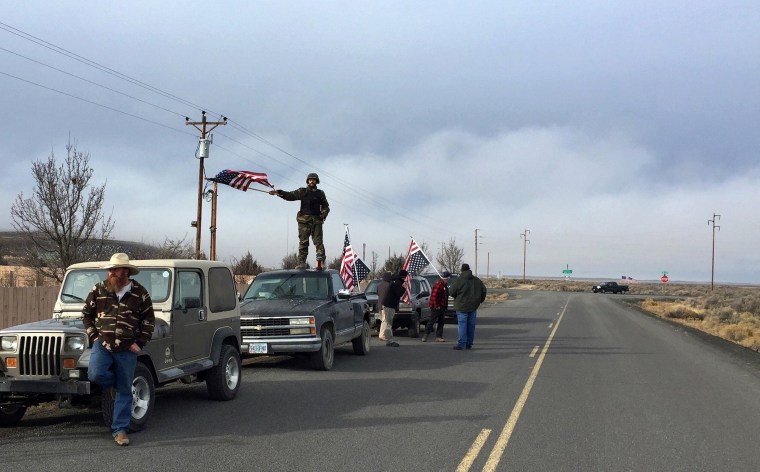 Gray also wrote that Palmer had "lied on several occasions" when he challenged him in the race for county sheriff in 2012. Palmer, who is running for a fifth term as sheriff of his small county of 7,430, won handily against Gray.
Palmer did not return requests for comment from NBC News. If he is found to have violated state training standards as part of his role as sheriff, he could lose his certification — a requirement for holding his office.
The Department of Public Safety Standards and Training said sheriffs have resigned in such cases in the past, although they could technically argue that the state statute only requires that an elected sheriff be certified within a year of taking office and doesn't say they must retain certification.
Palmer also counts himself as a member of the Constitutional Sheriffs and Peace Officers Association, which bills itself as the "last line of defense standing between the overreaching federal government and your Constitutionally guaranteed rights."
"The Constitution, the oath of office, a Pledge of Allegiance to the flag, that means something to that man."
Online forums, newspaper letters to the editor and blogs supporting Palmer have referred to the investigation against him as a "witch hunt."
His friend, Sproul, said the attacks are being carried out by his political opponents — some state and federal employees — who don't like that he's openly questioning government policies.
With the area's history as a logging, ranching and farming community, some residents have been frustrated by what they see as a takeover of once-private lands by a government working in tandem with environmentalists. Palmer was born and raised in the county's rugged and rolling landscape that is now majority-controlled by federal agencies.
"It all has to do with his stance as a constitutional sheriff," Sproul said of the criticism. "He stands for the people of the county. I don't understand why anyone would be against him."
Ammon Bundy, the son of famed Nevada rancher Cliven Bundy, appears to be one of his admirers.
In a recorded message this month from jail and posted on Facebook by supporters, Bundy slams the DOJ investigation of Palmer as "appalling" and asks followers to "stand with Sheriff Palmer."
"Sheriff Palmer was the only sheriff in Oregon that I know of that did not allow himself to get caught up in the political deception that the people of Burns were in danger while we were at the refuge," Bundy said. "Sheriff Palmer went to the source and found the truth."
Bundy was en route to the community meeting that Palmer was due to speak at when state and federal officers arrested him at a roadblock.
An occupation spokesman, Robert "LaVoy" Finicum, was killed when authorities say he jumped out of the car he was driving and appeared to twice reach for his jacket, where agents say he was stashing a loaded 9mm handgun.
"There are things more important than your life and freedom is one of them," Finicum previously told MSNBC from his occupation post. "I'm prepared to defend freedom."
Sproul said Palmer understands that sentiment, and has merely aligned himself with the ideals that personal rights should trump federal overreach.
"The Constitution, the oath of office, a Pledge of Allegiance to the flag, that means something to that man," Sproul added. "This sheriff's for the people."