An F-16C military fighter jet crashed Wednesday morning two miles south of Joint Base Andrews, shaking homes in suburban Washington, D.C., and sending thick black smoke into the skies, military officials said.
The pilot ejected successfully in a wooded area of Clinton, Maryland, at around 9:15 a.m. ET and suffered non-life-threatening injuries, Joint Base Andrews tweeted.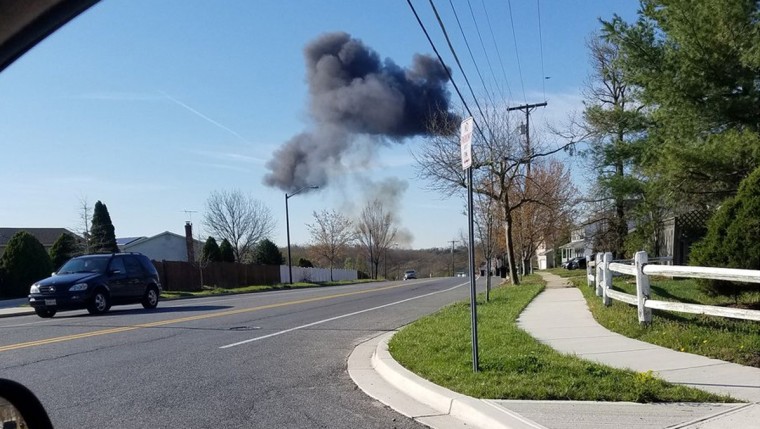 The single-engine jet, which is part of the D.C. Air National Guard's 113th Wing, carried only one person — an update from earlier reports that a second person was on board, base officials said.
"The aircraft was flying along with other DCANG aircraft in a routine training mission in the greater Washington area," the base tweeted.
After parachuting from the plane, the pilot managed to radio for help, NBC News learned.
He was taken to a hospital where he was in good condition after suffering minor injuries, fire officials said at a Wednesday afternoon news conference.
The jet 's final stop came perilously close to homes — some just 200 yards away, the Prince George's County Fire Department said. There were no immediate reports of injuries on the ground or damage to homes.
Some roads surrounding the crash site were closed and homes were temporarily evacuated, reported NBC Washington. Investigators were looking into whether munitions were stored on the aircraft, which could pose a safety hazard.
One resident told NBC Washington that she's used to jets performing training missions in the area, but when the crash occurred, her home shook "like an earthquake."
"I heard a really loud boom," she said. "I was really concerned about my neighbors and whether (the plane) hit someone's home."
Military officials continued to investigate the cause of the crash.
"Very fortunate that we didn't have any lives lost today," Ben Barksdale, deputy chief of the Prince George's County Fire/EMS Department, told reporters.
The Air National Guard's 113th Wing are frontline fighters poised to defend the capital and provide support to other forces. Its F-16Cs can cost about $20 million each.