Call it post-presidential bonding.
Former Presidents George W. Bush and Bill Clinton traded anecdotes on aging, politics and, of course, the joys of being a grandparent on Thursday night.
"When you become a grandfather you fall in love," Clinton said as he shared a stage with Bush at the graduation of the inaugural class of the Presidential Leadership Scholars program in Dallas.
The two men, who have reportedly become close friends since leaving office, indulged in some gentle ribbing.
"Clinton and I are getting a little long in the tooth these days," Bush said, to which the 68-year-old Clinton shot back: "This is the one month of the year when he's older than me — so speak for yourself." Bush turned 69 on July 6.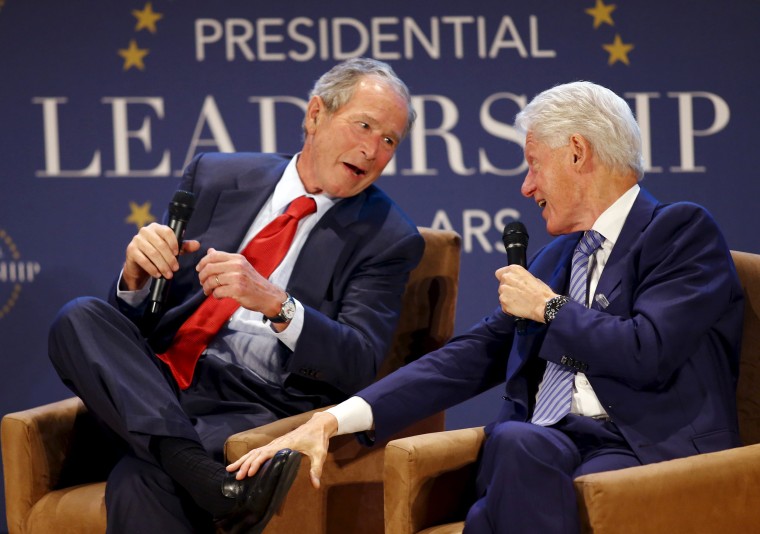 Bush said he was confident that his brother Jeb Bush, the front-runner in the Republican race for presidential nomination, and Clinton's wife Hillary, widely tipped to win Democratic nomination, would "elevate" the political discourse.
"We've got a lot of tough decisions to make, that's all I really care about," Clinton said. "Besides, I know who I'd like to win."
Bush also weighed in on the need to reach across the partisan divide in Washington.
"I do thinks its important to create an environment amongst even those who are less likely to vote for you to, of cordiality," Bush said. "I mean, one of the most unique relationships I had was with [former Senator] Ted Kennedy."