Fort Lauderdale-Hollywood International Airport reopened and was slowly recovering Saturday after the deadly shooting rampage that left five dead and sent thousands of passengers fleeing in terror.
Roads to the terminal opened to traffic at 5 a.m. but the airport warned that flight delays and cancellations would likely continue.
Stranded passengers were offered bedding, food and water by Red Cross volunteers at the city's Port Everglades cruise terminal overnight while the airport was closed following the massacre.
The chaos began shortly before 1 p.m. Friday when Esteban Santiago, 26, allegedly retrieved a gun from his luggage in the baggage claim area and began shooting people.
Passengers were trapped for hours on planes while law enforcement secured the terminal, which became a deadly crime scene.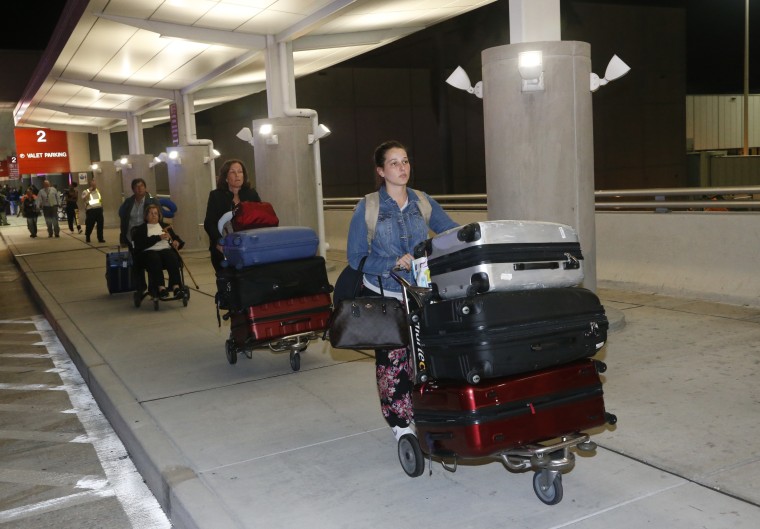 The airport said Saturday it was processing more than 20,000 bags and personal items left from the evacuation. "This is a time consuming and complex process," it said on Twitter.
Some of those caught up in the havoc complained of what they call a confused and ineffective response by authorities.
"The toilets over-flowed, they shut down the toilets," one airline passenger told NBC News.
Another, Edward Hayden, said his flight was supposed to leave at 12:55, and the plane taxied out to the runway. And there it sat.
"My wife is handicapped and it was just a nightmare," said Edward Hayden. "We were in the plane from 12:10 to 8:45. Frankly I feel like the crisis management of this was extremely poorly organized. My wife is handicapped, and it was just a nightmare."
Faith Schall said she hid in a storage room while the shooting took place. When she got out, she said, there was not enough help from officials. "Broward County and the airport ought to be ashamed of themselves," Schall said.
Not everyone was was so upset. Norma Petras, who flew in from Austin, said she spent six hours on the tarmac waiting to deplane.
"You know, Southwest did a really great job," Petras said. "They gave is water and drink, and if they ran low, they resupplied and everyone stayed calm."