Four people remained hospitalized Saturday, three of them critical, after a gunman opened fire on a government building in Virginia Beach, Virginia, killing 11 government workers and a contractor.
Officers shot and killed the suspect, a longtime city engineer, who had entered the building Friday afternoon with his security pass. The victims were found on three office floors, said Chief James A. Cervera of the Virginia Beach Police Department.
A public vigil was scheduled Tuesday evening at a Virginia Beach church.
Among the five injured was an officer shot by suspect DeWayne Craddock, authorities said. He was expected to recover.
"He was saved by his vest," Cervera said.
Of the injured victims in critical condition, two were being treated at Sentara Virginia Beach General Hospital and one at Sentara Norfolk General Hospital, said Howard Kern, president of Sentara Healthcare. A fourth person was in fair condition.
Kern said two people on the hospital staff had lost loved ones in the shooting.
Virginia Beach's emergency services chief in a Facebook post on Saturday praised the community's first responders.
"We treated and transported multiple victims in rapid succession. Our tactical medics operated inside the building under harrowing conditions, EMS Chief Edward Brazle wrote.
The suspect, who had worked for the city for about 15 years as an engineer recently purchased multiple firearms legally, a federal official said. Cervera said the shooter used a semiautomatic handgun and had multiple extended magazines. He also had a suppressor that muffles the sound of gunfire.
Investigators recovered additional weapons at the scene and at the suspect's home, Cervera said.
Authorities said at a news conference Saturday that the suspect lived alone but offered no further details. He was 40 years old, the Associated Press reported.
On Saturday at the home of a family member of the suspect, a sign was posted on the front door, offering condolences to the victims.
"Our thoughts and prayers are with the families of those who loss their lives, and those recovering in the hospital," the message said.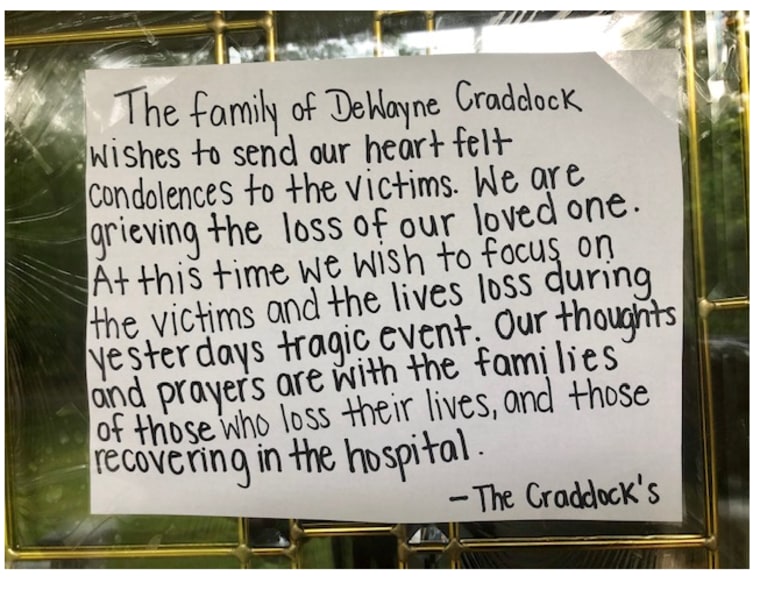 Cervera said four officers initially responded, and "I can tell you it was a long gun battle between those four officers and that suspect."
Authorities identified the deceased victims Saturday as City of Virginia Beach employees Katherine A. Nixon, Richard H. Nettleton, Laquita C. Brown, Tara Welch Gallagher, Alexander Mikhail Gusev, Christopher Kelly Rapp, Ryan Keith Cox, Joshua O. Hardy, Michelle "Missy" Langer and Robert "Bobby" Williams.
Herbert "Bert" Snelling, a contractor, was also killed in the shooting, authorities said.
Meghan Banton, a city utility worker, told NBC News affiliate WAVY, "We just heard people yelling and screaming to get down. I was on the phone with 911."
The shooting occurred in a building that houses public works, public utilities, communications and other departments.
President Trump and House Speaker Nancy Pelosi each commented on the massacre Saturday morning.
The president tweeted that he had called the Virginia governor and the mayor and vice mayor of Virginia Beach to offer condolences. "The Federal Government is there, and will be, for whatever they may need," Trump wrote.
Pelosi, a California Democrat, said in a statement, "The American people share the grief of the entire Virginia Beach community." She called on the U.S. Senate to bring to a vote "commonsense, bipartisan gun violence prevention legislation" that has been passed by the House.
Shortly after the shooting, Mayor Bobby Dyer said, "This is the most devastating day in the history of Virginia Beach."