The Texas high school that was the basis for the book "Friday Night Lights" is reeling from the apparent suicide of a veteran teacher accused of an inappropriate relationship with a student — one of five staffers hit with such allegations in a year.
Mark Lampman, 47, was a social-studies teacher and assistant golf coach at Permian High School in Odessa, the football powerhouse that spawned a best-seller, a movie and a prime-time television series.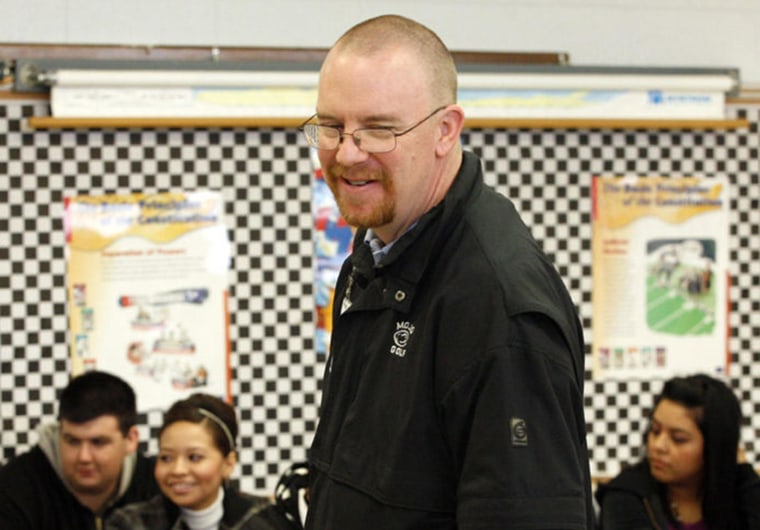 School officials told NBC News that the campus crime-stoppers program received a tip late Tuesday "that there might be a potential improper relationship" between Lampman and a student.
"Our administrative team questioned him," said Mike Adkins, a spokesman for the Ector County Independent School District. "He submitted his resignation and left."
The next day, oil workers found Lampman dead in a field with a self-inflicted gunshot wound to the chest, the Ector County Sheriff's Office said.
Lampman, who worked at Permian for 17 years, had not been charged with a crime at the time of his death and the investigation by the school police force is ongoing, Adkins said.
His wife said the family had no comment.
He was the fifth staffer accused of inappropriate conduct with a student in a year, though one of those school employees was cleared.
Permian is a school of more than 3,000 students in Odessa, a west Texas city with a population of 100,000.
"It's my opinion that this type of thing has gone on everywhere for years but for a long time it was accepted or ignored."
The scandal began last spring when swim coach Kathryn Maples was accused of an affair with a male student. Several weeks later, a trainer at the school, April Collins, resigned amid similar allegations.
An indictment accuses Collins of sending explicit pictures of herself and steamy text messages to a student. She allegedly offered to rent a room where they could have sex.
Maples is also accused of sending a student lewd photos and a text that described her desire to have sex with him, court papers say.
Maples' lawyer did not return calls. Collins' lawyer, John Green, said charges should never have been brought.
"She was an athletic trainer and a basketball player started making passes at her," Green said. "He was 19 years old. He's an adult."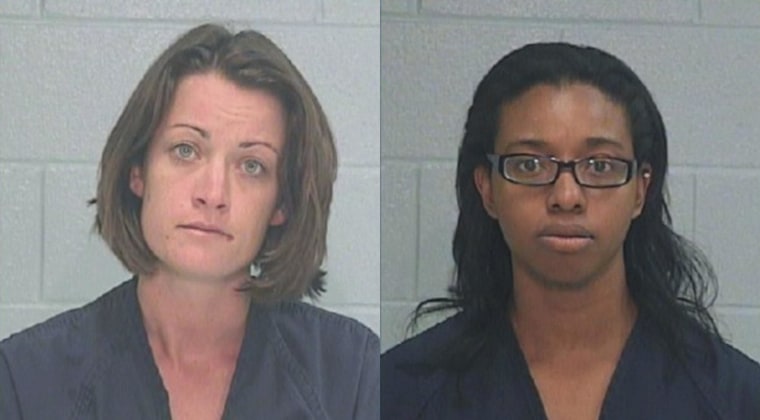 On April 1, an allegation came in about a clerk at the school, but the complaint was dismissed after an investigation.
However, an assistant softball coach resigned two weeks after after being accused of improper contact with a student. The investigation is ongoing and she has not been charged, Adkins said.
Asked to explain the string of teacher-student liaisons, Adkins pointed to increased reporting of suspicions.
"It's my opinion that this type of thing has gone on everywhere for years but for a long time it was accepted or ignored," he said.
He said that some of the students were older teens who were not coerced. "But the law is very clear on this: If they are students, the age doesn't matter," he said.
Current and former students were venting their feelings on social media, with many praising Lampman as a good teacher and criticizing the student with whom he was allegedly involved.
The school district urged students to stop posting.
"We know and understand emotions are raw, and we have seen a number of very inappropriate and hateful posts to social media sites this evening," it said in a statement.
"Out of respect for the families involved in this tragedy, we are urging everyone to remove all angry messages from all accounts and refrain from posting any more. This type of dialogue is not helpful, nor is it healing."
Adkins said the staff was upset by the bad publicity.
"It's been very difficult. Teachers give a lot of themselves and then to be painted with the broad stroke, to be seen as some sort of predator, those teachers are frustrated," he said.