A demonstration in response to a video of protesters trampling an American flag shut down a Georgia university on Friday.
Hordes of people descended on Valdosta State University, lining the streets and waving flags. Valdosta Police Chief Brian Childress told the Valdosta Daily Times before the demonstration that they "just want to come down here and support the American flag."
The rally was a response to a video that went viral of students walking on a flag last week to protest racism, reported NBC affiliate WALB.com. University officials feared that the counter-demonstration could get heated, and shut down ahead of it.
"After further discussions with local law enforcement and in the interest of the safety of our students, faculty, and staff, Valdosta State University will suspend normal business operations for Friday, April 24," the university said in a press release on Thursday. "Only essential employees — meaning those who have been notified by their supervisor — are to report to campus."
The event appeared peaceful. Some demonstrators carried signs in support of the military, and others wore T-shirts with the American flag and the words "Try walking on this flag" emblazoned on the back.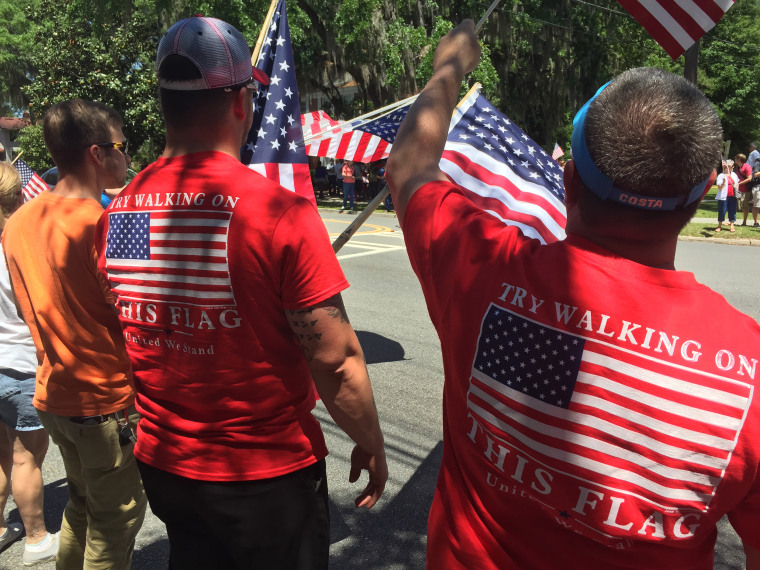 Kim Thompson, who lives a 30-mile drive from Valdosta in Pavo, told NBC News ahead of the rally that she and a friend were going to "show that we're proud of our flag and we support our country."
"I think it's going to be amazing. I think it's actually going to be part of history," she said.
As the wife of a sailor, Thompson, 34, said that after Sept. 11, 2001, her patriotism deepened. She said she felt compelled to act after she saw the flag getting stomped on in last week's video.
"It's upsetting to see an American be so frustrated with America," she said.
Protests have been going on all week at Valdosta State, reported NBC affiliate WXIA in Atlanta. One woman, Air Force veteran Michelle Manhart, was briefly detained during the flag-trampling protest for snatching the flag from demonstrators and refusing to return it. Police were searching for another protester who the university says brought a gun on campus in his backpack.
The university said it would have an increased law enforcement presence for students in on-campus housing on Friday.
SOCIAL
— Elizabeth Chuck