PHILADELPHIA — A threatening storm had darkened the skies in Franklin D. Roosevelt Park across from the site of the Democratic National Convention Tuesday, but Green Party presidential candidate Jill Stein wanted the people to know that there was room under her tent.
Stein threw her arms open wide as she spoke, green scarf billowing. "The revolutionary campaign deserves a revolutionary party," she said, speaking to supporters of Sen. Bernie Sanders. "And that's what you have in my campaign, going forward together."
To shouts of "Jill, not Hill," Stein continued, "We say to the Democratic National Committee. We say to Hillary Clinton: No thank you!" While she had welcomed Sanders into her party, so far, he had ignored her invitation, she told NBC News.
Stein, who was a Massachusetts-based physician and environmental activist before she got into Green Party politics, is happy to be, as she has put it, "Plan B." She told NBC News, "I'm the only participant in the election right now that is not bought and paid for by Wall Street that refuses corporate money, lobbyist money and Super PACs, so we have the unique liberty to stand up for what it is that the American people are clamoring for."
Related: Meet Jill Stein, the Green Party Candidate for President
Nearby, two young white activists had taped their mouths shut and scrawled "Nice White Liberals" on their t-shirts, dangling hands dipped in red paint to stand in for blood. Others hoisted Bernie Sanders' image in paper mache and cardboard cut-out, with giant bobbing arms, fingers pointed, to mimic the senator's expressive body language.
As they'd marched down South Broad Street, some Sanders supporters had revived the old Occupy chant, "We are the 99 percent!" The Occupy movement, one marcher said, was a sunflower that scattered seeds, one of which had been Sanders' campaign.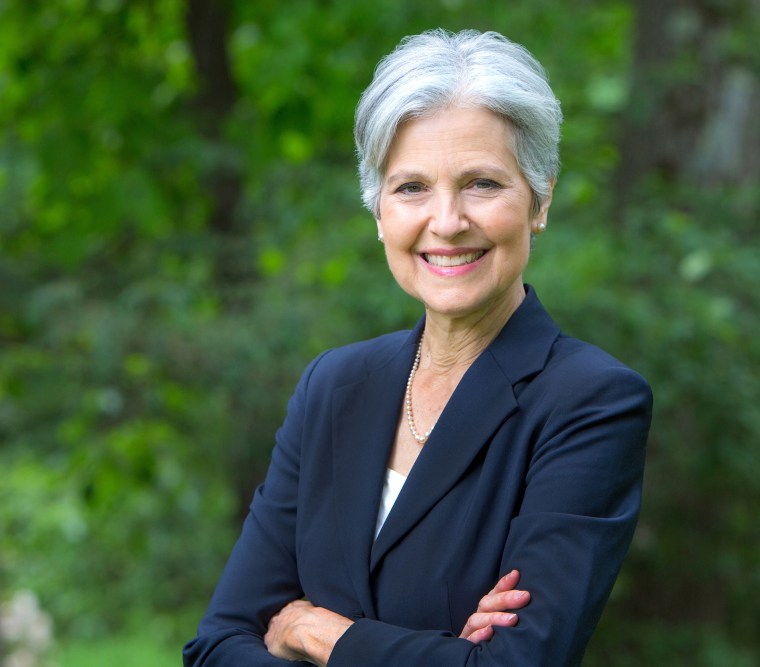 Depending on which poll you consult about Sanders voters' intentions to switch, as the candidate did, to Clinton, 10% (Pew) or the 24% (NBC/WSJ) of attendees would refuse to vote for Clinton.
But for Stein, who received 0.36% percent of the nation's votes in her 2012 campaign, the Sanders holdouts spell an unprecedented opportunity. People like 23-year-old Pennsylvania student Tyler Capone-Vitale, who carried a sign criticizing Clinton for her past support of the Defense of Marriage Act with an extra taunt about "White House interns."
Despite Sanders' protestations to the contrary, Capone-Vitale still hadn't given up on Bernie running — somehow. Of Stein, he said, "That she's the underdog is nice. She's not the establishment."
Sanders himself has minced no words in urging his supporters to vote for Clinton. "It is easy to boo, but it is harder to look your kids in the face who would be living under a Donald Trump presidency," he told California delegates Tuesday.
Ralph Nader, Stein's predecessor on the Green Party ticket who has also praised Sanders' candidacy, disagrees: "Why should a person volunteer to be complicit in Hillary's future war crimes and toady relationship with Wall Street?" he asked in an interview with NBC News. Of Stein, Nader said, "She's boringly honest. She does her homework. She has great endurance, a lot of stamina."
Related: Third Time's the Charm?: Minor Parties Hope for 2016 Wins
Core to Stein's proposition is that any differences between the parties pale beside their shared sins. Though Sanders' candidacy arguably shows the benefits of running within the party by dragging its frontrunner and its platform to the left, Stein believes the lesson is that the Democratic Party is irrevocably broken. "Bernie did everything right and the party still pulled the rug out from under him," she said.
She declined to say whether she believed Trump would be worse than Clinton from a progressive perspective. "I'm kind of agnostic on that question," Stein said. "I don't think it matters. My response to that question is there may be differences between the two parties, but those differences are not enough to save your job."
Stein is unsatisfied by the Obama administration's climate change efforts and Clinton's promises on the same front. "I feel most terrible about a political system that is trying to force feed us two deadly choices and tell us, 'Okay, pick your weapon of self-destruction,'" she said.
Jumping through each state's hoops to get on the ballot is complicated, but Stein intends to compete across the country. "We're quite confident we will be on the ballot for just about every state, and the last race we were on for almost 85% of voters," she told NBC News. "This time it's more likely to be 95 percent, maybe even a little more than that."
Left wing icon Noam Chomsky told NBC News he endorses Stein's candidacy but, as he has done in the past, believes people in swing states should vote for the Democratic nominee.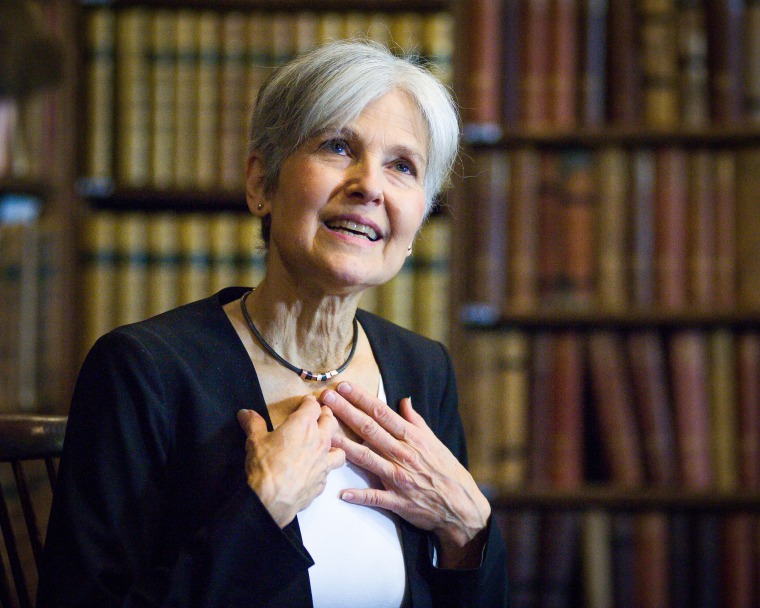 Others, including Stein and Nader, say the focus should be on reforming state or federal voting systems to, for example, allow voters to rank their choices. Or, Nader said, "We should have 'none of the above' binding on all ballot lines. Everybody likes that when I say that line."
Until such reforms, the charge of progressive spoiler hangs over candidacies like Stein. Nader, who many Democrats blame for the election of George W. Bush in 2000, called "spoiler" a "politically bigoted term…. Like the system isn't already spoiled."
To those liberals worried about the aging Supreme Court justices and the prospect of Trump replacing them — potentially getting closer to the long-held conservative dream of overturning Roe v. Wade — Stein points out that Nixon appointees wrote that abortion opinion in 1973. "We got women's right to choose under that Supreme Court by standing up and refusing to take no for an answer," she said.
So far, George W. Bush's two appointees, Chief Justice John Roberts and Justice Samuel Alito, have been much more reliably conservative, especially on abortion, guns, money in politics, and race. But Stein says, "We see justices change over time, and some of the most progressive judges were appointed by conservatives. So the question is, are we going to throw ourselves over the cliff here? Would you take climate change so that you can have abortion rights?"
Though it is likely to be a short-lived distinction now that Clinton is the nominee, Stein currently claims the record for the most votes ever received by a female candidate in the United States general election. For critics of Clinton from the left, Stein's very existence provides a possible rebuttal to the charge that they are motivated by sexism.
Stein does not hesitate to criticize Clinton on gendered grounds. She drew criticism from some feminists for a tweet in May reading, "I agree w/ Hillary, it's time to elect a woman for President. But I want that President to reflect the values of being a mother." Feministing's Alexandra Brodsky protested in response, "Critiquing a woman politician for being insufficiently maternal is a classic move from the sexist playbook of politics."
Stein attributes the controversy to "Hillary's trolls — that's what they're paid to do... Feminism is inseparable from peace and from justice and from the welfare of all mothers." In any case, Stein said, "We did put out a clarifying tweet that said it's not to say personally Hillary is not a good mom, but we don't think motherhood, in my mind, is compatible with being a warmonger, and it's not compatible with being on the payroll with the war profiteers."
In a much-circulated tirade against Stein's candidacy, commentator Dan Savage accused the Green Party of focusing too much on the presidency at the expense of down-ballot races. "I would be so willing to vote for Green Party candidates who are starting at the bottom, grass-roots, bottom up, building a third party, a viable third party," he said.
While it's not technically "starting at the bottom," Stein herself has run more locally. Jonathan Leavitt, former co-chair of the Massachusetts Green Party, recruited Stein to politics in the early 2000s after getting to know her through grassroots efforts to shut down a toxic medical waste incinerator in Lawrence, Massachusetts, "located right in the poorest section of the city, in the poorest section of the state," he recalled. "She was willing to speak to these issues directly with her own experience as a physician. She was willing to stand up and point out the injustice and the damage it was doing to the children in that community."
What appealed to Leavitt about Stein was how the Harvard-trained doctor was "a little more conventional" than the rest of the Green Party pack. "She was, for better or worse, what people could accept in terms of talking about this stuff," he said. "She was a mother, she was a doctor, and she was well spoken."
Stein agreed to run for governor on the Green Party ticket in 2002, making it into the televised debate in a race Mitt Romney won. (Votes for Stein, who was unable to meet the threshold for "clean elections" public funding, were fewer than the margin by which Romney won.) She later ran for state representative in 2004 and for secretary of state in 2006.
But Leavitt's own trajectory is one testament to the difficulty third party members have in building political momentum: They are by definition adversarial to the system, and often reluctant to stay in it. "A lot of people become burned out," said James O'Keefe, who ran on the Green Party ticket for treasurer the year Stein ran for governor. (O'Keefe has since left the Green Party to start the Massachusetts Pirate Party, focused on technology and transparency.)
Leavitt left Stein's campaign early, then eventually politics altogether, and now describes himself as a "full time marijuana farmer and musician and father." Who did he plan to vote for? "Oh man, I haven't voted in a long time," he said. "I was thinking of writing in my German shepherd."
Stein is careful at her events to flag local races; in Stamford, Connecticut last week, she called out a litany of names running for the state legislature and for the U.S. House of Representatives. Still, she said, "If we hide ourselves at the local level, we will remain hidden, and, in my opinion, it is unconscionable not to challenge the predatory politicians who are throwing us over the cliff."
This time around, her candidacy has stuck to core Green Party environmentalist and leftist tenets while highlighting the continuity with Sanders. Where Sanders changed the contours of the debate around student debt by calling for free college, Stein hopes to do him one better by canceling existing debt, which she says can be done by using a monetary policy tool known as quantitative easing. "We can essentially assure that by power of appointment, we don't have to push this through Congress," she said. "This comes through the Federal Reserve."
Back at FDR Park, Doug Fulton, a 44-year-old supervisor at a call center based in Philadelphia, told his friends ,"I want to go to the Trump rally, because that's where they're selling all the Hillary for Prison shirts." He assured a reporter he was serious, even though he added, "I don't think Hillary literally meets the criteria for prison." ("I have a band mate who is a lawyer," he explained.) But to him, it felt true: "People feel like they're all in bed together. There's a complete lack of trust for both parties."
As for Bernie's endorsement, Fulton's friend JoAnna dellRuiz, 29, said, "I just hope he doesn't mean it. If he's actually sincerely telling us to vote for her, I would question him, because she's the embodiment of corruption."
They had come to hear what Stein had to say. Still, Fulton was keeping his options open: "I might still vote for Hillary."
Inside the tent, Stein had to cut it short, because the storm had finally come, and the authorities feared lightning. As it began pouring, she passed on word that people should take shelter under I-95, where one of her supporters, theologian and former Sanders supporter Cornel West, led people in song. (In an earlier life, Stein was a coffee shop crooner.)
As the skies opened up and the cardboard signs calling the Clintons "superpredators" were transformed into soggy shelter, people joked the CIA had rigged the weather. Some said they were making their way to Clintonville, the shantytown set up by Stein's previous running mate, Cheri Honkala. Over the sounds of the thunder, you could still hear some people chanting Bernie Sanders' name.