After a California judge handed down a controversially light sentence for a former Stanford student convicted of sexual assault, the reaction was swift: More than 1.2 million signed an online petition demanding the judge's removal.
But those signatures carry no legal weight.
Meanwhile, a more substantive, analog effort to allow voters to recall Judge Aaron Persky is gaining momentum at a slower pace.
That group has raised more than $90,000 since the June 2 sentence for Brock Turner. The leaders of another failed recall effort said they will likely need the cash.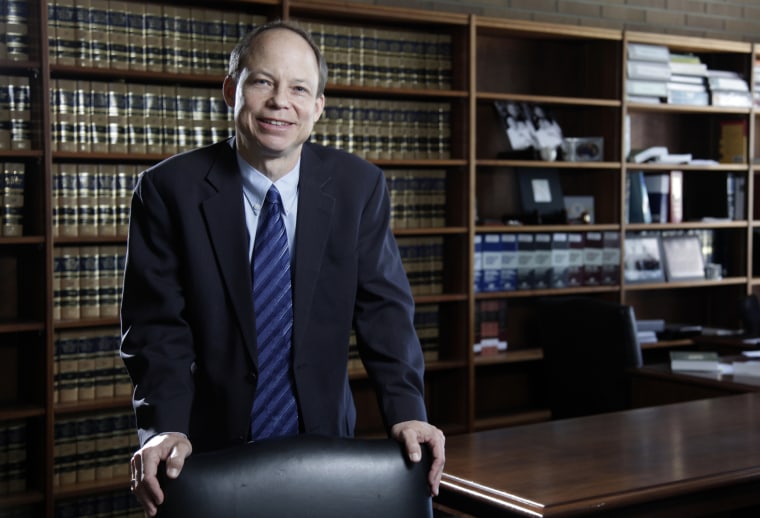 "Money. A lot of money," said Bryan Scott, who led an unsuccessful campaign to recall an Orange County Superior Court judge in 2015. "One of the things I would tell anybody is they're going to need more money than they can imagine — more money than they should need for something like this," he said.
"They're fighting an uphill battle that's purposefully designed to be uphill," he said.
Turner, 20, was sentenced to six months in county jail, three years' probation and lifetime registration as a sex offender for sexually assaulting an unconscious woman outside a campus frat party in 2015.
Related: Judge Criticized for Giving Light Sentence in Stanford Rape Case
Prosecutors and defense attorneys say Persky followed the law and a recommendation from the probation office. But many, including the district attorney, saw the sentence as far too lenient.
The group vowing a recall needs 58,634 confirmed signatures of registered voters in the district, and then must convince voters to recall him.
Experts say recall attempts of judges in California are rare — and getting them on the ballot is rarer.
"One of the things I would tell anybody is they're going to need more money than they can imagine — more money than they should need for something like this"
Michele Dauber, the Stanford law professor heading the Persky recall campaign, said she is undeterred.
"We believe that Judge Persky does not take violence against women seriously enough and we are determined to replace him with someone who does," Dauber said in an e-mail to NBC News last week.
"Judges like Aaron Persky are elected not appointed or confirmed by the Senate. He is subject to the democratic process and that is all that this is — a vote by the people," she said.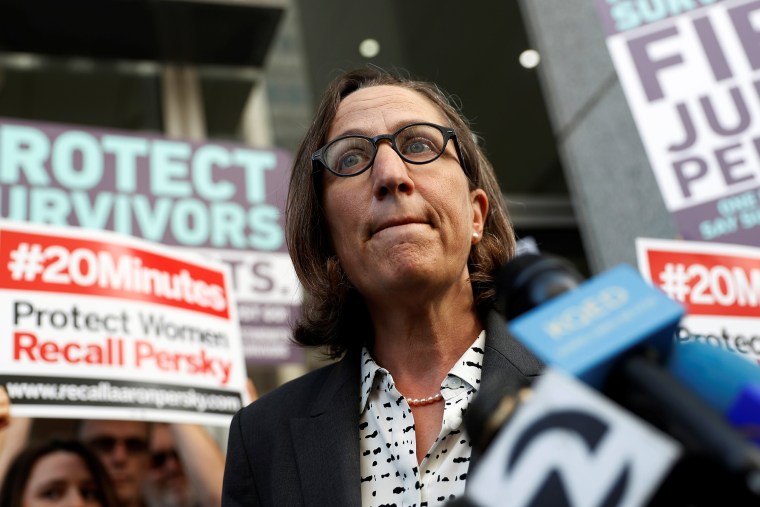 In 2015, Scott led a campaign to recall Orange County Superior Court Judge M. Marc Kelly, who reduced a sentence for a man convicted of sodomizing a 3-year-old girl from the minimum mandatory sentence of 25 years to life to 10 years in prison.
In order to get a recall on the ballot, organizers must file a notice of intention. The judge is then served with the notice and has an opportunity respond. Eventually the group would have 160 days to gather enough signatures and the petitions would need to be verified. The issue then goes before voters.
The effort to recall Kelly needed around 90,000 signatures, Scott said. He said that meant the group actually needed around 120,000 because some signatures would be disqualified.
"We probably needed about two-thirds more than what we had at the end of the day," Scott said.
They raised less than $25,000, according to Patricia Wenskunas, the founder of a crime survivors support organization also involved in the recall.
Related: Judge in Controversial Brock Turner Case Removed From New Sex Assault Case
That funding shortfall meant the group was unable to hire a professional company to gather signatures, who charge between $2 and $5 per name, Scott said, and they relied on volunteers. He called the hiring of a professional group to collect signatures vital to a successful recall.
"We were looking at 100 grand to a quarter of a million dollars," Scott said. He said that by the time signatures began being gathered, interest in the case seemed to have diminished.
But Dauber's effort to recall Persky, which is backed by the Progressive Women Silicon Valley State PAC, has already raised far more than the Orange County effort, and needs less signatures.
According to donations tracked on the website, it had raised around $40,000 by June 9 and that number had grown to a little more than $93,000 by Saturday. A fundraising goal was set at $500,000.
"Rest assured this is highly professional operation run by some of the most politically engaged women in Silicon Valley," Dauber said in an email. "We are doing this in a careful thorough and professional manner."
No notice of intent to recall Persky had been filed with the Santa Clara County Registrar of Voters as of Friday, a spokesperson with the office said. The group seeking to recall Persky says it plans to begin gathering signatures in spring of 2017.
Some legal experts and attorneys worry that recall efforts over controversial rulings could result in judges' decisions being influenced by possible public backlash.
"Once you start recalling judges because you don't agree with how they exercise their discretion, you open up a Pandora's Box," said Loyola Law School Professor Jessica Levinson, whose work focuses on election law. She does not agree with the sentence given Turner.
Related: Vice President Biden Tells Stanford Sex Assault Victim 'You Are a Warrior'
"Honestly, I think recalling a judge because of one ruling ... seems unreasonable," said attorney Dmitry Gorin, a former Los Angeles County deputy district attorney who is now a criminal defense lawyer. "You need to look at his entire track record."
Santa Clara County District Attorney Jeff Rosen called Turner's sentence too light.
"Campus rape is no different than off-campus rape," Rosen said. "Rape is rape."
Rosen does not support removing Persky from the bench, but this week his office used a legal procedure known as "papering" to remove him from an upcoming hearing in another sexual assault case.
Persky is barred by judicial rules from commenting on the recent move to remove him, and would only be able to respond to any recall once it is officially filed, a spokesman for the court said this week.
The Santa Clara County Bar Association opposes attempts to remove Persky, and called efforts to do so a threat to judicial independence.
"The SCCBA has seen no credible assertions that in issuing the sentence, Judge Persky violated the law or his ethical obligations or acted in bad faith. Nor is the SCCBA aware of any other complaints or allegations of impropriety against Judge Persky during his 13 years on the bench," the bar association said in a statement.
"Seeking to punish a judge under these circumstances presents the very threat to judicial independence that the SCCBA has resolved to condemn," the bar association said.
The online petition that gathered more than 1.2 million signatures demands the state Assembly impeach Persky, a power the body has but which it has not exercised against a judge since 1929.
Removal would require two-thirds approval by the Senate.
Statistics for statewide office recalls, which does not include county judges, show there have been 161 recall attempts since 1913, and of those only nine ever gathered enough signatures to make it on the ballot, according to the California Secretary of State.
Five of the nine resulted in successful recalls, including the removal of Gov. Gray Davis in 2003, which paved the way for the election of Arnold Schwarzenegger.
Recalls against county judges appear to be rare. The Judicial Council of California does not keep statistics on recalls filed against judges at the county level, but found only a handful of cases.
Los Angeles County Superior Court Judge Joyce Karlin survived a recall attempt in 1992 after she sentenced a Korean-born grocer to probation for fatally shooting a 15-year-old African-American girl, a sentence that heightened racial tensions, according to the Los Angeles Times. She resigned in 1997.
A 1997 recall effort of Nancy Wieben Stock, who gave O.J. Simpson custody of his children after he was acquitted of murder, failed to gather enough signatures, the Times reported.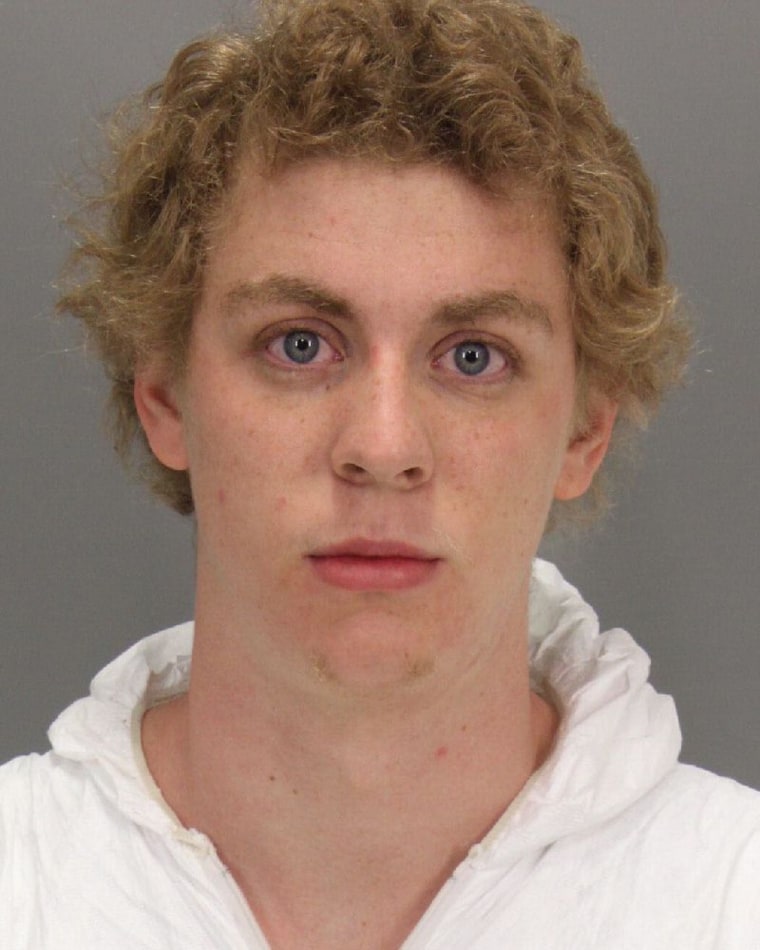 And in 2005, Sacramento County Superior Court Judge Loren McMaster was targeted by a recall by opponents of same-sex marriage over his ruling that domestic partnerships did not violate a proposition defining marriage as between a man and a woman, according to the Sacramento Bee newspaper. The recall effort was abandoned.
But it has happened before.
Three judges were recalled by ballot in 1932 after the state Judiciary Committee found evidence they were using their position to advance their own economic and political interests, according to a report in the Loyola of Los Angeles Law Review.
Scott, of the campaign to recall Kelly in Orange County, said that despite the failure of the effort he still considers it worth it.
"It was the right thing to do," Scott said. "At the end of the day, no matter what anybody says, we had right on our side. And I think that's important."