The gunman who ambushed three Fargo, North Dakota, police officers in an unprovoked attack Friday had an arsenal that included 1,800 rounds of ammunition and a homemade hand grenade, the state attorney general said Wednesday.
Mohamad Barakat, 37, "absolutely ambushed" the officers, firing a .223-caliber rifle from inside his vehicle Friday as police were responding to a car accident, Attorney General Drew Wrigley said.
One officer, Jake Wallin, 23, was killed and two others were shot and wounded. Barakat was shot and killed by Police Officer Zach Robinson, officials said.
Barakat also shot a woman who was standing on the street after the unrelated car accident. She was struck twice as she ran from the gunfire, Wrigley said.
"In the wake of Mohamad Barakat's murderous, unprovoked attack, Officer Zach Robinson's use of deadly force was reasonable, it was necessary, it was justified, and in all ways it was lawful," he said.
Robinson, who was in the road around 75 feet away, radioed for help and returned fire, and one of the bullets he fired disabled Barakat's .223-caliber rifle, Wrigley said.
Barakat, who was wounded and now outside his vehicle, got a 9 mm handgun and was "waving it around" before Robinson eventually shot and killed him, Wrigley said.
The shooting is under investigation, and officials have said a motive is unknown.
Wrigley said the officers, who were there for a traffic accident, were shot without warning or reason.
"He absolutely ambushed them from inside that vehicle. They had no way to know," he said.
Inside the vehicle, investigators found the 1,800 rounds of .223-caliber ammunition, explosives, gas canisters and a homemade grenade with a fuse out of the top that was operational, Wrigley said.
There were three long guns in all, one of which had a scope, as well as four handguns and a vest carrying magazines, he said.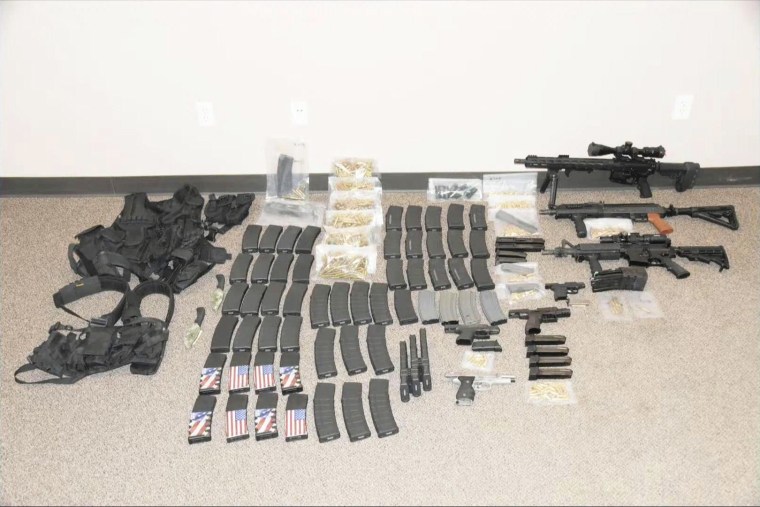 The rifle used in the attack had two magazines that were attached side by side, carrying 60 rounds total, Wrigley said. Barakat fired 40 or 41 rounds before the rifle was struck and disabled, he said.
Mayor Tim Mahoney said that had police not killed Barakat, "we would have had many more casualties."
Police Chief David Zibolski said it was remarkable that Robinson, armed with a handgun, was able to shoot Barakat and disable his rifle from 75 feet away while being shot at.
The incident and the gunfight lasted around two minutes, he said.
Wrigley said Robinson gave Barakat 16 directives to raise his hands or put the gun down before he shot Barakat.
Officials are expected to release more information Friday.
The shooting was captured on police body-worn cameras, which Wrigley said were reviewed along with other evidence.
He said that the gunfire by Barakat was so rapid that it sounded like fully automatic fire and that Robinson believed it was fully automatic.
"It will fool anybody who listens to it," Wrigley said.
Officials believe that Barakat legally acquired all the weapons and that he was not prohibited from having firearms, but the investigation continues, Wrigley said.
In addition to the guns in the car, additional firearms were found in a search of his residence, he said. Barakat carried the guns to his car in a rolling suitcase, he said.
Gov. Doug Burgum ordered Tuesday that flags be flown at half-staff through Saturday in honor of Wallin, the officer who was killed.
The two officers who were wounded were still hospitalized in critical but stable condition Wednesday and are improving, said Zibolski, the police chief.