Two journalists got their hands on a crime story up close and personal this week.
Former CNN and Headline News anchor Lynne Russell and her husband, former CNN reporter Chuck de Caro, were involved in a fatal shooting at an Albuquerque, New Mexico, motel, police told NBC News on Wednesday.
Albuquerque police said Russell was accosted by a man about 11:35 p.m. Tuesday (1:35 a.m. ET Wednesday) in the parking lot of a Motel 6 and was pushed into her room.
De Caro — a former investigative reporter, Special Forces member and military expert — and the man then got into an altercation, and both were shot, police said.
The assailant was unresponsive when officers arrived and died at a hospital, while de Caro was wounded and was being treated at a hospital Wednesday.
Russell — herself a licensed private investigator and former Fulton County, Georgia, sheriff's deputy with two martial arts black belts — told NBC station KOB that she and her husband had stopped in Albuquerque for dinner with a friend and were planning to get up early because they were traveling.
"'Is there anything in here we can give him?' Chuck said, 'Oh, yes, there is.'"
Russell described the man's gun as "a 40-caliber big shiny silver handgun." The man pushed her into the motel room just as her husband was coming out of the shower, she said.
"In the process, I recognized what I had seen before — I was a deputy sheriff for many years — that this guy was used to this," Russell said. "I suddenly realized that it wouldn't bother him at all to pull the trigger."
Russell and de Caro — both described as expert shots — were legally carrying concealed handguns, she said. She said she offered to search her purse for something of value to hand over to the gunman — and slipped her gun into the purse, which she then handed to her husband.
"'Is there anything in here we can give him?'" Russell said she asked. "Chuck said, 'Oh, yes, there is.'"
Russell said the man took de Caro's briefcase over to the bed of the motel room and began firing at her husband.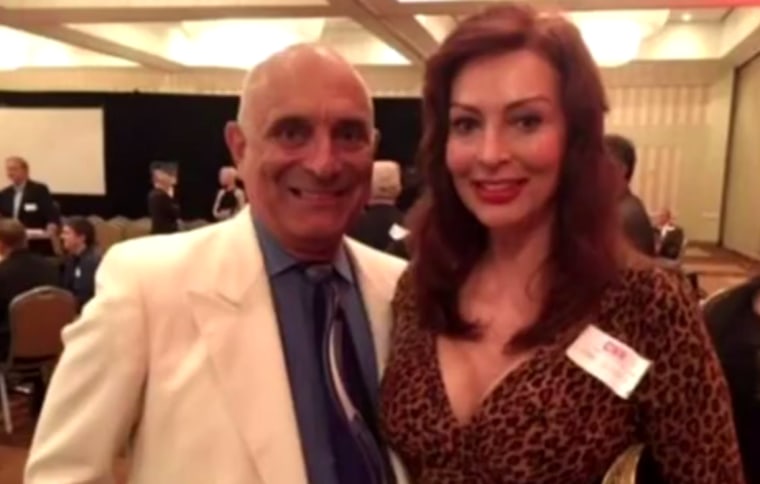 "Chuck fired back, and it was a shootout," she said. "He expended the rounds from one small handgun and grabbed for the other even as he had taken fire" and was losing blood quickly.
"The guy went down, and he was history," Russell said.
De Caro was hit three times, but the bullets didn't strike any vital organs, Russell said. Authorities said he was expected to survive.
"I am very, very proud of my husband. He is my hero," Russell said. "He saved my life."