The world has plenty of salt. It's America's roads that are in short supply.
The wild winter has wreaked havoc on the supply chain between salt mines as far-flung as Chile and weather-beaten U.S. states struggling to find enough salt to keep roads safe.
"There isn't technically a salt shortage because salt is still in abundant supply," said Lori Roman, president of the Salt Institute, a non-profit trade association. Roman said that municipalities and transportation departments have exhausted inventory that normally would have lasted till spring.
"This weather is forcing many to order again mid-season, and that's not an ideal situation, as there's always a lead time for delivery," she said.
While salt is plentiful on the Earth, the mining process is labor intensive and takes a lot of time — which causes the delays — said Denise Lauer, a spokeswoman for Morton Salt, which produces both road and table varieties of the mineral.
Morton is "running extended hours of operation at our production sites and stockpiles to accelerate shipments to customers," Lauer said.
Still, "salt supplies can become challenged during extraordinary winters like the one we're experiencing," she said.
The misery is widespread:
New York City already has spread some 346,000 tons of rock salt on its roads so far this year, almost the total for last winter, said Belinda Mager, a spokeswoman for the city Department of Sanitation. The city has spent $57.3 million on snow removal so far this winter, putting it on track to top last year's spending.
Ohio starts each winter with 627,000 tons of salt in state facilities, with 500,000 more in reserve, said Steve Faulkner, a spokesman for the state's Department of Transportation said. Midway through winter, the state has already used 810,000 tons.
New Jersey has blown by its $62.5 million annual record for snow removal, and Joe Dee, a spokesman for the state Department of Transportation, said salt "supplies are dwindling."
"We're asking everyone to gather the salt from their local McDonalds," Faulkner joked. "That's our contribution to a healthier America."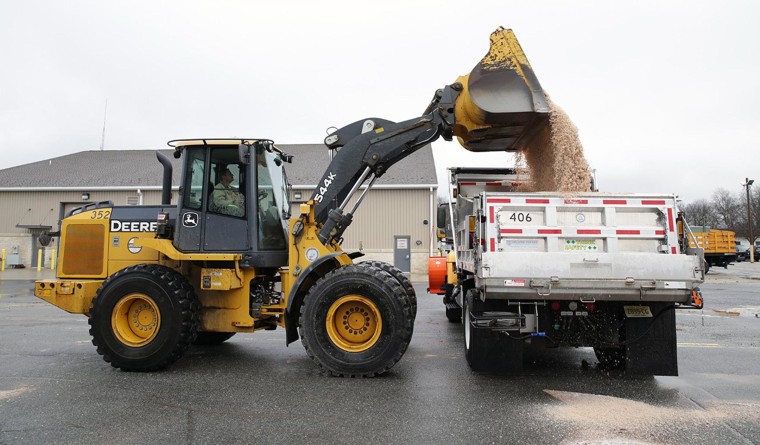 The problem has been the frequency of the storms, rather than the severity. Multiple events cut into supplies worse than one or two big snowstorms. Even a modest snowfall requires treating the roads.
"A department of transportation would use more salt on 10 two-inch snowfalls than it would on one 20-inch snowfall," explained Roman. "It's not just that there's been more snow, it's that there's been more snow events, which means they have to get out there with the salt trucks more often."
Most state government contracts are locked in, meaning the law of supply-and-demand shouldn't spike prices for transportation departments. Tara Hart, communications manager for Compass Minerals, a leading supplier of highway deicing products, said all bids for salt contracts are done over the summer, setting the price of salt for a year.
But local municipalities and private vendors don't enjoy fixed prices.
"We're asking everyone to gather the salt from their local McDonalds. That's our contribution to a healthier America."
"So the municipalities that could buy bulk salt early in the year at $53 a ton are now paying $130 a ton," said Tom Breier, general manager of Ice Melt Chicago.
Private companies are feeling the literal toll from smaller salt suppliers also. Wayne Endre, a private plowman in Wilmette, Ill., said the price per ton of salt jumped from $65 in the beginning of the season to $165.
Endre's original supplier ran out, even after raising prices to $160. "What kind of supplier are you?" Endre asked rhetorically.
The lack of salt in the area has prompted Wilmette, Ill., to inform residents that some streets won't be salted for the rest of the winter, "except under extraordinary circumstances."
The lack of salt in the area has prompted Wilmette, Ill., to inform residents that some streets won't be salted for the rest of the winter, "except under extraordinary circumstances."
"The Village has ordered its full allocation for the current season and the vendor is unable to provide any additional quantities," a statement read, adding that the possibility of any further deliveries were "uncertain at best."
Other state transportation departments have had to shift state supplies to needy communities.
New York Gov. Andrew Cuomo declared a state of emergency Wednesday and ordered 3,500 tons of road salt — about 130 truckloads — to be redirected from state supplies to salt-starved Long Island and New York City.
In Fort Lee, N.J., officials are prioritizing which streets get the "white gold." Anthony Lione of the city's Department of Public Works said main roads would be salted, but side streets may need to remain slippery, according to NBC New York.
"We try to hit the areas that need it the most, and the rest we just plow," Lione said, adding that Fort Lee's salt supplier was four to five days behind on shipments.
Slow deliveries have prompted states like Pennsylvania, Virginia and New Jersey to declare states of emergency that lessen restrictions for salt delivery drivers in order to expedite salt transportation, according to the Federal Motor Carrier Safety Administration.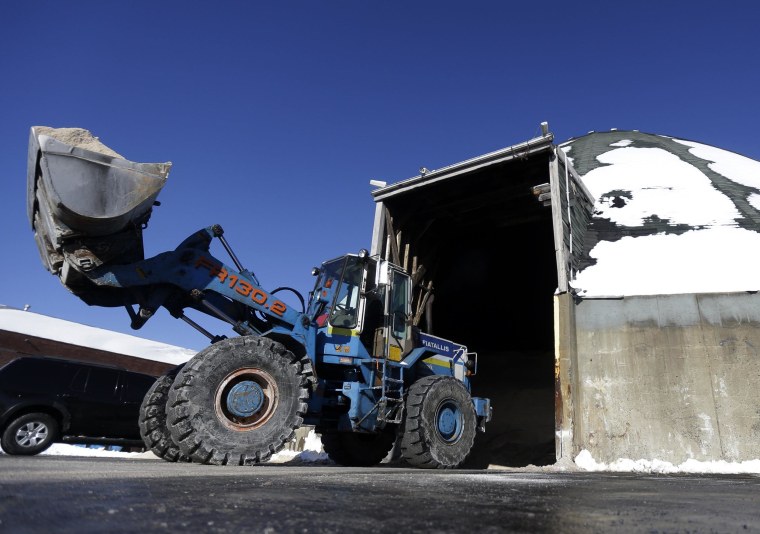 "With major rock salt shortages, it's starting to get scary out there," Anthony Scorzetti, a hardware and paint manager for Braen Supply in Wanaque, New Jersey, told Reuters. "I have people calling from all parts of the East Coast looking for it, and we just have nothing."
The story was the same at small salt suppliers like Hillwick in New Jersey and Abraxus in Ohio, whose representatives both said they can't get their hands on salt at all and have been out for weeks.
This year's shortage could impact prices when 2015 contracts are drawn up. Bill Boynton, a spokesman for the New Hampshire Department of Transportation, said that after 2007's severe winter, the price of salt for 2008 jumped 25 percent.
"There is a concern, based upon what we have seen in the past, that the price could jump significantly next year," he said.
NBC News' Carol Eggers, Reuters and The Associated Press contributed to this report.