Hip-hop mogul Russell Simmons is feeling "zen" about a multifaith and multiethnic unity rally he's headlining Sunday — organized in response to the uncertainty and anxiety that was created by President Donald Trump's controversial travel ban.
The entrepreneur has been trying to bridge religious and cultural divides for years, and said he is eager to lend his celebrity to the "I Am a Muslim Too" march through Times Square in his native New York City.
"Believing that people are the same takes you a long way," Simmons told NBC News this week. "I love doing this work. It's purposeful. It makes me happy."
Related: Russell Simmons Pushes for Peace Between Police, Communities
More than 1,300 people are planning to attend the march, according to the event's Facebook page Saturday afternoon.
This is the second time Simmons and his fellow organizers — Rabbi Marc Schneier, president of the Foundation for Ethnic Understanding, and Imam Shamsi Ali of the Jamaica Muslim Center — have convened a gathering like the one planned. The last time was six year ago in response to New York Congressman Peter King's hearings to root out Muslim extremists.
Trump's immigration-related executive order, which initially barred foreign travelers from seven Muslim-majority nations from entering the U.S., struck a nerve with organizers. While the ban was halted in court, Trump has said it would be replaced by something new.
"[This] rally, I would say, has been triggered by the Muslim ban, but there is a wider message here," said Rabbi Schneier. "We are acknowledging that it has been open season on Muslim Americans."
According to Schneier, far too many Americans fail to recognize that the U.S. Muslim community has been and will continue to be "our greatest ally" in the fight against terrorism and religious extremism.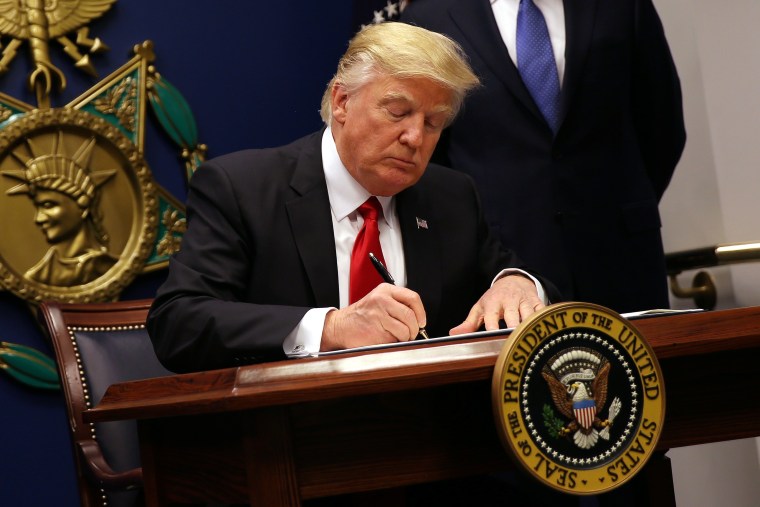 Still, he takes heart in the fact that he has seen anecdotal evidence of better relations between the Jewish-American and Muslim-American communities over the last decade, in part because of a mutual understanding of the dangers of religious persecution and prejudice.
"I have not seen this outpouring of support since the Civil Rights Movement," he said.
Schneier and Ali both say that Trump's polarizing order has also brought American Jews and Muslims closer together.
"I love doing this work. It's purposeful. It makes me happy."
"One of the blessings in disguise of Donald Trump is that many, many Americans are coming to us and saying we are with you," Imam Ali said.
"Hopefully, our rally on Sunday is not only educating New Yorkers, but maybe will get to Washington, also," Schneier added, referencing what he considers either the "ignorance or insensitivity" of the Trump White House — not just to the Muslim community, but the Jewish community as well.
Related: Russell Simmons tries to buy ads during 'All American Muslim'
Trump this week sidestepped a question at a press conference about personally rebuking anti-Semitism, instead choosing to brand himself as "the least anti-Semitic" person in America.
Still, Simmons is intensely optimistic about the future.
"I know it's a drop in the bucket even if we have a good turnout, which I'm a praying for — a march that exudes love, community and sameness," Simmons said. "The people seeing all the women, all the different colors, the different religions, the beautiful signs we have made it will spark in some people the idea of togetherness."
Simmons took Trump to visit a mosque in 2011, and he believes members of the Congressional Black Caucus should meet with the new commander in chief — not to have a "Kanye moment" but because they might impact his thinking.
"He takes advice from the last person he saw and he doesn't like be hated," said Simmons, citing the president's apparent turnaround on climate change after a one-on-one with former vice president and environmental activist Al Gore.
He added that who the president is matters much less than how the global community tackles the biggest challenges of our time.
"All living, breathing, connected parts of God ... we are one entity and I try to operate from that space as much as I can," said Simmons, who has also actively campaigned for animal rights, criminal justice reform and against economic inequality.
"I lie with faith and hope, and I go to work without fear," he added. "That mantra doesn't change when someone else is president."