A jogger in Houston was surprised to hear cries in the distance on Monday morning — she had no idea that a massive search had been launched for an 8-month-old baby girl, who had been kidnapped hours earlier.
Hong Nguyen, 34, followed the cries because she was sure the sounds were coming from a child. "It was human sounds, not animal sounds," she told NBC News.
She sifted through the surrounding brush and found little Genesis Haley still strapped in her car seat in a field near the side of the road.
"I thought the baby was abandoned," Nguyen said.
Sign up for breaking news alerts from NBC News
"I was really worried, and it was a bit scary," Nguyen said. she was confused because she "didn't hear any news about the baby this morning."
But there was news about the baby.
An Amber Alert was issued for Genesis by the Houston Police Department at 3:40 a.m. Her mother called police after she had left the infant in her car at a gas station when she went inside to pay, and saw someone drive away with her green Saturn — and her child.
Surveillance video showed "she was in there a matter of seconds before she saw someone get into her vehicle," said Houston Police Department investigator Shaun Sylvester.
"In the video she's frantic," Sylvester said.
Police found the car not far from the gas station a short time later, but the baby, her car seat and the suspect were not inside, said Kefe Smith, a spokesperson for the Houston Police Department.
Nguyen found the baby about four hours later and immediately called police, who arrived within ten minutes, she said.
"I thought the baby was abandoned."
One of the responding officers, Albert Pizana, recounted the experience during a news conference later in the day. "Whenever we can recover a baby alive … it feels good," Pizana said. "It makes you wanna go home and hug your kids even tighter."
Officers said the baby was likely left outside for hours. "I just don't understand how somebody could do that," Pizana said.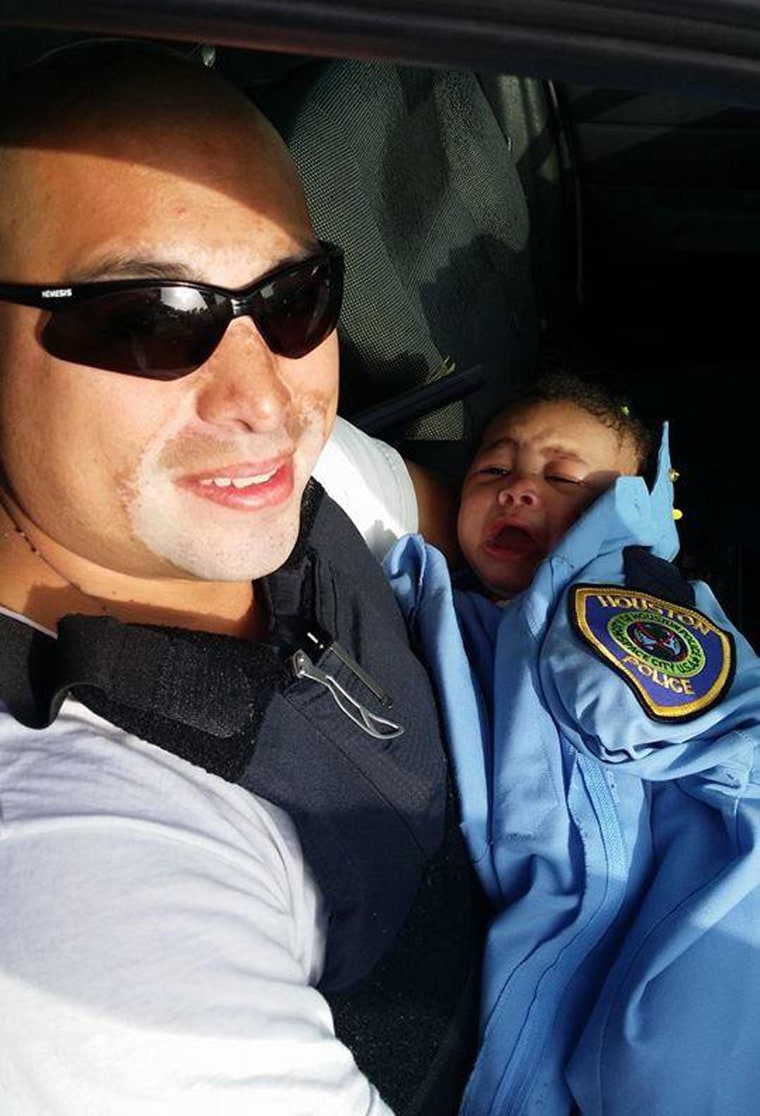 Genesis appeared to be healthy, but she was brought to Texas Children's Hospital "as a precaution," Smith said. After an evaluation, she was released back to her mother, NBC affiliate Click 2 Houston reported.
The mother, who has not been identified, provided investigators with a detailed description of the suspect, allowing them to release a sketch, said Jodi Silva, a Houston Police Department spokeswoman.
No one was in custody as of Monday afternoon, Silva said, but finding the baby was a "great outcome," to an incident that could have had a tragic ending. Silva said the Houston police department "applauds" Nguyen's actions.
"I'm not the hero," Nguyen countered.
Pizana said the road the baby was found near is "not very well-traveled," and Nyuegen considers herself fortunate to be in the right place at the right time too.
Nguyen — from Vietnam — is on a 5-day trip to Texas to visit family, and said it was her first time venturing out for a jog during her trip.
"That's why I say I'm a lucky person to find the baby and give her back to her parents in good condition," Nguyen said.