Supreme Court Justice Ruth Bader Ginsburg exchanged her ceremonial black robes for feathers and tulle Saturday, as she made her official debut with the Washington National Opera.
And while her role wasn't exactly soaring oratory told in song — she had a speaking role — the 83-year-old Justice stunned the audience during opening night of the opera's performance of "The Daughter of the Regiment," an 1840 operatic rom-com by Italian composer Gaetano Donizetti.
"It's amazing that I was on an opera stage because when I was in grade school the class was separated into robins who sang out and sparrows who mouthed the words — I was a sparrow," Justice Ginsberg said Monday during a Q&A at the Jewish Federations of North America 2016 General Assembly.
Anne Midgette, classical music critic for the Washington Post, said the Justice's performance stole the show.
"In a fraught post-election week, the mere sight of Ginsburg was enough to spark a prolonged ovation," she wrote in her review. "The house roared."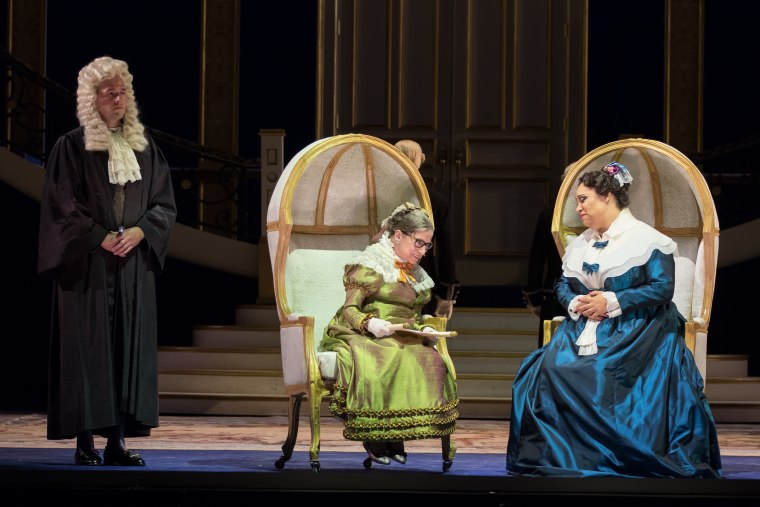 Justice Ginsburg played the role of "The Duchess," who grants the opera's lovers permission to marry. On Monday, Ginsberg said she tweaked her lines in the show to reflect her day job, sarcastically requesting to see the heroine's birth certificate before she could be married.
Ginsburg shared her passion for opera with the late-Justice Antonin Scalia, and has performed in small company roles for several other performances over the years.