One suspect has been arrested and another remains at large in the Kansas City, Kansas, shooting in which two men opened fire in a bar early Sunday, killing four and wounding five others, police said.
Kansas City Police announced charges against Javier Alatorre, 23, and Hugo Villanueva-Morales, 30, with four counts of first degree murder, and said early Monday that Alatorre had been taken into custody late Sunday afternoon.
Villanueva-Morales, however, remains at-large, and police said he should be considered "armed and dangerous." Bond for both suspects has been set at $1 million.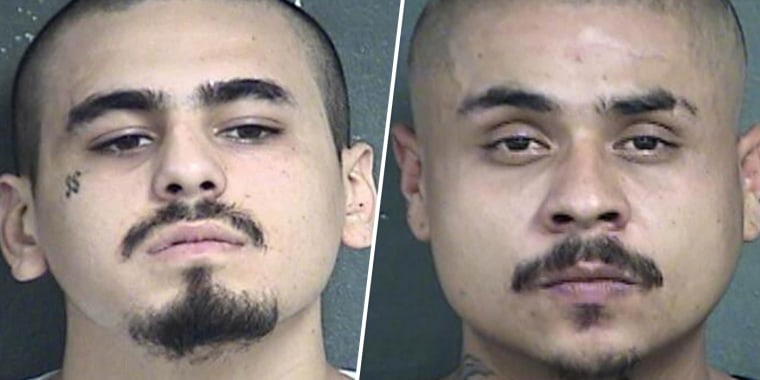 The two men allegedly opened fire at a private bar, Tequila KC, which required membership to enter, at around 1:30 a.m. Sunday.
Four Hispanic men were killed in the shooting, Thomas Tomasic of the Kansas City police told media, and Mexico's foreign affairs minister tweeted that two of the victims were Mexican nationals.
Kansas City police identified the victims as Martin Rodriguez-Gonzalez, 58; Francisco Anaya-Garcia, 34; and Alfredo Calderon, 29, and Ebar Meza-Aguirre, 29.
Police said they do not think the shooting was racially motivated.
"We do not believe it is random, we do believe this was an isolated incident," Tomasic said. "We don't feel that these suspects are going to go out and do this again."
Police had entered the Tequila KC just two hours before the shooting took place after a fight broke out, NBC affiliate KSHB reported, but left after not being able to find the people involved.
Around 40 people were believed to be at the bar when the shooting occurred, police said, adding the two alleged shooters were armed with handguns and fled the scene after killing four.
The five wounded were taken to a hospital and remain in stable condition.