When the time comes, Michael Borcina will testify about the deadly blaze that killed Madonna Badger's three daughters and parents on Christmas Day 2011.
That was the word from the Connecticut contractor's lawyer Thursday after Borcina was a no-show at a hearing where he was supposed to produce construction records and explain where he's been.
"Contrary to reports in the media, Mr. Borcina is not missing," attorney Robert C.E. Laney said in an email to NBC News.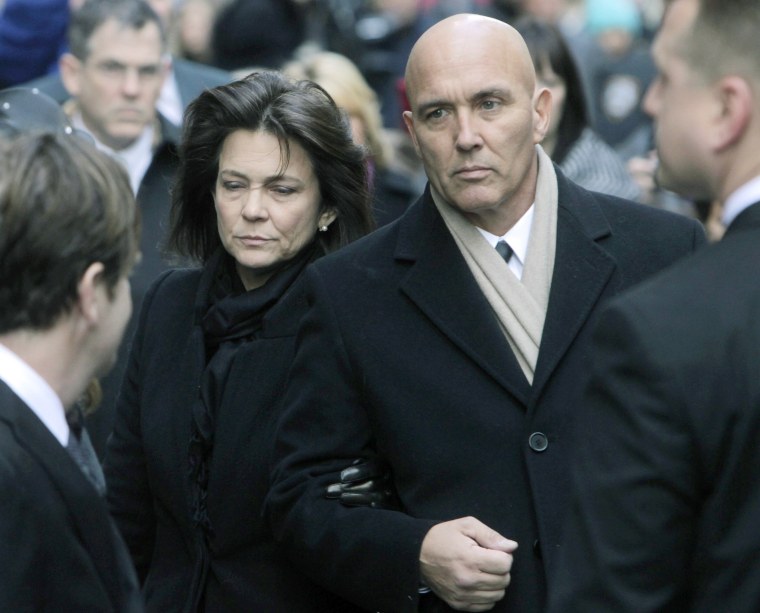 The hearing was related to a wrongful death suit against the city of Stamford and involving Borcina over the house fire.
"At a hearing held earlier today, the parties were able to work out various issues related to scheduling and ongoing discovery efforts," Laney said. "We have agreed that Mr. Borcina will sit for a fourth day of deposition examination by the other attorneys involved in the case on a mutually convenient date in the near future."
Laney did not say when this would happen.
Speculation about Borcina's whereabouts was stoked when The Stamford Advocate and other news outlets reported that his lawyers had told the court they did not know where he was and had not been able to reach him.
NBC News and other news organizations also tried unsuccessfully to find Borcina.
Borcina and Badger, a high-powered New York City advertising executive, were dating at the time of the deadly fire and were able to escape the stately $1.7 million Stamford mansion he'd been renovating.
But the blaze killed Badger's 7-year-old twins, Grace and Sarah, her 9-year-old daughter, Lily, and her parents, Lomer and Pauline Johnson.
At first, Borcina told investigators that he failed to properly dispose of the cinders that sparked the fire that gutted his girlfriend's mansion.
But in May, Borcina changed his story during a deposition and said that Badger had mishandled the ashes.
Asked why he misled investigators, Borcina said it was "to spare her from carrying the burden that maybe she had done something to hurt her family."
"I feel sorry for him," Badger told NBC last month. "I feel incredibly sad for him."
Meanwhile, Badger's ex-husband, Matthew Badger, filed a wrongful death suit alleging that Borcina's reckless renovation turned the home into a "firetrap" and also named the city of Stamford as a defendant.
Borcina's company has already settled a lawsuit with Matthew Badger for $5 million.