More than 100 affluent Chinese citizens gathered this weekend at a glitzy hotel to hear how a $500,000 investment in the Kushner Companies' New Jersey real estate project could earn them "golden visas" to the United States.
But unlike previous presentations, Saturday's meeting in Shenzhen to tout the EB-5 visa program was missing an important ingredient: the Kushners.
Nicole Meyer, sister of presidential adviser and son-in-law Jared Kushner, abandoned her role as pitchwoman after she had to apologize for name-checking her brother at similar events in China a week ago. He wasn't mentioned this time, and President Donald Trump wasn't either — although one attendee was overheard asking if he was involved.
Even the vice president of the Kushner Companies was a no-show at the Intercontinental Hotel Shenzhen, as was an official from its partner on the billion-dollar One Journal Square apartment and retail complex.
Zhao Haiting, a manager with Qiaowai, the migration agency that organized the Shenzhen presentation, blamed their absence on "the influence of foreign media."
That was a reference to U.S. headlines about two earlier investor events that turned into a debacle after ethics watchdogs said it appeared the Kushner family was capitalizing on its Oval Office ties to drum up cash for a private enterprise using a government program.
Richard Painter, who was an ethics attorney for President George W. Bush, told NBC News last week that those presentations came "very, very close to solicitation of a bribe" and amounted to "corruption, pure and simple."
Painter said Monday that it sounds like the new presentation was an improvement, "but it's really too late to undo what they did."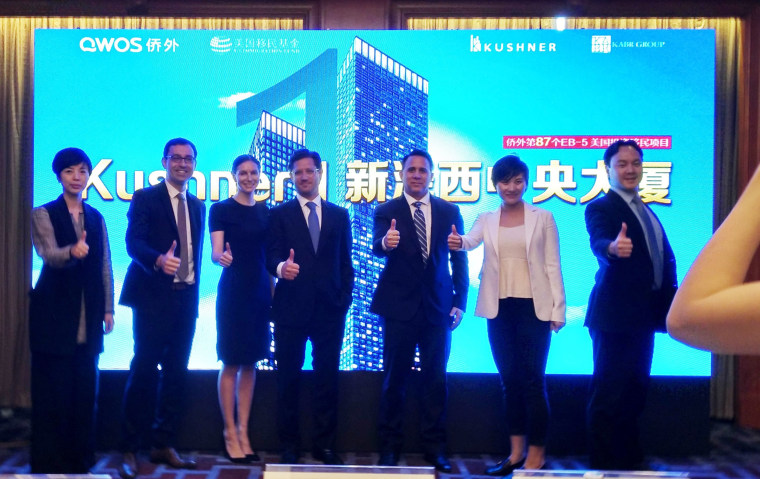 "The appropriate action from this point on would be not to give EB-5 visas for investment in this particular project," he said. Even if the company officials keep a lower profile, he said, "everyone knows who the Kushners are and they're using the name to raise money."
Kushner Companies is hoping to raise 18 percent of the funding for One Journal Square through the much-criticized visa program, which was just extended under a bill signed by Trump.
After the uproar over the first presentations, the Kushner Companies issued a statement saying that Meyer did mentioned her brother's ties to the White House only to make clear that he has stepped away from the family firm and is not involved in the New Jersey project.
"Kushner Companies apologizes if that mention of her brother was in any way interpreted as an attempt to lure investors," the statement said.
Jared Kushner's lawyer said he is not involved in the company operations, divested his interests in One Journal Square, and plans to recuse himself from "particular matters concerning the EB-5 visa program."