KIHEI, Hawaii — After the power went out in Lahaina and after smoke was seen from a wildfire that would later sweep into the town, Tasha Anderson "was in denial."
They had seen other storms and other fires, and they were always able to return later.
"I just didn't want to leave, like, where we had built the nursery, where we were going to bring our baby home to," Anderson, who is pregnant with the couple's first child, said Tuesday.
Her fiancé, Kevin Campbell, got on a scooter to check the condition of the fire. He said what he saw was not like past experiences.
"The flames, the wind had just taken this fire and made it so much more than a normal fire," he said. "It was jumping from building to building. It was crossing the street. It was catching a tree and then catching a house."
When Anderson heard the panic in Campbell's voice, they got in a car and left, grabbing almost nothing.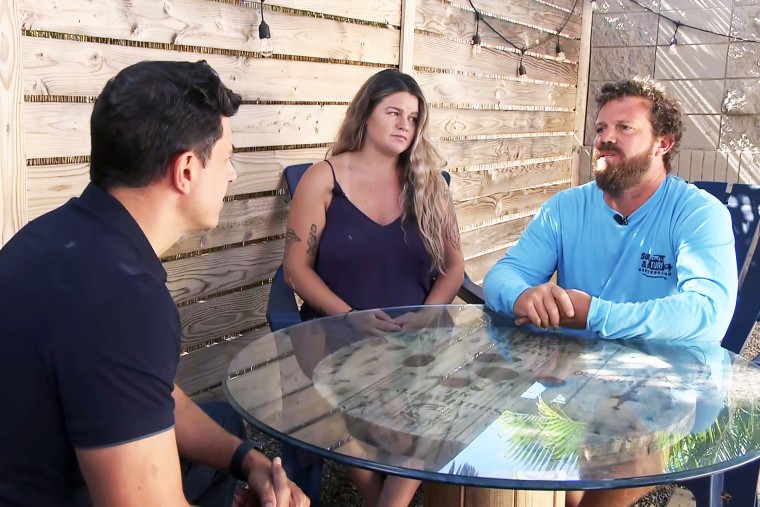 A side road allowed them to avoid some of the traffic and join the highway.
Campbell returned later, but if he were given the choice again, he would have stayed away. There are melted aluminum pools in the road, he said, and there is a chance of disturbing the remains of those who did not escape.
"I wouldn't do it again if I knew what it was like. I would have stayed away," Campbell said.
"It was more, emotionally, than I thought it was going to be to go there," he said. "But also — there's probably people they haven't found in all the houses, or some of them, at least, that I had to walk past to get to the area."
The couple lived in a neighborhood known as "Shark Pit" in Lahaina. The home is now burned to the ground. Among the items left behind and lost are Anderson's engagement and wedding rings.
A friend of a friend is letting the couple, with their new baby on the way, stay in their home in Kihei for six months.
Seeing their home burned was devastating, Campbell said.
"For me it was like, OK, we need to restart," Campbell said. "We got to try to start our life over and see what we can do."