PUEBLO, Colo. — High school teacher Julie Cain and her husband Jim, who teaches fifth grade, didn't need to have a long conversation before they decided to join the Pueblo, Colorado teacher strike this week.
Cain, who has taught in Pueblo City School District 60 for more than two decades, has long been frustrated by the low salaries, old textbooks and outdated equipment. She and her husband decided to forego their paychecks and walk out of their classrooms this week, along with about 900 other teachers from the district two hours south of Denver, which serves almost 17,000 students.
"We both knew wholeheartedly that we were going to be out here for our kids for as long as it takes," Cain said. "It's frightening and unsettling right now because we are both leaving pay as we stand out here in the heat every day."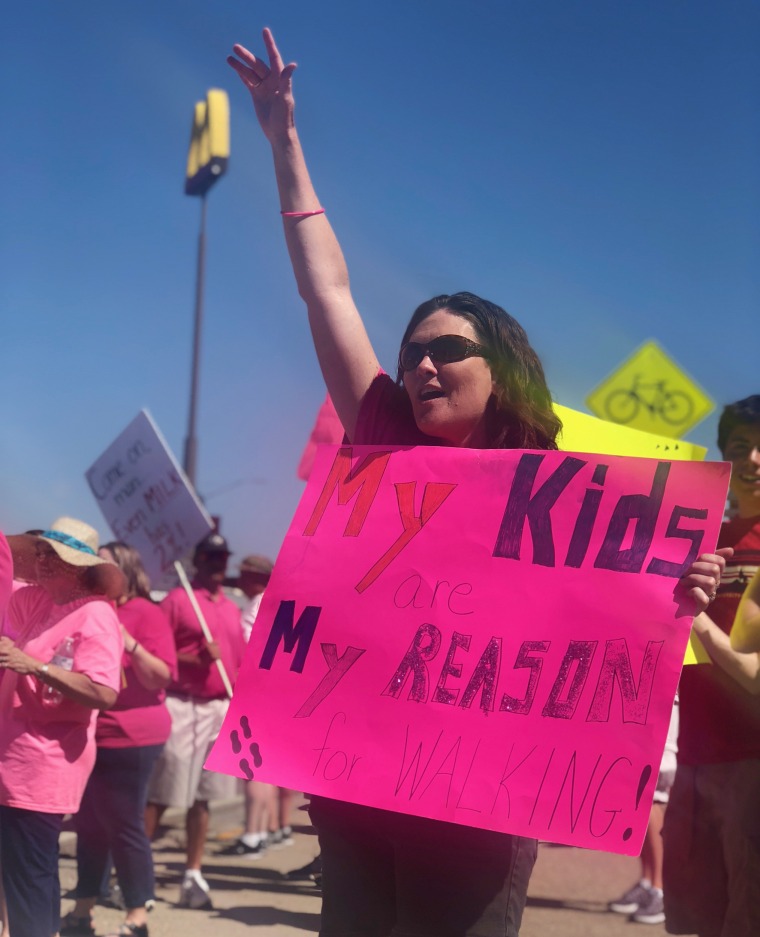 This is the first teacher's strike in Colorado since 1994. While thousands of students remained out of school on Wednesday, certain preschool programs have remained open, and school lunches are being offered. Suzanne Ethredge, president of the Pueblo Education Association, the teachers' union behind the strike, said she hoped it wouldn't last past this week.
The teachers are asking for a 2 percent cost-of-living raise and an additional $30 per month for health insurance, but the school board said it can't afford it.
"Nobody disputes that all teachers deserve more. Certainly ours here in Pueblo," said Dalton Sprouse, communications director for the Pueblo School District. But Sprouse said the district was "not in a condition that we can fund" the teachers' requests.
On Friday, the district offered $1,000 bonuses for this year, cost-of-living raises next school year and $50 a month toward health insurance beginning in September 2018. Teachers like Julie Cain say that's not good enough.
Still, she considers herself one of the lucky ones. She makes $69,000 a year, while her husband brings home $59,000 a year. Both have 25 years of experience and master's degrees.
The district's teachers were paid an average of $47,617 during the 2017-18 school year, according to the Colorado Department of Education. That's below the $52,728 average teacher pay in Colorado, as well as the national average of $59,660, according to the National Education Association. Teacher turnover in the district is about 20 percent, which has left Pueblo's schools struggling to fill open teaching positions, according to the Pueblo Education Association.
For many local educators, the strike is about more than salaries.
"It's pretty frustrating," said Cain, an English language teacher whose two teenage children attend school in a nearby district. "Sometimes we have old textbooks that are falling apart. We don't have computers in our classroom."
Pueblo teachers said they are inspired by what they saw in West Virginia, Oklahoma, Arizona and Kentucky, where teacher strikes and walkouts yielded raises and additional education funding. Cain believes teachers' mobilization efforts will have an impact at the polls in November.
"Teachers have a voice here," she said. "The midterm elections are going to be reflective of who is going to support us and who is going to fix this mess."