As the final political contest of 2016 winds down, the Democrats' last hope to pick up a Senate seat is campaigning alone in a runoff election in southwest Louisiana.
Foster Campbell is holding three events on Friday, starting with a press conference in the morning, ahead of President-elect Donald Trump's get out the vote rally in Baton Rouge for his Republican opponent. Voters head to the polls Saturday.
"It's close or he wouldn't have Mr. Trump coming here," Campbell said of his Republican opponent John Neely Kennedy, the current state treasurer. "They want to win, I understand that. They think Mr. Trump is very popular in Louisiana, so they've asked him to come down to make sure they win."
Nevertheless, winning the election is a long shot for Campbell, a state public service commissioner known for his conservative social policies. Kennedy touts the endorsement of both Trump, who won the state by a big margin, and Vice President-elect Mike Pence.
Kennedy has consistently led Campbell by double digits, and early voting is already underway.
But after the outcome of the election that saw Democrats lose the presidency as well as any chance of regaining control of either chamber of Congress, Campbell's race emerged as a bright spot for Democrats — because a win could sway the balance of power in the Senate.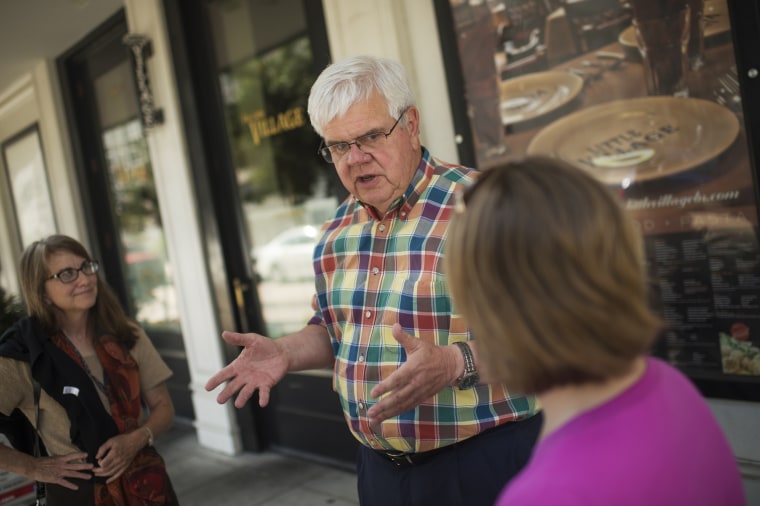 Louisiana's race is decided later than all other states because of its jungle primary system, in which all candidates compete in a nonpartisan primary on the regular November election date, but then the top two candidates advance to a runoff election around a month later.
If Campbell were to win, it would change the makeup of the Senate from 48 Democrats – 52 Republicans, to a tighter model of 49 Democrats – 51 Republicans.
Because of this, Campbell's name has become a rallying cry for some Democrats, organizers and celebrities who saw in him a chance to narrow Republicans' margin in the Senate.
Money poured in from donors across the country — $2.5 million, according to his final Federal Election Commission report. Phone banks sprang up in cities like San Diego and New York, and he received a number of out-of-state volunteers to help his campaign.
According to the campaign, Campbell's volunteers have logged 400,000 phone calls, 350,000 text messages, 350,000 door knocks on behalf of the Democratic candidate.
But Campbell's chances were always slim. Despite a boost at the grassroots level, polls immediately saw him lagging in his heavily red state. Both Campbell and Stephen Handwerk, the executive director of the Louisiana Democratic Party, have said they felt abandoned by the national party's campaign infrastructure.
"I thought you all were trying to break the trend," Campbell said of the Democratic Party in an interview with NBC News. "Are you just going to give the South up and say it's hopeless? Looks like to me that you all better get into some other states. Find another game plan. What you're doing isn't working."
Democrats have won in Louisiana before, most recently in 2015, when conservative Democrat John Bel Edwards beat Sen. David Vitters by 12 points in a similar runoff election for governor. Handwerk recalled that no one believed they could elect Edwards.
However, as the website FiveThirtyEight points out, a Democrat hasn't won a Senate race in Louisiana since 2008, a time when the outcome of a presidential race and a Senate contest weren't so intertwined. And Edwards' opponent in the gubernatorial race had a damaging scandal in his background, while Campbell's opponent has sought to ally himself closely with Trump, who won Louisiana by 20 points — a number that reflects Kennedy's current lead.
Handwerk said that the DNC had done everything Louisiana Democrats had requested to help Campbell, including helping with digital modeling and forecasting. What was missing was aid from the Democratic Senatorial Campaign Committee, which works to elect Democrats to the Senate.
"I don't know what they're doing," Handwerk said of the DSCC. "You would think they would at least want to try to compete."
Related: Trump, Pence Endorse Louisiana GOP Senate Candidate John Kennedy Ahead of Runoff
Sen. Chuck Schumer, the leading Democrat in the Senate, called Campbell after November 8 and said he would donate to his campaign. But Schumer had not reached out to the candidate since, Campbell said.
According to Handwerk, the DSCC has a history of abandoning campaigns that lead to a runoff, recalling that they pulled all of their advertising and abandoned former Senator Mary Landrieu, an incumbent three-term Democrat, in the 2014 election. That seat had belonged to a Democrat since 1883.
"Their members will really have to take this up amongst themselves," Handwerk said. "If that committee has decided that it's only going to be an incumbent protection program, then I think they're letting a whole bunch of people down nationwide. I think donors should pay attention to that when they are making their investments."
Schumer's office, the DNC and the DSCC did not respond to requests for comment. The DNC and DSCC's websites do not mention the Louisiana election.
"It'll be nice to see the DNC when I see them," Campbell said. "I'll say, 'It's nice to meet you fellas. Where you been, man? We had a little war down in Louisiana, and we never got to see you.'"
In a field of 24 candidates that included former Ku Klux Klan leader David Duke, Kennedy and Campbell were the two most likely to head to a runoff on November 8. Prior to Election Day, one poll had Campbell leading Kennedy by nine points. Another had Kennedy leading Campbell by 11. Post-Election Day polls, however, saw Kennedy open up an fast lead.
Pence was originally set to host Friday's get out the vote rally for Kennedy solo, but the Trump transition team announced Wednesday that the president-elect would attend in person. Handwerk dismissed Campbell's lack of high-profile Democratic surrogates, calling such appearances distractions that don't produce votes — though this contradicted his evaluation of Trump's arrival.
"Donald Trump is coming here because I honestly don't know how they could message through a loss," Handwerk said. "They have to put everything in this to get it."
Thursday, after Campbell announced three campaign events organized "so that press can give equal coverage to the campaign on the day of President-elect Trump's visit" on behalf of Kennedy, the Democrat received some last-minute shine from Rep. Keith Ellison, the Bernie Sanders-backed contender for DNC chair. Ellison sent an email advertising phone banking opportunities for Campbell to his mailing list.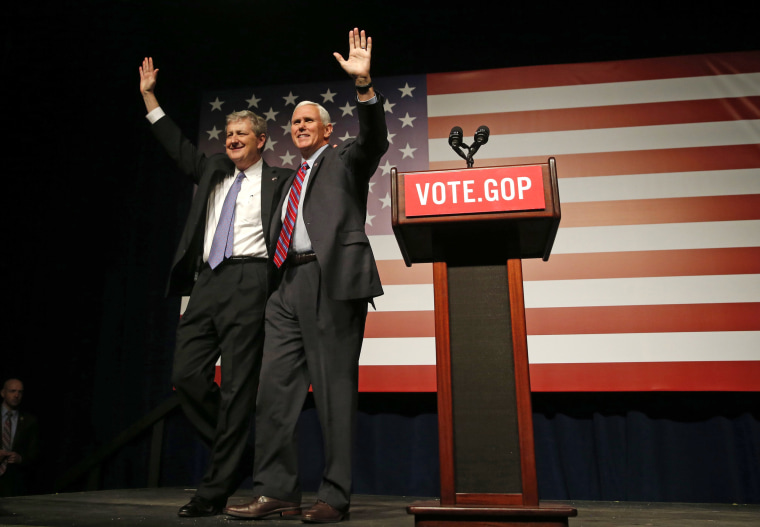 Campbell has frequently attacked Kennedy for having "been everything but a Baptist preacher," a reference to the different positions Kennedy has taken in his more than 25 years in Louisiana politics, many of which he spent as a Democrat. (Kennedy changed his party affiliation to Republican in 2007.) Campbell also told NBC News that Kennedy "wouldn't know the difference between a 16-gauge shotgun and a bazooka."
In response, Kennedy told NBC News in a phone interview that he carries strong Republican values, pointing to his membership in the National Rifle Association and pro-life views. He expressed his pride in the Louisiana oil industry, which Campbell has criticized for its environmental impact.
"When you're that far behind," Kennedy said of Campbell's standing in the polls, "you get desperate and say just about anything."
"There was time you could be a conservative Democrat in Louisiana," Kennedy added. "That time ended."
But Campbell says Kennedy is wrong on that score, too. He spoke of his collection of more than 20 shotguns and the nine bird dogs he owns for hunting, his farm in northern Louisiana, and his own opposition to abortion.
"Philosophically, I can be with Trump when he's right," he said. "I'm all for building the roads and all that. But I'm damn sure am not going to privatize Social Security and Medicare."
He said Democrats have forgotten their winning platform, becoming bogged down in identity politics and gun control policies. The combination is costing the party the crossover votes that he can win, he said, and led to Trump's surprise victory.
"Common sense is what they don't focus on enough," Campbell said. "All these issues they get hung up on just cause problems. They ought to focus on raising the minimum wage, make sure women make the same as men, making sure the country is safe — those are the kind of issues hardworking Americans care about."