A man arrested at a makeshift compound in New Mexico where 11 children and the remains of a boy were found was training one of the children to commit school shootings, court documents alleged Wednesday.
Documents filed in 8th District Court in Taos County quoted the foster parent of one of the 11 children as having told investigators that Siraj Ibn Wahhaj, 40, the father of a missing Georgia boy, was conducting weapons training at the squalid compound in the northern part of the state.
Wahhaj "had trained the [foster parent's] child in the use of an assault rifle in preparation for future school shootings," according to the document, which argues that Wahhaj should be held without bond. He entered no plea during an initial hearing Wednesday, and a bond hearing is pending.
The allegation was first reported by The Associated Press.
Authorities raided the compound in Amalia on Friday during a search for Wahhaj's son, a 3-year-old who went missing eight months ago in Jonesboro, Georgia, a suburb of Atlanta. Wahhaj was the prime suspect.
Once there, they came across Wahhaj, four other adults and 11 hungry children ages 1 to 15. But they didn't find his son.
When investigators returned to the property on Monday, they found remains of a boy. A positive identification is still pending, but officials believe they are those of Wahhaj's son, Abdul-ghani. The child's fourth birthday was the same day that the remains were discovered.
Authorities said that Wahhaj had multiple firearms, including an assault rifle, and that they believed a shooting range was on the property.
They arrested the adults and charged them with 11 counts of child abuse. Wahhaj was also charged with interfering with a parent's custodial rights, while a second man, Lucas Morton, 40, was also charged with harboring a fugitive.
The death of the unidentified boy remains under investigation and wasn't included in the charges.
Few details are known about the residents of the compound. After the raid, Taos County Sheriff Jerry Hogrefe said that a tactical unit had been sent because the residents were likely "heavily armed and considered extremist of the Muslim belief."
Wahhaj identified himself as "the son of the famous Muslim Imam Siraj Wahhaj" in a 2006 federal court filing obtained by the Associated Press. He said he was harassed by customs agents at John F. Kennedy International Airport before and after a trip to Morocco, according to the AP.
The allegation in court documents that Wahhaj was training a child to commit school shootings is another bizarre twist in the case. Wahhaj is accused of having left Georgia in December with Abdul-ghani; the boy's mother told police that Wahhaj wanted to perform an exorcism on him because he thought the boy was possessed by the devil. He took the boy to a park but never returned, the woman said, according to an extradition warrant.
Abdul-ghani struggled with seizures and hypoxic-ischemic encephalopathy, a birth defect caused by lack of oxygen and blood flow, and he couldn't walk, the warrant said.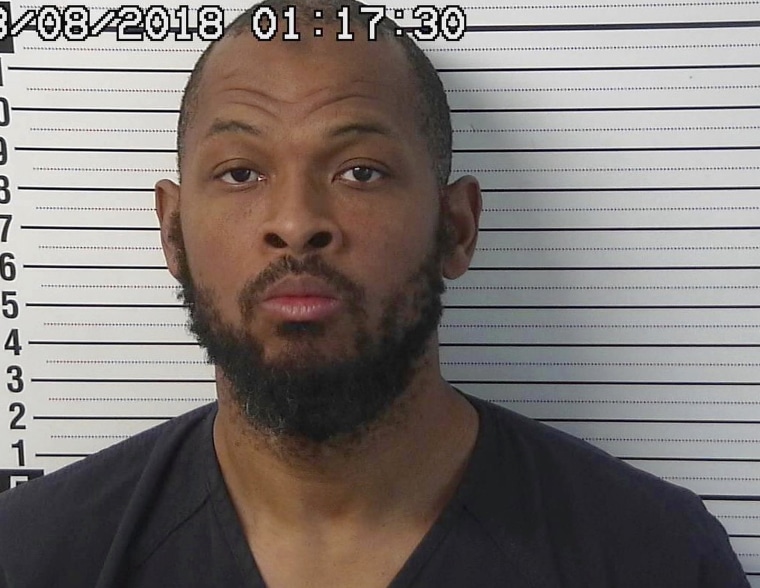 Jason and Tanya Badger, who own the lot adjoining the land where the compound was built, said that the group set up camp around Christmas and that they asked the Taos County Sheriff's Office to remove the group because they believed the newcomers were encroaching on their land. A judge dismissed an eviction notice in June, according to court records.
The Badgers told NBC affiliate KOB of Albuquerque that they believed they saw the missing boy in February, before they learned that he had been abducted in Georgia. He was listed in the National Crime Information Center Databases as a missing person shortly after he disappeared in December.
"We saw him here alive and now he's not, and we have to live with that," Tanya Badger told the station through tears.
Jason Badger added: "Something should have been done sooner. It's downright pathetic."
Sheriff Jerry Hogrefe told reporters on Tuesday that FBI surveillance was unable to confirm that Wahhaj was there and that authorities didn't have enough solid evidence to move in at the time.
The Badgers also told KOB on Wednesday that they returned to the property after Friday's raid and found weaponry that authorities still hadn't seized, including a tactical shotgun, a 9-mm pistol and plenty of ammunition.
Jason Rael, a spokesman for the sheriff's office, told KOB: "At this point, with the resources that we had, we did a thorough search of that compound."
CORRECTION (Aug. 8, 2018, 5:25 p.m. ET): An earlier version of this article misstated the charges facing Siraj Ibn Wahhaj. Charges include child abuse and interfering with a parent's custodial rights, but not conspiracy to commit school shootings.