A Maryland man has been charged with murder after a shooting at a birthday party Sunday night left three people dead — including a father and son — and three others injured. 
Charles Robert Smith, 45, was charged with three counts of second-degree murder, three counts of first-degree assault and three counts of attempted murder and use of a handgun in the commission of a crime, Annapolis Police Chief Edward Jackson announced Monday. 
He is being held without bond at the Jennifer Road Detention Center. It wasn't immediately clear whether he has a lawyer.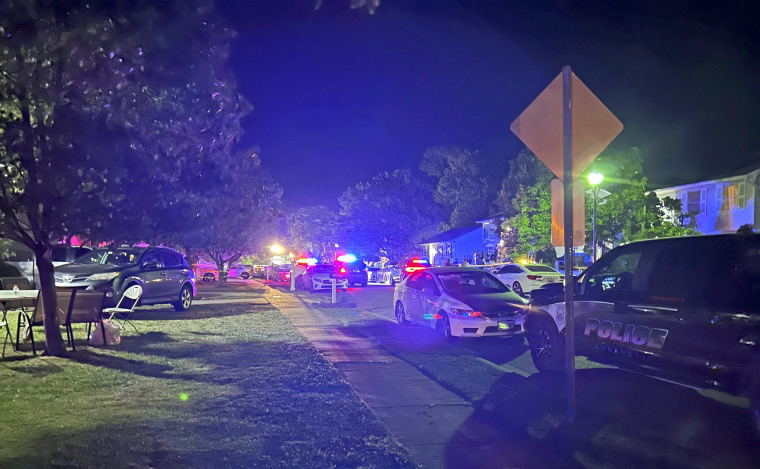 Smith, who is white, lived in the block of 1000 Paddington Place in Annapolis where the shooting took place, Jackson said.
Police were called to the area at 7:50 p.m. Sunday for a report of a mass shooting and found three people dead and three injured. 
Three Hispanic men were killed: Nicholas Mireles, 55, of Odenton; his son Mario Antonio Mireles Ruiz 27, of Annapolis; and Christian Marlon Segovia, 25, of Severn, officials said Monday.
Two of the wounded were airlifted to a local hospital, and another was taken by ambulance. All three were stable Monday afternoon, Jackson said. 
Some of the victims lived in the block of the shooting, and others lived in the area, Jackson said.
Annapolis police said a birthday party was going on when shots were fired. Jackson said 150 to 200 people were there when he arrived.
Smith was not attending the party, police said.
Two weapons were recovered: a long handgun and a semi-automatic handgun, Jackson said.
Police speculated Sunday that there may have been an exchange of gunfire, but Jackson said Monday that officials can't say definitively and that the matter is under investigation. 
"Only thing we know is that the person we have in custody fired shots," Jackson said.
Reporters asked at the news conference whether the shooting happened after a dispute over a parking spot. Jackson acknowledged having heard such accounts but cited the ongoing probe.
Officials have said the shooting isn't random, and Jackson stressed that it was an isolated incident.
It's not clear what motivated the shooting. Jackson said authorities are still investigating and have a search warrant for the suspect's home. Authorities will also look into whether the violence may have been hate-motivated.
The FBI and the Bureau of Alcohol, Tobacco, Firearms and Explosives are aiding in the investigation.