WICHITA, Kan. — Three men accused of plotting to bomb Somali immigrants in western Kansas were only preparing to defend themselves in the event of "massive social upheaval" as they accumulated firearms and ammunition, a defense attorney said Friday.
The arguments were the first glimpse into the unfolding defense strategy for three men prosecutors say where conspiring to detonate truck bombs at an apartment complex where 120 Somali immigrants live in the western Kansas meatpacking town of Garden City. They came during a detention hearing for Patrick Stein, who pleaded not guilty to conspiring to use a weapon of mass destruction.
Prosecutors contend Stein was the leader of a militia group called The Crusaders, though his attorney, Ed Robinson, denies his client even knows of such a group. Robinson also said that ammonia nitrate that the government claims was to be used to make bombs was really for farming.
U.S. Magistrate Judge Gwynne Birzer ordered Stein to be held pending trial, citing the "sense of hate" exhibited in prosecutors' evidence and noting "the grave danger you pose to the community if you are released."
Prosecutors allege that Stein, 47, Gavin Wright, 51, and Curtis Allen, 49, planned to attack the Garden City apartment complex the day after the November election. Wright waived his detention hearing on Friday and pleaded not guilty. Allen's hearing is Monday.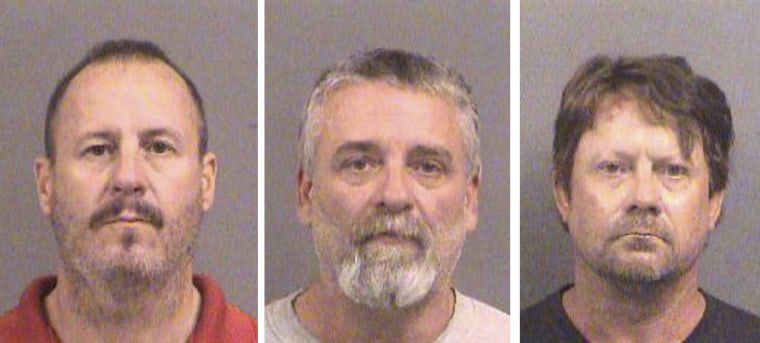 In text messages between Stein and an undercover FBI agent, Stein, using the screen name Orkin Man, referred to Somali immigrants as "cockroaches" and expressed his belief that the government — from the president down through his cabinet and "even getting down to the local government" is run by a terrorist organization, Assistant U.S. Attorney Anthony Mattivi said.
"It's at a point it has to be stopped or there is no stopping it," Stein allegedly said.
Robinson, Stein's attorney, said the men wanted to be prepared to defend themselves, and weren't planning a pre-emptive aggressive strike.
"He proposed a plan to be put together to deal with that mosque and those people in the event a revolution occurred," Robinson said.
He also criticized prosecutors for "inundating" the public, the media and Stein's family with the allegations.
"Mr. Stein is not a member of any group called The Crusaders, and he doesn't even know what that name means," Robinson said.
According to the texts prosecutors presented, Stein allegedly said the group had hoped attack on Sept. 11, but the group was not ready.
Instead, Stein told the undercover agent, the group decided to wait until after the election, figuring that an attack could give ammunition to supporters of Democratic presidential nominee Hillary Clinton.
"We cannot let Hillary back into the White House," Stein allegedly said. "If she was to be elected, it would be very soon after the election, 'game on.'"
Stein rocked back and forth in his chair as Mattivi read the texts and talked about aerial maps of the targets found in his vehicle, at times whispering to his attorney.
The bombing of the Somali apartment complex, which contained a mosque in one of the units, was the first of many attacks planned, prosecutors said. Stein said he did not expect to live past January, Mattivi said, and wrote that he wanted to take out as many people as possible before he died.
Investigators searching the men's homes, vehicles and a storage unit seized instructions explaining how to make explosives along with other bomb-making materials.
Robinson said that the defendants kept "getting led along by the paid informant and undercover agent."
But prosecutors pointed to Stein's words saying that the men only needed to a few things to wrap up before the attack.
"He was making preparations for a substantial cataclysmic attack," Mattivi said.