Miami Dolphins quarterback Tua Tagovailoa will be sidelined indefinitely, his coach said Friday, after being slammed to the turf and hitting his head, twice in a five-day span.
There's no schedule for Tagovailoa's return after he was carted off the field Thursday night in Cincinnati, Dolphins coach Mike McDaniel told reporters.
"I'm not even really thinking about timetables or anything regarding him as a player right now," McDaniel said.
The Dolphins next play a week from Sunday, against the New York Jets in East Rutherford, New Jersey.
"I talked to him today and I reiterated the same thing because he was bringing up to me, 'Man I just hope I don't miss X, Y or Z game,'" McDaniel said.
"And I said, 'Tua, let's stop this right now. Don't even think about a game. Let's just think about doing everything the right way to listen, to get opinions that you need. And let's worry about you and your head and being a healthy human being and we'll worry about playing football later.'"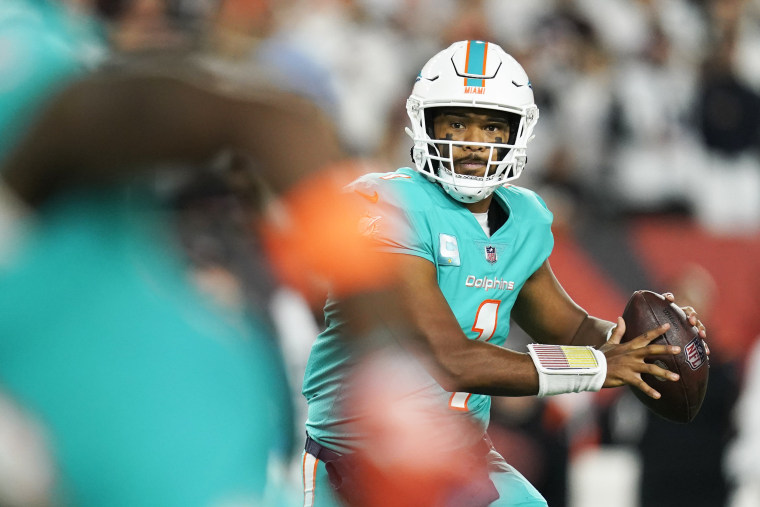 Tagovailoa had to be taken off the field on a stretcher Thursday night during the Dolphins' 27-15 loss at Cincinnati.
Tagovailoa hit his head hard on the ground as Bengals defensive tackle Josh Tupou sacked him with about six minutes left in the second quarter.
The third-year QB was "conscious and has movement in all his extremities" and was taken to University of Cincinnati Medical Center for evaluation before flying home with the team, the Dolphins said.
Tagovailoa and the 'fencing posture'
The position of Tagovailoa's arms and hands after he hitting the ground greatly concerned Dr. Ann McKee, a Boston University neurologist and authority on the links between football and Chronic Traumatic Encephalopathy (CTE).
"So it was very concerning that when he went to the ground, hit his head, a severe blow to the back of the head, and then he has arms come up and he has that what's called a fencing posture," she told NBC News on Friday.
"That to me is an indicator of a serious blow to the head, head or neck and some brainstem injury."
Such a blow and reaction could have been, "under the right circumstances, this can be a catastrophic injury," she added.
"It's left some people with, you know, permanent neurological injuries," McKee said.
Tagovailoa was in good spirits on the journey and the QB even pulled out his phone to watch "my cult favorite class movie 'MacGruber' and he was laughing with me," according to McDaniel.
"He was just happy to be with his teammates," the coach said. "And all of his teammates were so elated. I mean this was a scary, scary situation for all of us." 
The disturbing scene at Paycor Stadium was even more troubling, given Tagovailoa's recent injury history.
Dolphins: He did not suffer head injury Sunday
The 24-year-old Hawaii native absorbed at late hit on Sunday in a game against the visiting Buffalo Bills. But after picking himself off the ground, the woozy Tagovailoa struggled to stay on his feet and was taken out of the game — briefly.
He missed the final two minutes of the first half before coming back in the third quarter to finish out Miami's 21-19 victory.
The stumble was considered a "gross motor instability." But a team physician and an unaffiliated neurotrauma consultant ruled that his stumble was not caused by a neurological problem, thus clearing the way for Tagovailoa to play the second half.
McDaniel on Friday pushed back on suggestions that Tagovailoa was not fit to play after the second-quarter hit on Sunday. 
The QB was lucid on the field, played well and met regularly with reporters on Sunday and through the week not showing any symptoms of a head injury, his coach said.
"He did not have a head injury," McDaniel said. "Guys hit their heads all the time. That's why I was adamant he was evaluated for having a head injury. He did not have one." 
Tagovailoa should have been automatically considered the victim of brain injury on Sunday, Dr. McKee said.
"So the hit last Sunday was alarming. He got up shook his head wobbled and fell to me that's a neurologic injury. To me that's a brain injury until unless proven otherwise," she said.
"So that was a completely alarming. I don't understand how that decision was made."
Union launches investigation
While NFL Players Association President JC Tretter said the sport has improved its treatment of brain injuries, the union chief said Tagovailoa's situation also shows "how far we have left to go."
"We are all outraged by what we have seen the last several days and scared for the safety of one of our brothers," Tretter, a former Cleveland Browns center, said in a statement.
"What everyone saw both Sunday and last night were 'no-go' symptoms within our concussion protocols. The protocols exist to protect the player and this is why we initiated an investigation."
Even before Thursday night's game in Cincinnati, neuroscientist Chris Nowinski, a former college football player and pro wrestler, pleaded for Tagovailoa to sit out.
Four hours before kickoff, Nowinski predicted that allowing Tagovailoa to play was a "massive step back" for concussion care in the NFL.