Five years after she and two other women escaped from the house of horrors in Cleveland where they had been held captive, nothing makes Michelle Knight happier than feeling the sun on her face.
There were long stretches during the 11 years she was imprisoned by Ariel Castro in which Knight was chained to a pole in his basement and left alone in the darkness.
"The first time I was actually able to sit outside, feel the sun, it was so warm, so bright," Knight said this week, as she recalled her first days of freedom. "It was like God was shining a big light on me."
Knight was 21 when she was kidnapped in 2002, the first of Castro's victims. He raped her repeatedly, police said, impregnating her five times and beating her so badly she miscarried each time.
Now 37, Knight says she no longer has nightmares about Castro, who hanged himself in prison not long after his arrest. But she still lives at the edge of despair.
"I do have triggers," she said in an interview with NBC News. "Certain smells. Light fixtures with chain pulls."
Knight said the chain pulls remind her of the chains Castro used to bound her. She said Castro used to douse himself with Old Spice and Tommy Hilfiger colognes, so now she can't stand those scents.
But more than anything, she can't bear the smell of bacon grease.
"One of the meals he made for us was hot dogs, rice and eggs, all cooked in bacon grease and all served together in a bowl," she said. "I get a nauseous feeling when I smell that."
Knight, who still lives in the Cleveland area, married her husband, Miguel, in 2015 and released a second memoir this month, "Life After Darkness."
Now I have a chance to make my own destiny.
Michelle Knight
"I have found joy in my life," Knight, who has changed her name to Lily Rose Lee, recently told Megyn Kelly on NBC's "Today."
Joy is a feeling Knight couldn't imagine she would ever feel again after she was kidnapped.
Castro had told her that "happiness was not for me and that it would never happen to me," she said. "But now I have a chance to make my own destiny."
Knight is still in the process of wading into the wider world. She doesn't watch TV and avoids the news. Asked about the #MeToo movement, she said she wasn't familiar with it.
"I watch family movies like 'Dr. Doolittle,'" she said. "Sometimes my agent will tell me things about the outside world."
Knight's life was difficult even before Castro kidnapped her off the street. Several years before they crossed paths, Knight was gang-raped as a teenager and bore a child she named Joey who was later put up for adoption, her family has said.
Knight was joined in captivity by two other women Castro kidnapped, Amanda Berry and Gina DeJesus. As police searched for the missing women, Castro subjected them to mind games like marking the anniversaries of their abductions by serving them cake.
They were cut off from the world, but some news seeped in, Knight said. Among other things, she said she learned that Barack Obama was running for president from Castro, who was not happy about it.
"I said, 'Oh my God, that is so cool,'" Knight recalled. "But I had to say that in my head because he was not in favor. I kept my opinion to myself."
Knight said that while Castro refused to let her give birth, he made her help Berry deliver a daughter into an inflatable kiddie pool.
In a statement she gave to police, Knight said that the baby was not breathing at first and that Castro threatened to kill Berry if the baby died. So she performed CPR on the infant, who revived and was named Jocelyn. Castro is believed to be the now 11-year-old child's father.
It was Berry who led their escape from the shabby house on Seymour Avenue on May 6, 2013.
When Berry realized that Castro had forgotten to lock the front door, she opened it and started screaming for help through the screen door. Shocked neighbors responded and kicked a hole through which Berry and her daughter escaped and called 911.
Within hours, Knight and DeJesus were free and Castro was in handcuffs.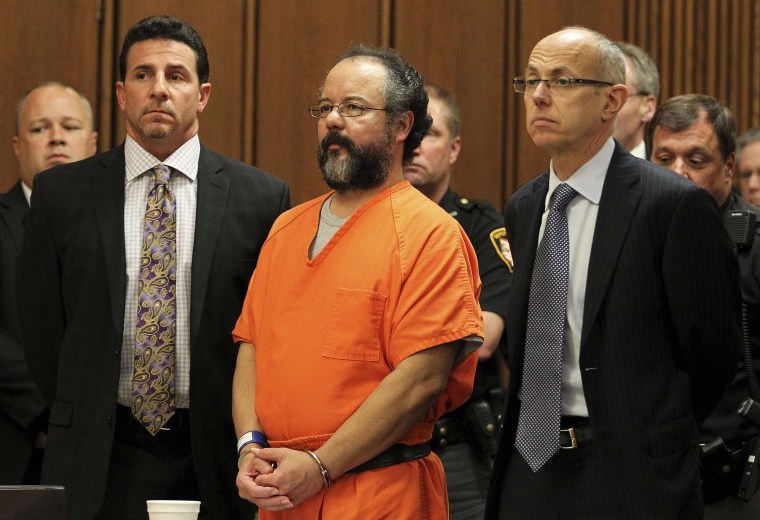 Knight later confronted her captor in court and recounted her ordeal in her first memoir, "Finding Me." She and Miguel, who she met through mutual friends on Facebook, tied the knot on May 6, 2015. They will likely not be able to have children of their own because of the abuse she suffered at Castro's hands, but they are considering adoption.
Knight said she continues to be buoyed by love and support from fellow Clevelanders, but adjusting to being free was not easy. She was dismayed when she learned that the house she grew up in was demolished while she was held by Castro. And some things most of us take for granted, like smartphones, continue to mystify her.
"Oh my God, cellphones were such a pain in the butt for me," she said, laughing. "It was just beepers and flip phones when I was kidnapped. "
Knight said she has not been in touch with her fellow captives but is open to a reunion "when the time is right."
Her main job these days is running a foundation called Lily's Ray of Hope that aims to help other women and young girls who have "experienced physical and emotional abuse through domestic violence, human trafficking and child abuse." And she's told her story to audiences around the country.
But when she's at home, Knight said she and her husband fill their hours with movies, bowling, and — whenever possible — dinners out. She also loves to go on long romps with her dogs, rain or shine.
"Feeling the rain tickling my nose, I love that, too," she said. "I miss that young girl who ran in the rain being silly. I'm really a big kid at heart."