LANSING, Mich. — The gunman who police said killed three students and injured five others on Michigan State University's campus Monday night turned "evil and mean" and became a recluse after his mother's death two years ago, his father said Tuesday in an interview.
Anthony McRae, 43, had a difficult time handling the loss of his mother, Linda McRae, and his demeanor and outlook on life "changed" after she died of a stroke on Sept. 13, 2020, said his father, Michael McRae.
"He was a mama's boy. He loved his mom. They were tight. His mom was like his sister," Michael McRae said. "Everything happened so fast."
After her sudden passing, the younger McRae quit his job at a warehouse, where he loaded refrigerators into delivery trucks, and stayed in his room all day playing video games, his father said.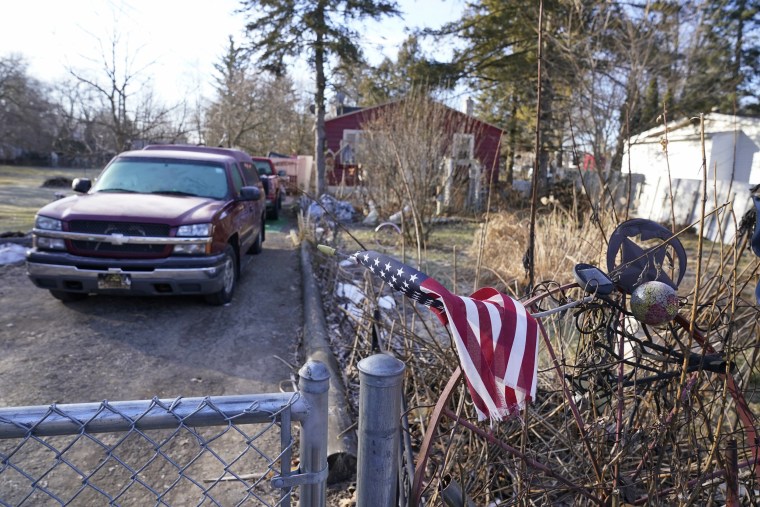 "He was grieving his mom. He wouldn't let it go. He got bitter, bitter and bitter," Michael McRae said. "His mom died, and he just started getting evil and mean. He didn't care about anything anymore."
Michael McRae, who was married to Linda for 45 years, said he tried to encourage his son to apply for jobs, seek counseling and attend church with him.
"I said, 'Talk to Daddy. Let me know if something is on your mind. If you need help, I'll get you help,'" the father said. "He said, 'I'm OK, Dad, I don't need help."
Michael McRae said he is a "man of God," reads from the Bible every day and tried his best to be a good father to Anthony McRae and his two other children.
"He was a good kid, don't get me wrong," he said. "But you never know what your kid will do when they walk out the door."
Police identified Anthony McRae as the suspected shooter in a news conference Tuesday morning.
He opened fire at MSU before leading authorities on a manhunt that ended when he fatally shot himself after a confrontation with law enforcement officials in the adjacent city of Lansing, police said. 
Authorities said the shooter's motive is unknown. He had no affiliation to the university and was not a student or a staff member, said Chris Rozman, interim deputy chief of the Michigan State University Police.
"We have no idea why he came to campus to do this tonight," Rozman said.
Michael McRae said he did not know why his son targeted the school but believed he may have been trying to apply for a job there.
Before Monday night's mass shooting, Anthony McRae's most serious brush had been early June 17, 2019, when Lansing police officers found him sitting on the back steps of a building smoking a cigarette, court records show.
Police were patrolling the neighborhood, which had experienced a rash of burglaries. An officer approached Anthony McRae, who had his bicycle nearby, and asked: "You got any weapons on you, or anything like that?"
He admitted to being armed, and officers found a Ruger LCP .380 semi-automatic pistol in his pants pocket, according to the court records.
He was originally charged with a felony, carrying a concealed weapon, which has a maximum penalty of five years behind bars. He was also charged with a misdemeanor, possession of a loaded firearm in or upon a vehicle, which could have been punishable by up to two years in jail.
Anthony McRae pleaded guilty to the misdemeanor and was sentenced to probation. He was discharged in May 2021.
His father said he does not know how his son obtained the firearm or why he felt his son wanted to have one.
Michael McRae said he told his son, "We don't need no guns in this house." His son promised to get rid of it but never let his father into his room in the home they shared in Lansing, Michigan.
"I said, 'I hope you got rid of that gun, man.' And he said: 'Yeah, I got rid of it. I got rid it,'" Michael McRae said. "He didn't."
Multiple times over the summer, neighbors complained that the younger McRae had apparently fired shots outside of his home, said Megan Bender, 34, who lives nearby.
"He was firing a firearm out of the back door of the house into the yard," Bender said from her home. "We're right in the city. You shouldn't be firing a firearm in the middle of the city."
Bender said Anthony McRae was always on foot or on a bicycle and that he used his bicycle to get to his job when he was employed.
The only time the father spoke about his son, Bender said, was when he asked whether she had any bicycles because his son's bicycle had been stolen.
Michael McRae said that he did not think his son was a danger to himself or others and that he never felt he needed to alert authorities about his son.
He said he learned his son was behind the massacre only after the FBI and a swarm of local police officers arrived at his house Monday night.
Authorities on Tuesday identified two of the people slain as Brian Fraser, a sophomore, and Alexandria Verner, a junior.
The elder McRae did not know how many people his son had killed and injured until Tuesday morning during an interview with NBC News.
"Wow, oh my God," he said. "I really don't believe it, but I know it's true."
He said his son had no history of violence.
"He wasn't like that," he said. "He was no danger to nobody like that. He never did anything crazy like this."
Antonio Planas reported from Lansing, Mich. Melissa Chan and David K. Li reported from New York City.