President Obama joined the nation Friday in saying farewell to Supreme Court Justice Antonin Scalia.
Accompanied by first lady Michelle Obama, Obama paused to pay his respects beside Scalia's flag-draped coffin. They bowed their heads and walked slowly to a portrait of the influential justice, where they paused in reflection.
It was a brief but touching tribute to the Queens-raised son of Trenton, New Jersey, who was an ideological foe of the Democratic president.
Earlier, the Obamas spent about 15 minutes meeting privately with mourners. They met with members of Scalia's family privately while at the Supreme Court, White House spokesman Josh Earnest said.
PHOTOS: Antonin Scalia Lies in Repose at Supreme Court
"The President and Mrs. Obama extended their personal condolences on behalf of the nation, and expressed gratitude for Justice Scalia's decades of public service," Earnest said in a statement.
The Supreme Court was often divided during Scalia's tenure. But it was united Friday in grief over the passing of the sometimes cantankerous and always colorful conservative justice who served on the nation's highest court for nearly three decades.
The mahogany casket bearing Scalia, who died last Saturday at age 79, was carried by eight Supreme Court police officers into the Great Hall of the Supreme Court building through a somber line of dark suit-clad law clerks who once worked with the Justice.
They were followed by a dozen honorary pallbearers — all former law clerks.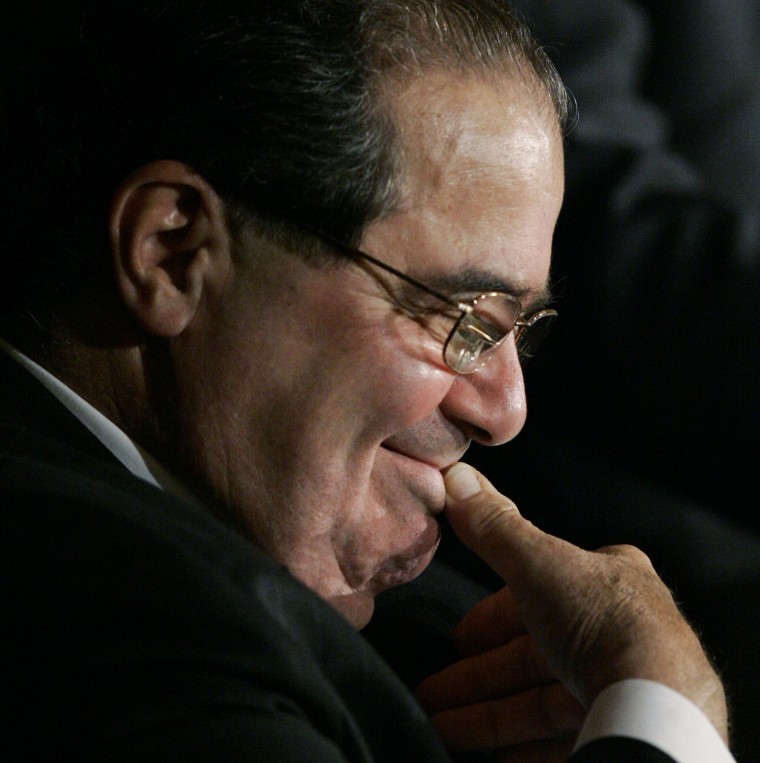 The Great Hall was opened to the public around 10:30 a.m., and will remain open an extra hour — until 9 p.m. — to accommodate the long line of people wanting to pay their respects to Justice Scalia
Throughout the day, a line of people trickled inside to say farewell to Scalia. One woman carried a poster that read, "God Bless Scalia & USA."
PHOTOS - Antonin Scalia: The Supreme Court Justice's Life in Pictures
Two federal appeals court judges who have been mentioned as possible Supreme Court nominees — Sri Srinivasan and Patricia Millett — also stopped by Scalia's casket and paused to admire his official portrait sitting on an easel beside wreaths and bouquets of flowers.
Chief Justice William H. Rehnquist, who died in 2005, was the last justice to lie in repose in the hall, his casket watched over by the marble busts of other former chief justices.
The Obamas will not attend attend Scalia's funeral at 11 a.m. Saturday at the Basilica of the National Shrine of the Immaculate Conception in Washington, the White House has already said. But all of the justices, including Scalia's best buddy on the court — Justice Ruth Bader Ginsburg — were expected to be at the service.
In politically polarized Washington, Obama has already taken heat from Republicans for that decision — never mind that he is hardly the first president to skip the funeral for a Supreme Court justice, or that his GOP predecessor, George W. Bush, also is not attending the funeral.
"It's important, before we rush into the all the politics of this, to take stock of somebody who made enormous contributions to the United States," Obama said Tuesday, as the controversy was heating up and after the GOP made it clear they would oppose any attempt by the president to fill Scalia's chair. "And we are grateful not only for his service but for his family's service."
The Obama administration will be represented at the funeral by Vice President Biden and his wife, Dr. Jill Biden.
Ed Whelan, a former Scalia law clerk who now heads the Ethics and Public Policy Center, told Politico that Obama made the correct choice.
"I wouldn't have expected President Obama to attend the funeral Mass, and I see no reason to fault him for not attending," said Whelan. "The ceremony at the Supreme Court seems the most apt opportunity for the president to pay his respects, but he obviously might have severe competing demands on his time."
The White House has not said what Obama plans to do on Saturday.
Scalia was a devout Catholic who fathered nine children. One of them, Father Paul Scalia, is a Roman Catholic priest who will celebrate his father's funeral Mass and give the homily. There will be a private burial following the service.