A man who lived on the same block as the late Cleveland serial rapist and kidnapper Ariel Castro will appear in court Monday on kidnapping, rape and murder charges after county prosecutors released a 293-count indictment, officials said.
Elias Acevedo, Sr., 49, was charged late Thursday with four counts of aggravated murder, 173 counts of rape, 115 counts of kidnapping and one count of gross sexual imposition, according to statement from the Cuyahoga County Proseuctor's Office.
Acevedo, who lived on Seymour Avenue just doors down from the house where Castro imprisoned and abused three women for a decade, was arrested in June after police discovered he was a convicted sex offender who had failed to report his current address.
He is charged in the kidnapping, rape and murder of his 30-year-old neighbor, Pamela Pemberton, who was found strangled in 1994, and another woman investigators believe to be Christina Adkins, a pregnant 18 year old who went missing in 1995. And he is charged with the rape of two young girls.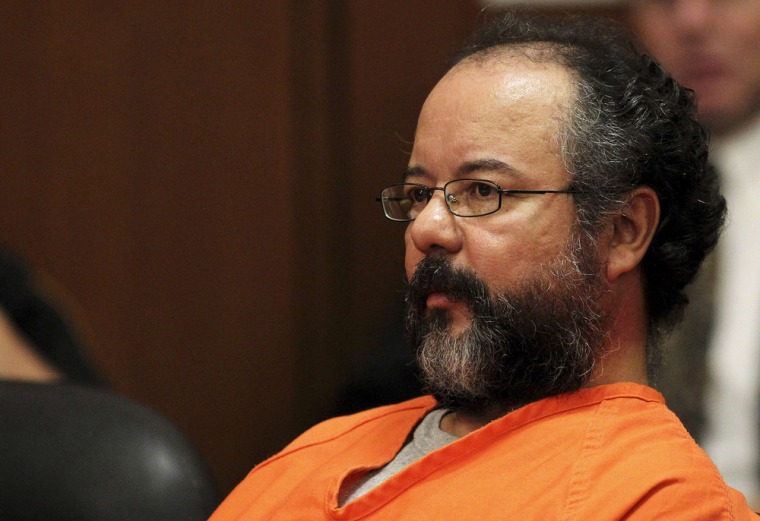 Acevedo was convicted of sexual battery in 2003. He was sentenced to three years behind bars and ordered to register with local authorities after his release, according to the county prosecutor's office statement. 
He became a suspect in the Adkins and Pemberton murders after the FBI took another look at the disappearance of other women from Seymour Avenue and the surrounding neighborhood in the wake of Castro's arrest, according to the statement.
The street attracted international attention after the three woman were found in a dilapidated house owned by Castro.
The women — Amanda Berry, Gina DeJesus and Michelle Knight — were kidnapped between 2002 and 2004, according to investigators. They were freed in May after Berry broke partway through a door and screamed for help while Castro was out of the house.
Castro pleaded guilty to nearly 1,000 charges. He was found hanged in his prison cell Sept. 3, just a month after into a life sentence.
Although Castro's death was ruled a suicide, he may have died by accident, according to a report released Oct. 10 that detailed the falsification of prison logs and suggested that the kidnapper may have been engaged in auto-erotic asphyxiation in his cell.
Joe Frolik, spokesman for the Cuyahoga County prosecutor's office told Reuters that Acevedo has confessed to the murders and that authorities would not seek the death penalty.
Acevedo is expected to be arraigned at the county court at 8:30 a.m. Monday.
NBC News' Matthew DeLuca and Reuters contributed to this report.
Related: