Josselin Contreras and two of her younger brothers were lost and thirsty, wandering alone on the Texas side of the Rio Grande, when Customs and Border Patrol officers caught them in the summer of 2014.
Contreras, then 16, and her brothers, then 9 and 12, had fled El Salvador in the hopes of finding their parents, who had left for the United States with their oldest son a year before to escape gang threats. Now, after a grueling 1,500-mile weeks-long journey, Contreras and her two brothers thought U.S. authorities would finally reunite them with their parents.
Instead, the three siblings were taken to a U.S.-run shelter in San Benito, Texas, where they were held with other children who had also arrived in the U.S. alone.
"I was wondering if the trip was worth it," Contreras, now 20, said, "because at the end that's why I did it, to see our parents again and to have a better life. I didn't know if all of that was going to happen."
The Contreras siblings were eventually reunited with their parents after about seven weeks in the shelter — but that's an outcome that could soon become increasingly rare. Immigrant advocates fear a new proposal by the Trump administration will make it more difficult for young migrants to connect with relatives who are already in the U.S., leaving a growing number of children in shelters and foster care.
The proposed Department of Homeland Security rule, which is expected to go into effect after the public comment period ends on Thursday, would allow immigration authorities to examine the criminal background and legal status of anyone who steps forward to sponsor unaccompanied migrant children — usually parents or close relatives already in the U.S. — as well as any other adults living in their home. The rule would also allow Immigration and Customs Enforcement to collect biometric data, such as fingerprints, of the sponsors and other adults in the home.
The proposed rule has alarmed some immigration advocates who say it will force parents in the country illegally to choose between stepping forward to claim their children and protecting themselves from possible deportation.
"It could be chilling to sponsors who are guardians or parents but are undocumented, but who are in the best position to take care of and receive their children," said Ashley Feasley, director of migration policy and public affairs at the United States Conference of Catholic Bishops. The group provides shelter and foster care for unaccompanied migrant children and tries to reunite them with relatives.
"We're in a climate of fear," Feasley added, "and obviously if you're going to put new conditions on sponsors coming forward, they are going to be more hesitant to come forward."
'A chilling effect'
The proposed change is raising even more concerns since Attorney General Jeff Sessions instituted a "zero tolerance" policy of prosecuting all adults who cross into the country illegally. Hundreds of children have been separated from their parents upon arriving in the U.S. under the policy, with the children ending up in the custody of the Office of Refugee Resettlement, part of the Department of Health and Human Services, along with children who traveled to the U.S. alone.
Currently, when the Office of Refugee Resettlement identifies potential sponsors for these children, the office runs a background check on the sponsors, which can include FBI fingerprint checks. But the office has not been actively sharing the results of these checks with ICE, said Paige Austin, a staff attorney with the New York Civil Liberties Union, a civil rights organization.
Health and Human Services, which oversees the Office of Refugee Resettlement, did not respond to requests for comment.
The new policy, in contrast, would directly involve ICE in the process. ICE would run an immigration status check on potential sponsors, as well as anyone living in their home, and advocates fear ICE will use that information to identify immigration violations or share the information with local authorities.
The Office of Refugee Resettlement "previously had made clear that immigration enforcement was not the purpose of the background information they were collecting," Austin said, "and that's changing now."
Jennifer Podkul, policy director at Kids in Need of Defense, which represents migrant children, said the proposed policy is "already creating a chilling effect."
"We're already hearing of families who aren't willing to come forward anymore because they don't want to put their family at risk," she said.
What previously mattered was not the sponsors' immigration status but whether they were able to keep the children safe, enroll them in school, get them an attorney and make sure they showed up in court, Podkul said.
She is particularly concerned about how the policy will affect the increasing number of children in government custody as their parents are prosecuted. From May 6 to May 19, 658 children were separated from their parents at the border, an official with U.S. Customs and Border Protection told Congress recently, and the U.S. government is struggling to find room to house them.
"These children will have experienced a difficult, by any standard, and in some cases very traumatic journey," Podkul said, "and they will have seen their parents forcibly separated from them." The last thing those children need, Podkul said, is to remain in federal custody longer than necessary because their relatives are afraid to step forward to claim them.
The reasoning behind the rule
Trump administration officials have said the purpose of the new policy is to more thoroughly vet sponsors to prevent the children from being trafficked, as well as to increase information-sharing between agencies.
When asked about the proposed rule, the Department of Homeland Security, or DHS, referred to a transcript of a May 29 news teleconference with HHS Acting Assistant Secretary Steven Wagner.
"I think we do an excellent job now," Wagner said of vetting sponsors. "But with DHS's cooperation, we will conduct a fingerprint-based background check on every sponsor to further ensure that there's never an incident of kids being released into human trafficking rings."
To highlight trafficking risks, Wagner has cited a 2014 case in which several unaccompanied minors were released from government custody and then forced to work on an egg farm in Marion, Ohio.
When asked during the teleconference if the new policy could prevent children from being claimed by their families, Wagner pushed back.
"If somebody is unwilling to claim their child from custody because they're concerned about their own immigration status, I think that de facto calls into question whether they're an adequate sponsor and whether we should be releasing a child to that person," he said. "Plus, we have the problem of people fraudulently claiming to be parents when, in fact, they're not."
DHS declined to respond to questions about whether the proposed policy would be used for immigration enforcement.
Austin, with the New York Civil Liberties Union, disagreed with Wagner's assessment of what makes a good sponsor.
"The fact that people are concerned about civil immigration enforcement does not mean that they cannot be a safe sponsor for a child," she said.
On its website, the Office of Refugee Resettlement repeatedly states it does not disqualify sponsors based on their immigration status. The agency currently uses such information only to determine if a backup plan is needed, in case a child's sponsor is taken into custody and deported — but advocates fear that will change once ICE is involved.
'You just need someone to be there'
Josselin Contreras said the weeks she and her two younger brothers spent in a government shelter, where they were mostly kept separated, were the hardest part of her long journey to America.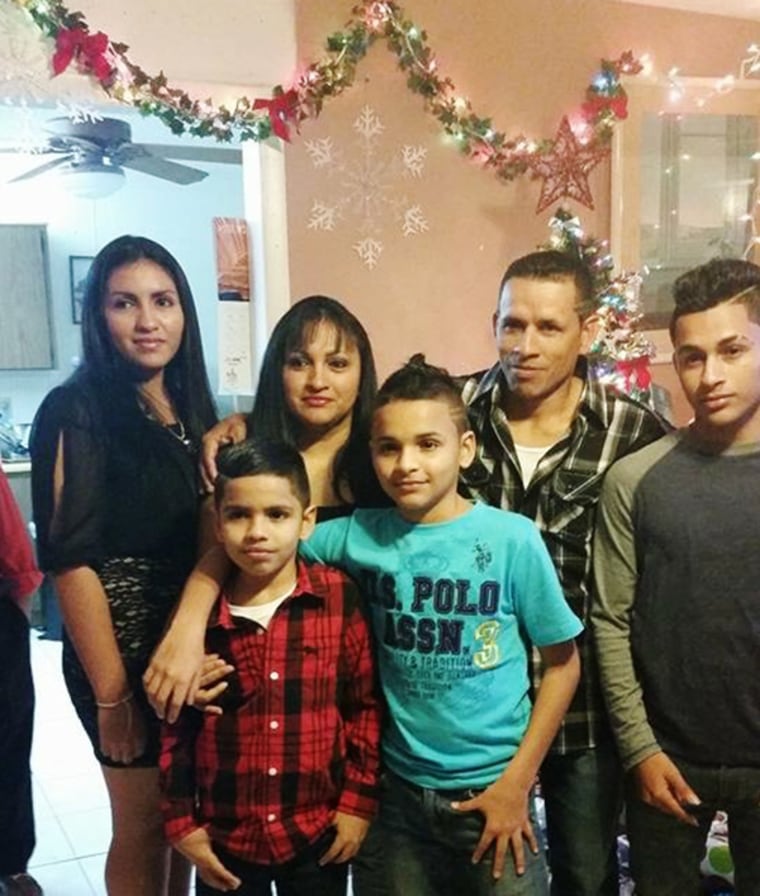 "They were scared and they wanted to talk to me, to see me and ask me what was going on," she said of her brothers. "So, when I had the chance, I used to tell them, 'Just don't worry, we are here for a good reason and we are going to see mom and dad really, really soon.'"
She said feels awful for any child whose family feels they can't come forward out of fear of being arrested.
"That would be something terrible, because when you're young and a kid you just need someone to be there to help you," she said.
In 2016, two years after landing in the Texas shelter, her family got the news they had hoped for: She and her brothers were granted asylum.
"We were all crying and just happy," she said. "We were able to stay here, knowing you're going to be able to go to school, to have a job and make your dreams come true."
Now, Contreras and her family live in Miami, where she is working and she and her brothers are going to school.
She wants other families fleeing danger in their home countries to be able to come to the U.S. without fear of being separated.
"They are put in a situation where they have nothing else left to do," she said. "You either do this, or die."