Videos recorded right before a pedestrian bridge collapsed near Florida International University earlier this year show a construction crew using a jack to tighten the rods that ran through a concrete support truss — work that might have caused the walkway to fall down.
The dramatic collapse on March 15 killed six people — five vehicle occupants and a bridge worker — and injured eight others. Photos released earlier this month by the National Transportation showed large cracks in the concrete just days before it came crashing down.
The new time-lapse videos, released Wednesdsay by Florida International University and first reported by the Miami Herald, were made from a series of still photos snapped by university cameras from a variety of angles between March 1 and March 19.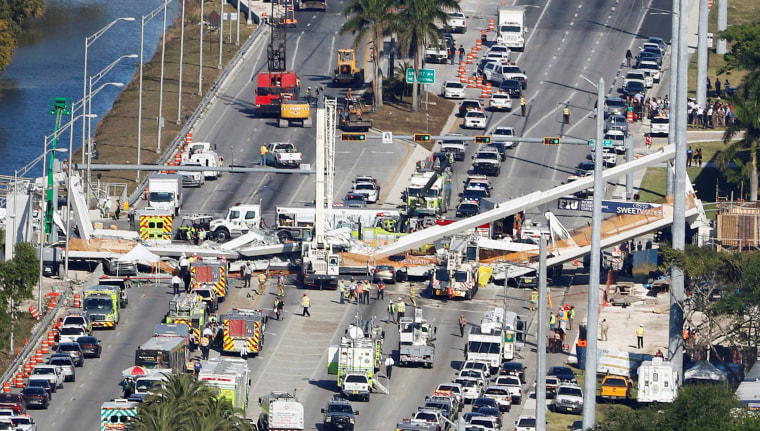 The videos were first provided to the Miami Herald in response to a public records request. The newspaper is also suing to obtain documents that might explain why the construction crews were standing atop the bridge before it fell and who exactly ordered them to be there in the first place.
David Beck, a structural engineer who has reviewed the bridge's design plans, told the Miami Herald that workers likely exacerbated the structure's concrete damage when they loosened the steels rods at its north end on March 10. And when workers returned five days later to tighten, or "re-tension," the damaged concrete, "it was like pulling a trigger and going bang," Beck told the newspaper.
The National Transportation Safety Board is still investigating the deadly accident. NTSB officials have interviewed employees from eight firms and organizations involved in the design, inspection and construction of the bridge, the agency said in a news release accompanying a preliminary report on Aug. 9.
The report did not include the results of those interviews.
Several vehicles were crushed when the bridge, designed to span a busy highway and withstand hurricane-force winds, came down. The planned walkway connected the campus to the town of Sweetwater, where the university estimates roughly 4,000 students live. It was expected to open in early 2019.