New York City police on Friday arrested a second suspected member of the Proud Boys, the far-right group involved in a chaotic street brawl a week ago in Manhattan.
Police detained John Kinsman, 39, of Morristown, N.J., early Friday afternoon, hours after making the first arrest. Kinsman was held for investigation of attempted gang assault, attempted assault, rioting and criminal possession of a weapon.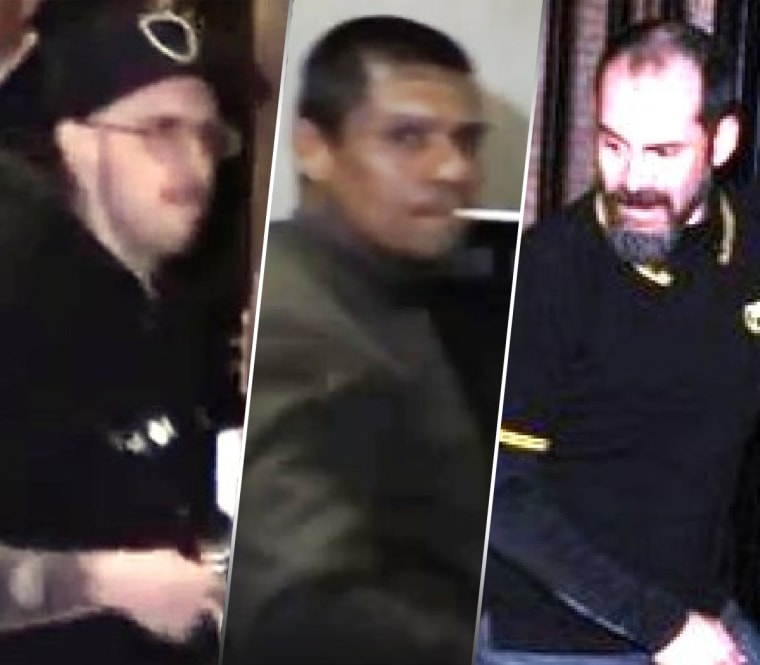 Geoffrey Young, 38, of New City, New York, was arrested Thursday and could face charges of rioting and attempted assault.
They were two of the suspects the New York Police Department asked the public for help identifying following the Oct. 12 clash between Proud Boys supporters and masked protesters.
Young was seen in surveillance video wearing a polo shirt with a yellow-striped collar — a uniform of the group.
The protesters were also identified by police as members of the anti-fascist group Antifa.
The violence followed a speech that night by Proud Boys founder Gavin McInnes at the Metropolitan Republican Club on the Upper East Side.
Police said earlier this week they needed help identifying nine people seen in the melee. Surveillance video showed one of the anti-fascist protesters throwing a bottle at the Proud Boys, who then retaliated with punches. Some men fell to the ground and were kicked.
At the time, police had arrested three protesters involved in a separate confrontation outside the club, but the lack of an immediate arrest of a member of the Proud Boys led to criticism of the NYPD.
McInnes later praised the NYPD on his podcast, but the department's deputy commissioner for public information tweeted that McInnes "does not speak for" the NYPD and that "violence & disorder is unacceptable."
McInnes has said the Proud Boys began in 2016 as a "fraternal organization" for young "Western chauvinist" men. The Southern Poverty Law Center designates it as a hate group.
New York City Councilman Keith Powers, who represents the district where the fighting occurred, said the arrest of Young was a "positive step in the aftermath of the unacceptable violence."