In 1979, the North Carolina Supreme Court made a ruling that continues to reverberate today: A man can't be guilty of rape if the woman first consented to sex — even if she later asks him to stop.
But the longstanding legal loophole — the only of its kind in the nation — could be revoked if state lawmakers pass a bill before the legislative session wraps up around the end of June.
So far, there are no signs that they plan to move it out of committee — worrying advocates for sexual assault victims who say the law is working against protecting them.
Related: Victims Describe Partners Removing Condoms During Sex Without Consent
"To me, it's obvious the law needs to change," Raleigh attorney Kristopher Hilscher told NBC News.
Hilscher represents Wake County woman Amy Guy, who identified herself publicly during an interview with NBC affiliate WRAL last month and said her estranged husband raped and assaulted her in December.
"Since he was getting angry, I figured it would be better to go ahead and agree to the sex because I figured that was the safer thing for me to do," Guy told the station.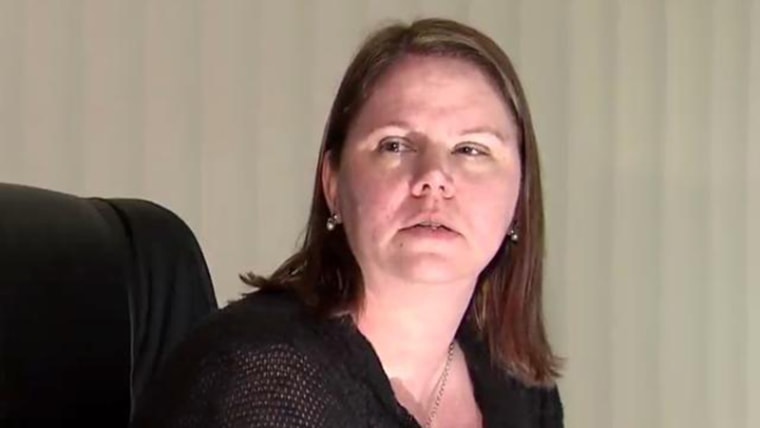 But Jonathan Wayne Guy also became violent during sex, she said, and he refused to listen to her pleas to stop.
Prosecutors initially charged him with second-degree rape, but that was lowered to misdemeanor assault under state law. He pleaded guilty in March.
Hilscher said Guy's husband could have seen an estimated four or five years in prison if found guilty on the rape charge, but is now serving a 10-month sentence and could be out as soon as the fall.
"In another state, it would have been a rape charge," Hilscher added. "From our perspective, she was the victim of the law after she was the victim of a violent crime."
Senate Bill 553 specifically pertains to "vaginal intercourse" and essentially gives the power of consent back to the woman after sex is initiated, said the bill's sponsor.
"North Carolina is the only state in the country where no doesn't really mean no," state Sen. Jeff Jackson, a Democrat from Mecklenburg County, said in a statement.
Related: Rape Case Lawyer's Comments About Women Lying Draw Fire
The initial 1979 case centered on a woman who said a date threatened to kill her if she didn't have sex with him. The state Supreme Court later found that: "If the actual penetration is accomplished with the woman's consent, the accused is not guilty of rape, although he may be guilty of another crime because of his subsequent actions."
Jackson, a former prosecutor, said he first became aware of the loophole when his office was forced to dismiss a rape charge under such circumstances. As a lawmaker, he introduced his related bill during the 2015 session with two Republican co-sponsors. He said it has bipartisan support, although it's unclear why it remains stalled in the Senate's Rules Committee.
A spokesman for the Republican Senate Caucus did not immediately respond to a request for comment Friday.
Jackson said if the bill does die during this two-year session, he will refile it next year.
The state House of Representatives does not have its own version of the bill, but the Senate's legislation could be used to pass both chambers before it would go before the governor to be signed into law.
While Guy said the bill can't help her now, she doesn't want the state to wait any longer.
"I hope other women get the protection they need," she told WRAL. "I hope we can change the law. It's not right."