After receiving multiple death threats from gang cartels hell bent on taking her 10-year –old son, Sandra Gutierrez said she made the decision to flee her home country of Honduras with nothing more than her two young children.
In the dark of night, Gutierrez bought three bus tickets with what savings she had, and set out for the U.S. border.
"I left quickly, while it was still dark. They told me they would return in the morning to kill me and my son," she told NBC News through her interpreter who is also her attorney. "There was no time."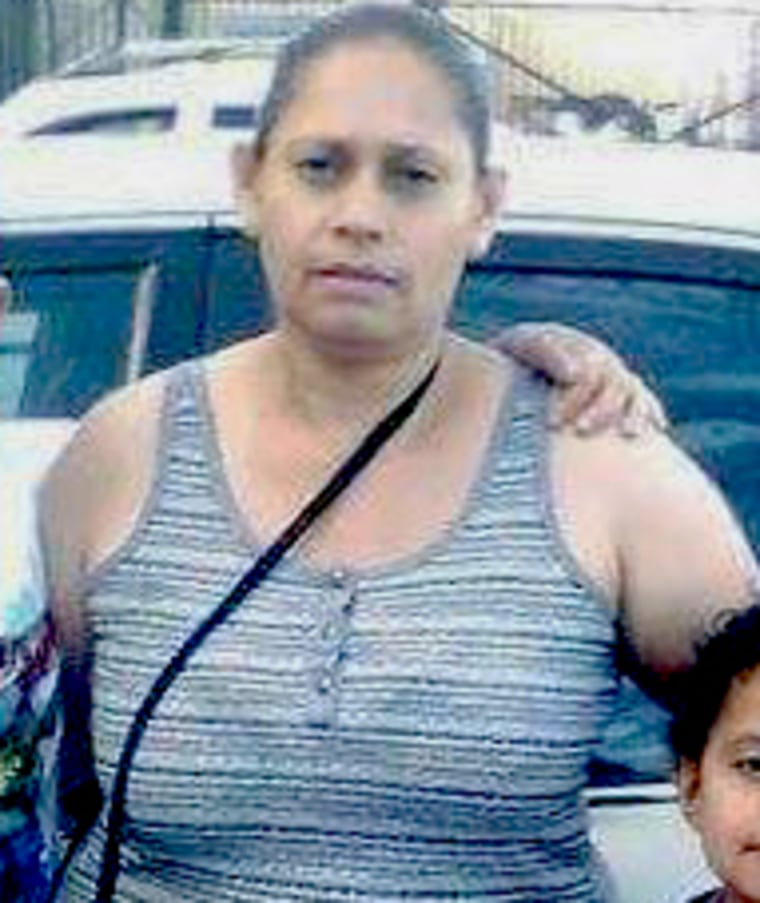 On the two week perilous bus ride through Mexico, Gutierrez said she and her children were kidnapped, ransomed, and threatened by more crime fueled gangs. This time, the Mexican cartels. She gave them what she had and eventually crossed over the southern border into McAllen, Texas.
Immediately upon arrival she and her family were caught by border patrol agents and transported to a detention center in the remote town of Artesia, New Mexico. Gutierrez said she was put in a small room, along with several other families, with uncomfortably high levels of air conditioning. "It was like a cold box," she said.
Gutierrez's attorney, Laura Polstein, a lawyer for Centro Legal de la Raza in Oakland, California, a free legal clinic representing individuals facing deportation, said several of her clients who were detained in the same facility complained of the same cold temperatures in their room.
That detention facility has since closed.
Gutierrez said she knew very little about the United States, but did know she needed to get a lawyer. A near impossible feat from a detention center, she said.
Read More: Illegal Immigration Is Changing. Border Security Is Still Catching Up
"When we told the officers we want to find an attorney, they told us there is no one," she said. "There was no access to phones, we could only make limited short calls."
And the legal clock to deportation was ticking.
Since 2014, almost 40,000 cases have been closed by "rocket docket" courts, which aim to expeditiously push immigration proceedings involving families with children, like Sandra Gutierrez, through the legal pipeline, according to a recent report by Syracuse University's Transactional Records Access Clearinghouse (TRAC).
The report found that in 70 percent of those cases, which are decided by immigration judges, detained migrant families were processed through immigration courts without legal representation. Such processing often only takes a few weeks, even less, in many cases, according to the report.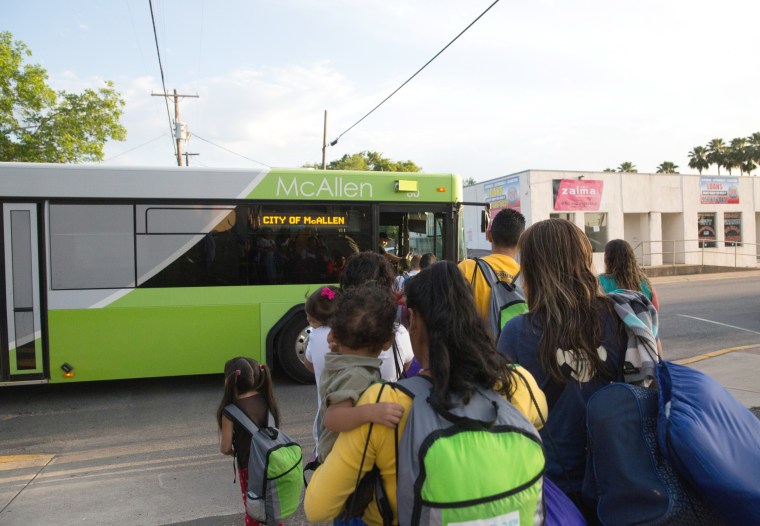 At least 43 percent of those cases ended with a decision, made in as little as 24 days, or less, to deport—whether or not they were present at the hearing.
In response to, and to deter, the huge influx of Central American mothers with children crossing the southern U.S border illegally, the Obama administration instituted fast pass immigration hearings to "quickly return unlawful migrants to their home countries."
El Salvador, Guatemala, and Honduras comprised of the most number of unaccompanied children and family units trying to cross the U.S border according to the Department of Homeland Security.
Read More: U.S. Expands Asylum Program for Central American Children
Homeland Security Secretary Jeh Johnson describes "powerful push factors of poverty and violence that exist in Central America," that spark families to come to the U.S.
Gutierrez's home country, Honduras, is one of the deadliest countries in the world with a homicide rate at 75 per 100,000—one of the highest, according to data from the World Bank.
Many of these families have legitimate asylum cases, but are given almost no time to find legal representation, prompting basic due process violations, say legal experts.
The "rocket docket" cases are civil, not criminal, so individuals are not afforded sixth amendment rights to an appointed attorney. However, there are still constitutional ramifications, said Stephen Yale-Loehr, a professor of Immigration Law Practice at Cornell Law School.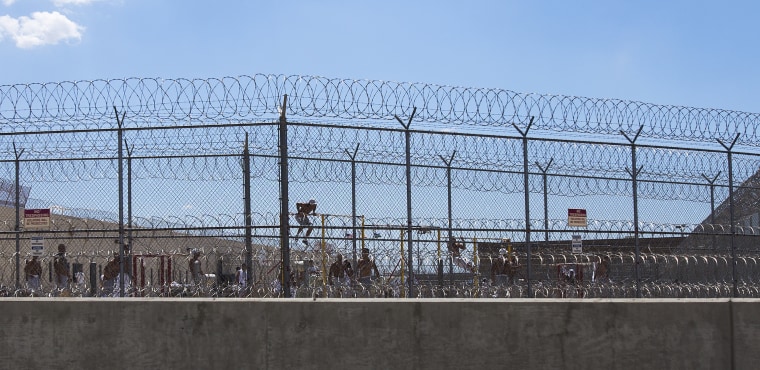 "Basic due process applies everyone, whether you're a citizen or not," he said. "These are complex cases, asylum is one of the most complex, so it's hard to find a good attorney, particularly harder under these time constraints."
These families, who have "an international right" to seek protection under the U.N refugee Convention signed by the U.S., are being denied due process if they don't have enough time to seek a lawyer, he said.
The speed of these cases disenfranchises those that are most vulnerable,mothers and children, many who have merit based asylum cases, he said.
Time is significant in preparation and eventual outcome of these cases, said Ahilan Arulanantham, director of advocacy and legal director at the American Civil Liberties Union of Southern California.
"The typical (median) time from DHS's filing in Immigration Court to case disposal was just 60 calendar days. In contrast, the median time from filing to closure was 286 days for families who were represented," said the report.
Read More: Surge in Children, Families at the U.S. Border May Be the 'New Normal'
Many of these cases have merit for asylum and should be given a fair examination, Arulanantham said.
The government has a trained paid lawyer arguing on behalf of deportation in these cases, so the "model is asymmetrical" from the start.
Having a lawyer is a make or break for many of these cases.
For rocket docket proceedings, forty percent of those who had a lawyer were awarded "asylum, other forms of relief, or were found to have other grounds at the present time to remain in the U.S."
"No one is arguing that all these people should stay illegally, only that they should have a fair asylum hearing after coming here from violent countries," he said.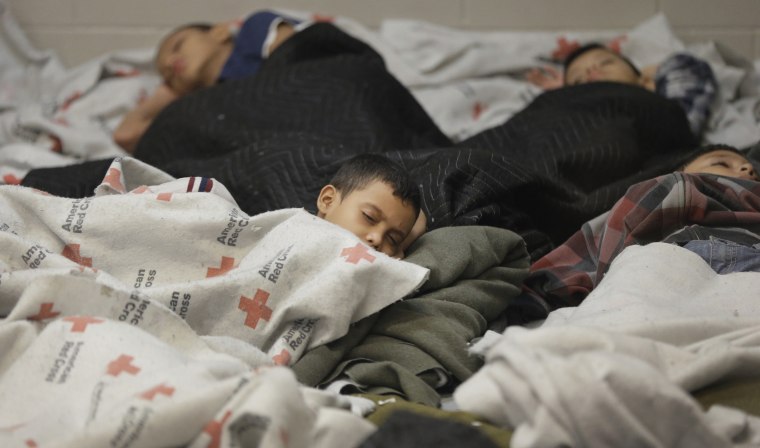 While the Department of Justice declined to comment on the TRAC report, agency spokesperson Kathryn Mattingly did say the Executive Office for Immigration Review "will continue to adapt appropriately, and to concentrate on fair and expeditious hearings, with due process to all respondents who come before the court," in an email to NBC News.
"Rushing through cases can be problematic for access to counsel," Polstein said.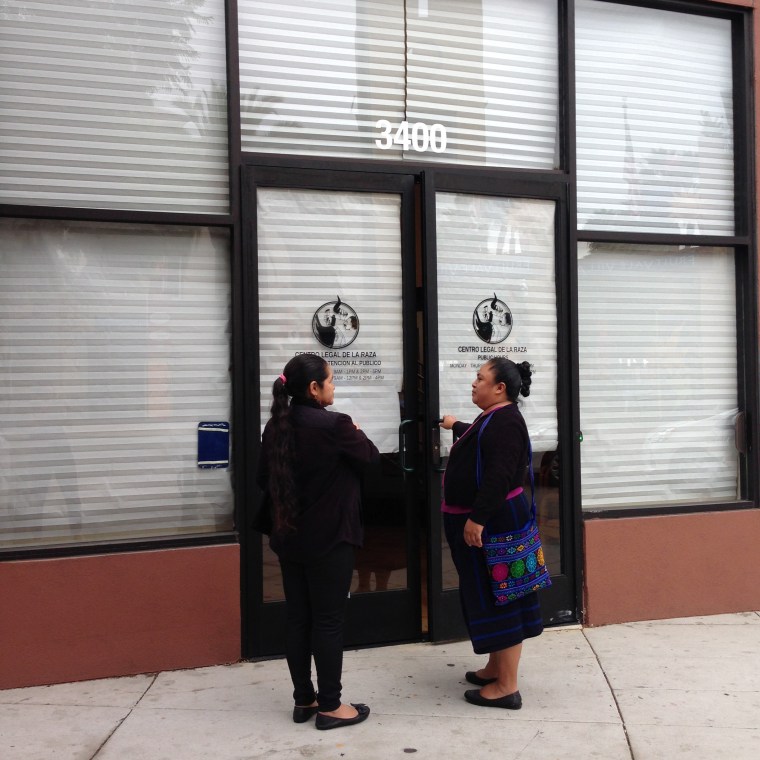 The detention centers can be in remote locations and have strict rules on getting inside, so even if you want to represent these clients as a lawyer, it takes time to gain access to them, she said.
"And if someone can't afford an attorney or is not lucky enough to get an attorney for free, they will be deported," she said.
Read More: Detaining Immigrant Kids Hasn't Worked. U.S. Wants to Try Something New
Sandra Gutierrez was one of the lucky ones.
She found pro bono attorneys who filed an asylum application and went through multiple hearings on her behalf, just in time. She was granted asylum four weeks ago.
"Without the attorneys, I would not have been able to stay here and would have been killed back home," she said. "But now I'm here, and I am not scared anymore."