A week after catastrophic flooding killed 20 people in Montecito, local officials continued Monday to push aside questions about why they placed only some areas of the community under mandatory evacuation orders.
Santa Barbara County Sheriff Bill Brown has said repeatedly that the government has been too preoccupied with search and rescue efforts to focus on how evacuation plans were drawn.
"It's very easy to take a look, without having all of the facts and knowing exactly what's going on, to opine that something wasn't done correctly," Brown said at a news conference Friday when pressed by reporters about how officials decided to issue mandatory evacuation notices for the area north of Highway 192 (also known as East Valley Road) while making evacuations south of the roadway voluntary.
After enumerating the "hundreds of emails and thousands of electronic messages" and other notifications issued, Brown concluded: "I don't think it's time to really try to criticize that."
An individual answering the phone at the information center set up to inform the public about the disaster on Monday declined to discuss evacuation decisions, saying, "That's not a subject that is going to be addressed at this time." The head of the Santa Barbara County Office of Emergency Management, Robert Lewin, has not responded to multiple requests for comment.
The disaster arrived in the wee hours of Jan. 9, when Montecito Creek overflowed its banks, after rainfall peaked at more than half an inch in just five minutes. The deluge pushed a wave of mud, trees and boulders down the creek and onto Olive Mill Road, lifting entire homes off their foundations. Many of those who died lived south of Highway 192, in the voluntary evacuation zone.
Though Santa Barbara County officials have declined to answer questions, the local alternative newspaper Santa Barbara Independent, citing one unnamed official,reported that only about 20 percent of residents left their homes, even in the mandatory evacuation zone.
And an official in neighboring Ventura County said that many factors go into deciding whether, and how, to evacuate residents, including whether "fatigue" from evacuation orders issued during last month's giant Thomas Fire would make residents less likely to heed new evacuation warnings.
Before becoming more muted on the subject as the death toll mounted, Sheriff Brown told reporters last week that pinpointing mud and debris slides "isn't an exact science." He added that "a lot depends on Mother Nature" and that it was not possible to narrow the danger zone to "a house or a block or a neighborhood."
Santa Barbara County officials said they recognized the potential for major damage before last week's storm — with the hillsides above coastal communities laid waste by the Thomas Fire, the largest wildland fire in the state's modern history.
The Santa Barbara Office of Emergency Management on Jan. 7 re-tweeted a warning from the National Weather Service of four to six inches of rain for the foothills and mountains. The half-inch in five minutes measured in Montecito at the peak of the rainfall meant that the event amounted to a 200-year-storm — a deluge expected only once every two centuries, or even less frequently, according to the National Weather Service.
Kevin McGowan, assistant director of Ventura County Sheriff's Office of Emergency Services, called the rainfall totals "a black-swan event … a historic event." The U.S. Geological Survey dictates that even lesser rain amounts — half an inch in an hour — are considered likely to trigger debris flows, McGowan said.
Ventura uses a raft of information — drawn from satellite images, aerial photos, ground inspections and a remote laser technology called LiDAR — to assess soil conditions prior to big storms. Those measurements in early January indicated that large sections of the county's remote hillsides and canyons would turn into "almost like a Slip-N-Slide, that wouldn't allow the water to absorb," said McGowan.
Given those findings, Ventura County issued some mandatory evacuation notices on Jan. 8 before the brunt of the storm arrived, McGowan said. Boulders and debris did spill on to roads, but structures weren't threatened. More populated areas of Ventura County were placed under voluntary evacuation notices, or less stringent "advisories."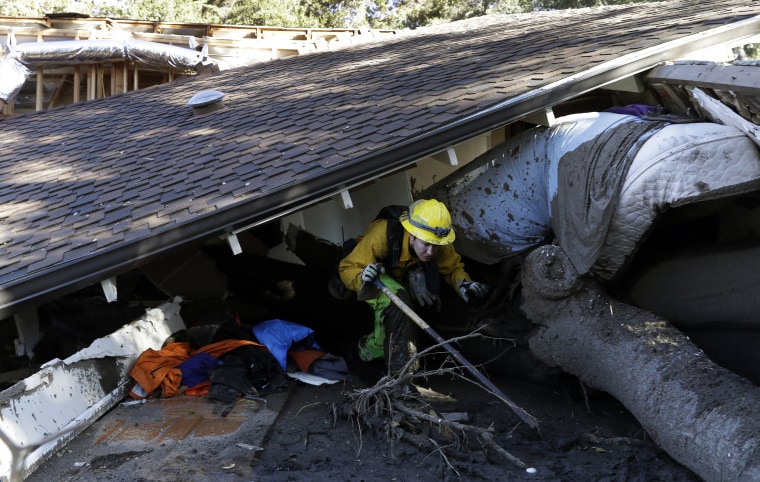 In Ventura County, roughly 15 officials from various city and county agencies gathered in the Emergency Operations Center in the basement of the Sheriff's Department headquarters to make the evacuation determination. The group operates by consensus, with Sheriff Geoff Dean having the final authority on which neighborhoods are to be placed under mandatory evacuation notices.
"We are dealing with people's lives," McGowan said. "We all have to reach 100 percent consensus before we decide. If we don't, we will stay in there until we do."
But, even in "mandatory" evacuation areas, Ventura County does not force residents to leave their homes, unless under-age children could be placed in danger, McGowan said.
"We have all these resources and, in my mind, the system is working," McGowan said. "But at the end of the day we are humans who are at the hands of Mother Nature. And, this time, Mother Nature created some pretty awesome power."