An Oklahoma mother facing charges in connection with the death of her 5-year-old son, who was hit by a car after falling from a rented Lime scooter she was driving, has fled the country, police said.
A spokesperson for the Tulsa Police Department said it received a Crime Stoppers tip over the weekend that Evelyn Ortiz-Luevano, who was in the country illegally, fled to Mexico after learning that a criminal case had been filed against her.
As of Wednesday, Ortiz-Luevano was not in custody and a police spokesperson believes she is still in Mexico.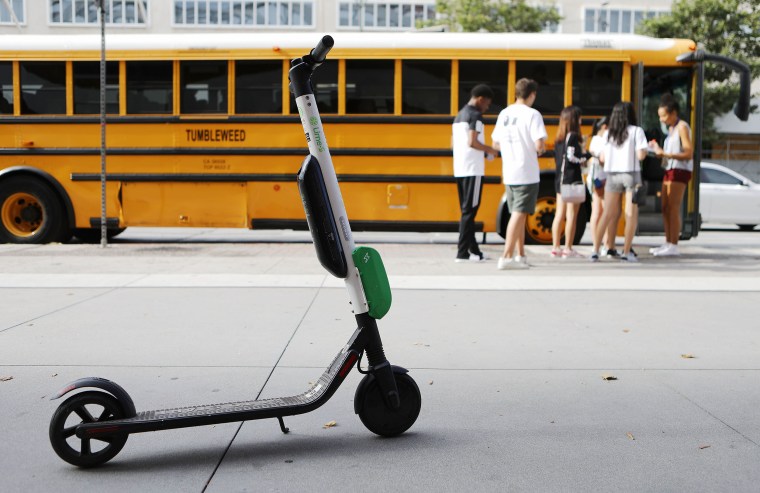 Ortiz-Luevano's son, Caiden Reyes-Ortiz, died April 23 after he fell off the rented Lime scooter his mother was driving and was hit by a car, according to a probable cause affidavit. The police spokesperson said neither appeared to have been wearing a helmet.
A spokesperson for the Tulsa County District Attorney's Office said Ortiz-Luevano faces charges of child neglect and negligent homicide.
Lime, which is available internationally and in 27 states, allows riders to rent the electric scooters. On average, it costs $1 to unlock the scooters with about 15 cents charged per minute of riding. Riders are required to be at least 18 years old and only one rider is allowed per scooter.
Toby Sun, the company's co-founder and CEO, called Caiden's death a "tragedy.
"As a father of a young boy myself, words cannot describe how saddened I am by this tragedy," he said in a statement Wednesday to NBC News. "Nothing is more sacred than our children and to the family of the victim, my heartfelt sympathies go out to you. Our Tulsa Lime team is cooperating with Tulsa law enforcement and will assist in their investigation in any way we can."
Police said Ortiz-Luevano and a friend rented two scooters and were on their way to an amusement park in Tulsa when the collision occurred. Both had a child on the scooter with them, according to the affidavit.
An officer said Ortiz-Luevano was driving the scooter toward oncoming traffic when she veered to avoid hitting a vehicle, causing her son to fall and then be hit by that vehicle. One witness told police that before the accident, one of the scooters was "zigzagging across lanes of traffic" at full speed.
Police said Ortiz-Luevano was illegally operating the scooter "in a reckless and negligent manner" which led to the death of her son.