A Hawaiian man, who recently survived a harrowing two weeks at sea after bad weather knocked his boat on its side and damaged his radio, has reconnected with his son after about 20 years as a result of the intensive search for him.
Zak Ingraham said he spoke with his father, Ron, on Wednesday night — a day after he was rescued by the Navy. The Coast Guard had picked up a mayday call placed by Ron, missing since Thanksgiving, and sent a nearby Navy destroyer to pick him up.
The pair reconnected by phone, Zak told NBC News on Thursday, saying his dad had the "scratchy, salty-dog voice" of a fisherman.
"He sounded good for being out to sea for 12 days and it was awesome, man. It was just like talking to an old friend as if the last time we had seen each other was yesterday," he said. "It was super cool."
Zak first learned his father was missing when the Coast Guard phoned on Dec. 1 and told him they were suspending the search because they couldn't find Ron, who had made two distress calls on Thanksgiving. The Coast Guard had flown 59 sorties, scouring 12,000 square miles, looking for the missing mariner.
During their phone catch-up, Zak said Ron told him what happened: He went fishing between the islands, with waves picking up quickly and sweeping him out into the ocean. He got water in his starter and one of the masts — the one with his radio antenna — broke, killing his GPS signal and ability to determine his location. He fixed the sail, but ended up stuck for a few days in an area of doldrums, or calm, light winds, that slowed his boat.
Finally, Ron fashioned a makeshift radio using copper wire and a hanger to try another mayday — which worked, Zak said. The Navy found Ron aboard his 25-foot sailing vessel, Malia, about 60 miles south of Honolulu. Ron and his boat were taken into Moloka'i on Wednesday.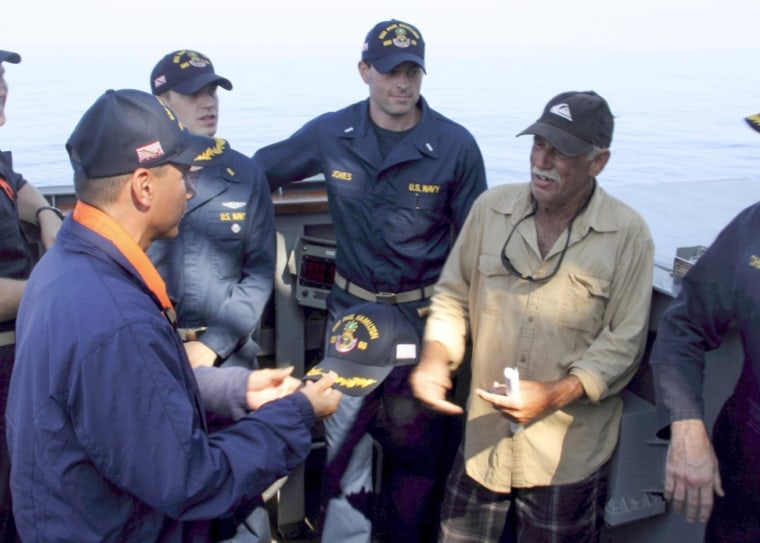 Zak said the tale was like "something out of a movie" and likened his dad to Santiago, the indefatigable fisherman in Ernest Hemingway's "The Old Man and the Sea" who holds on to his fish in the face of hardship and suffering. He marveled at how his father ate fish to hydrate himself and laughed at him saying he was heading "to the bar" when he hit dry land.
"He's just real old school. The man loves to fish. He's good at it, too," said Zak, 43, a biology student in St. Joseph, Missouri. "I'm proud of him for doing it. I don't think you'll ever see the man break."
The father and son had lost contact over time after his parents split up. The nomadic life of a fisherman made it hard for Zak to track his dad down.
"He said he was looking for me, too," Zak said. "I got to tell him he had a grandson, which he didn't know. It was a pretty good long heart-to-heart talk. … It was like old buddies. I didn't get teary; I thought I would. I was just so happy to talk to him. I had nine days of crying, man, thinking he's dead. I guess I was all cried out."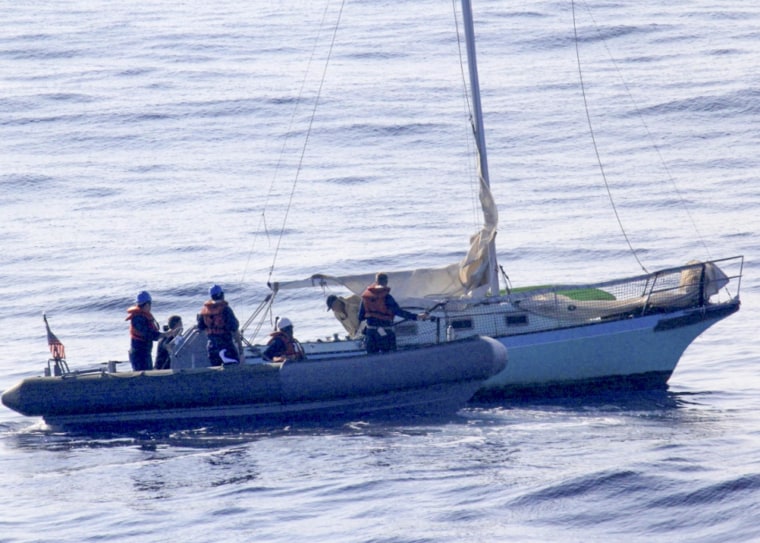 Zak is raising money so he can visit his father in Hawaii and introduce him to his girlfriend and his eight-year-old son. They may all go fishing.
"I wish I was in Hawaii kicking it with him," Zak said. "My dad's alive. Next week I'll figure out how to get my butt over there with everybody in tow."