Two employees of Methodist Dallas Medical Center were fatally shot Saturday, and the suspected gunman was in custody, hospital officials said.
A responding officer opened fire on the suspect, injuring him, according to Methodist Health System, the hospital's parent organization.
The suspect, Nestor Hernandez, 30, was arrested on suspicion of capital murder. Hernandez was on parole for robbery and had an "active ankle monitor," the Dallas Police Department said.
It wasn't clear if Hernandez has retained legal counsel. The county public defender did not immediately respond to a request for comment.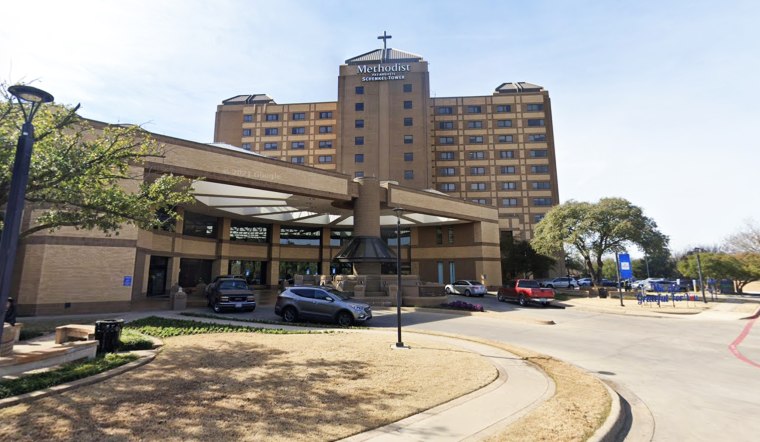 It wasn't clear what might have led to the violence, or whether the suspect knew the victims. The victims have not been identified, and their line of work was not provided.
"The Methodist Health System Family is heartbroken at the loss of two of our beloved team members," the system's executive leadership said in a written statement. "Our entire organization is grieving this unimaginable tragedy."
Dallas Police Chief Eddie Garcia called the shooting "an abhorrent failure of our criminal justice system."
"I'm outraged along with our community, at the lack of accountability, and the travesty of the fact that under this broken system, we give violent criminals more chances, than our victims," he tweeted Saturday night. "The pendulum has swung too far."
Methodist Health System said the attack at the hospital southwest of downtown Dallas was initially reported about 11 a.m. as an active shooter, and that its own officers, alongside first responders from Dallas police and fire departments, were quickly at the scene.
A Methodist Health System police officer confronted and shot the suspect, the system said.
"The suspect was detained, stabilized, and taken to another local hospital," it said in a statement.
His condition was not available Saturday night.
Eyewitnesses told NBC 5 Dallas-Fort Worth that the shots rang out on the hospital's labor and delivery floor.
Amanda Birdwell said she hid with her family in the hospital cafeteria's kitchen.
"I think that's when it all kind of hit us. Like, oh this is serious. This is really happening right now. So we all went back there. Everyone was crying. My sister started having a panic attack," Birdwell told the local station.