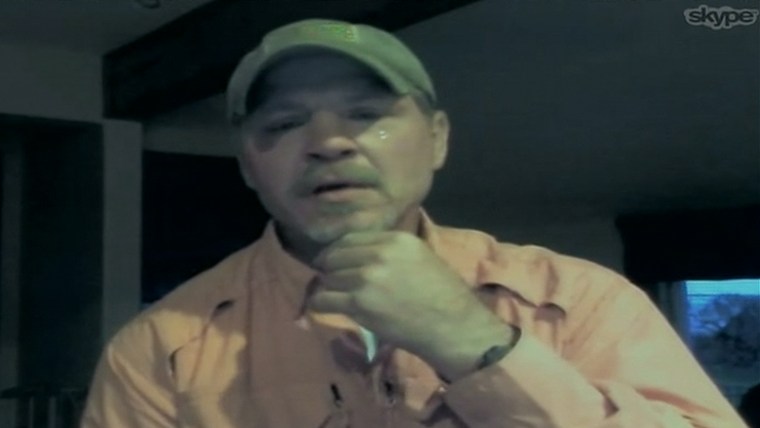 An Oregon man who set out to walk across the U.S. to honor his gay son, who committed suicide after being bullied, was struck and killed by a truck in eastern Colorado, authorities said Thursday.
Joe Bell, 48, had made it from La Grande, Ore., all the way to just a few miles short of the tiny town of Hugo when a semi-tractor-trailer hit him as he was walking on the shoulder of U.S. Highway 40 late Wednesday afternoon, said the Lincoln County Sheriff's Office.
Bell was pronounced dead at the scene. The driver of the semi, a Texas man who wasn't injured, was cited for careless driving resulting in death.
Sheriff's deputies were scheduled to pick Bell up later in the evening to take him to The Methodist Church of Hugo, where he was supposed to  speak to the youth group.
"We send prayers to his family and friends," the sheriff's office said Thursday in a statement on Facebook, adding that even though Bell had been in the county for just one day, he left an important impression "with everyone who has ever talked with him."
Bell set out from LaGrande, in northeastern Oregon near Whitman National Forest, on a two-year walk in April — three months after his 15-year-old son, Jadin, hanged himself at a local school playground.
Jadin was open about his homosexuality, and he had been continually bullied for it, his father said.
"People yelling obscenities at him as he's walking home, throwing things at him from vehicles, on the Internet — you could just see the pain in him," Joe Bell told NBC station KGW of Portland when he started his journey.
Bell had only made it about a quarter of the way on his journey, which was to have taken him next through Kansas and south through Oklahoma, Texas, then east to Georgia, before heading up the Atlantic coast to Delaware.
"We're all shocked and saddened by the sudden and tragic loss of Joe Bell," Faces For Change, a nonprofit anti-bullying foundation established in memory of Jadin, said in a statement Thursday. 
"Condolences have been pouring in from all over the U.S. and Europe this morning. Joe's mission was one of love that was bigger than he was (and bigger than any one organization). His purpose was — and always will be — to ensure that the choices faced by his son Jadin will never be visited upon another young person."
Hundreds of people posted similar sentiments on the Facebook page of Joe's Walk For Change, where Bell chronicled his walk. A message on the page Thursday said Bell would "continue his journey now with Jadin." 
One of Bell's first stops was in Boise, Idaho, where he spoke about his campaign to the Boys and Girls Club of Ada County in early May.
"I would like them to understand they have a right not to be bullied," Bell told NBC station KTVB of Boise afterward.
A community candlelight vigil was set for 7 p.m. (10 p.m. ET) Friday in in La Grande, Bell's hometown. A memorial service was scheduled for 11 a.m. (1 p.m. ET) Saturday at Rocky Mountain Lake Park in Denver.
Bell isn't the first person on a cross-country mission to be killed in such a manner. In July 2012, Andrew Moore, 20, of Concord, Calif., was struck and killed as he was walking along the same highway — U.S. 40, which spans the country — near Stilesville, Ind. Stiles was walking cross-country to highlight his anti-abortion views.
And in October 2010, Roger Grooters, 66, of Oceanside, Calif., died when he was struck by a pickup truck while on a cross-country bike ride for victims of the Deepwater Horizon oil spill. Grooters was just a few hundred miles short of his destination, Jacksonville, Fla., when he was killed.