About 50 people who swarmed a Los Angeles mall Saturday and fled with high-end handbags and other items totaling about $300,000 could have been following orders from organized crime or gang members, police said.
"There's no doubt that there's a lot of ... criminal organizations behind this. Some of it involves gang members; some of it involves people that are what you would identify as professional retail thieves," Deputy Los Angeles Police Chief Alan Hamilton told NBC News on Sunday. "It runs the gamut, and there is a black market for purchasing these items, unfortunately. ... The same people [are] then turning around and committing these acts again, over and over again."
Thirty to 50 people converged on the Nordstrom store at the Westfield Topanga Mall in Woodland Hills, police said. They made off with hundreds of thousands of dollars' worth of luxury handbags and high-end clothing, police said. The call of "numerous persons shoplifting," police said, came shortly after 4 p.m.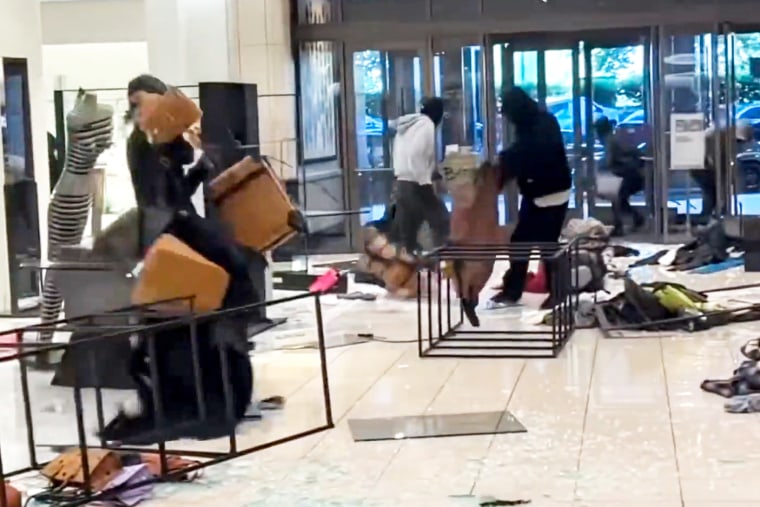 "More than 30 people entered the store at once and within minutes grabbed more than $300,000 worth of merchandise from displays near the entrance. The suspects ran from the store, ransacking shelves and display tables in the process," police said in a statement Monday. "The suspects were wearing ski masks and fled with high-end handbags, clothing, and other easily re-sellable items. One suspect, upon entering the store, sprayed bear spray on the face and body of the security guard at the entrance to the store."
Hamilton on Sunday detailed some tactics criminals use in what police have dubbed "flash rob" thefts.
"The way this type of crime typically works, a lot of the times they will already know where they're going to offload these goods to," he said.
After having conducted what are generally known as smash-and-grabs, Hamilton said, the thieves will get rid of the stolen merchandise either at specific locations or online within hours.
"Those goods are going to be separated from the people that … were involved in the crime very quickly. They're not going to be, you know, keeping it in places for days or anything like that," he said.
The same Nordstrom store was hit with a similar shoplifting incident in 2021, during Black Friday, Hamilton said.
No arrests have been announced in Saturday's thefts. The robbers took off in a BMW and other vehicles.
In video circulating on social media, people wearing hoods and masks that covered their faces tear down shelves and run out of the store carrying luxury goods.
On Tuesday, a very similar robbery occurred at an Yves Saint Laurent store at the Americana at Brand mall in nearby Glendale, NBC Los Angeles reported. Items were stolen before thieves left in vehicles. Estimated losses totaled $300,000, the station said.
Flash rob-style thefts are nothing new in California.
Six suspects were arrested, including three girls ages 13, 14 and 15, in an alleged retail grand theft at a business in the 2000 block of Fillmore Street in San Francisco on Thursday by a "large group of suspects," San Francisco police said in a statement Monday. The other suspects were no older than 20, police said.
In 2021, communities throughout California were plagued by similar quick-hitting thefts.  In November 2021, more than a dozen people in Oak Brook, a Chicago suburb, were recorded on security video grabbing bags and wiping shelves clear at a Louis Vuitton store, police said.
The value of the stolen merchandise was estimated at $120,000, Oak Brook police said.