FORT BRAGG, Calif. — Several communities near California's Monterey Peninsula were told to flee their homes Wednesday after authorities warned that a river swollen by a series of drenching storms is expected to overflow its banks and possibly turn the area into an island.
Monterey County Sheriff Tina Nieto compared the expected flooding of the Salinas River to flooding in 1995, when heavy rains devastated the area and stranded people on either side of the flooded waterway.
"We anticipate we're going to go into a similar situation, but not as bad," she told reporters. "We're asking people to prepare for this."
Flooding is expected to begin Thursday at noon and last until Friday, although residents may not be able to return for days depending on the severity of the event, she said. Towns and hamlets between Chualar, on Highway 101, and the Pacific Ocean were placed under evacuation orders Wednesday.
Tens of thousands more people were under evacuation warnings on the Salinas River, which state authorities warned was one of five waterways around California expected to exceed flood stage in the coming days. 
The orders and warnings came as forecasters warned more torrential rain was on tap for Friday and the state's death toll from an onslaught of atmospheric rivers rose to 18, a spokesman for the California Governor's Office of Emergency Services said.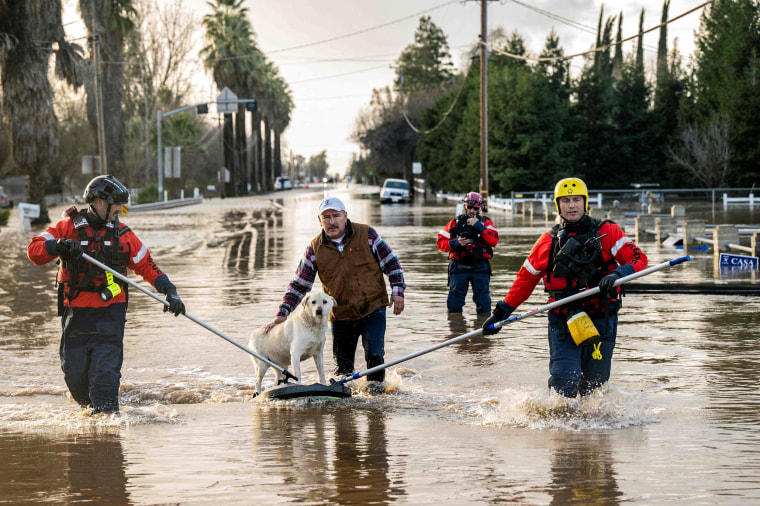 The sheriff's office in Sonoma County said Wednesday that a driver was killed when her car became submerged in floodwaters in Forestville, 65 miles north of San Francisco. 
The woman, identified as Daphne Fontino, 43, called 911 on Tuesday and reported water in her car before the line disconnected, the sheriff's office said in a statement. Efforts to reach her again failed, and authorities called off search when conditions deteriorated, the sheriff's office said.
A search team returned to the area Wednesday morning and found her car 100 yards from the road, the sheriff's office said. It was submerged in 8 to 10 feet of water.
"The Sheriff's Office sends our condolences to victim's family and friends during this challenging time," the statement said.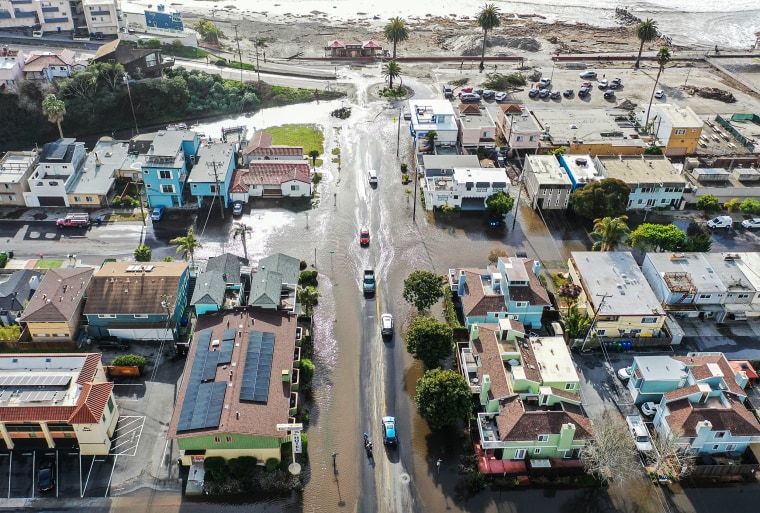 More rain forecast
The incoming storms show few signs of letting up. The heaviest rain Wednesday — the seventh of nine atmospheric rivers forecast to hit the state through Jan. 18 — was expected to fall on northern and coastal regions of the state.
As of 6 p.m. Wednesday, more than 2 inches had fallen on the Sonoma County community of Venado over 24 hours, according to the California Nevada River Forecast Center. San Francisco recorded nearly 1 inch.
More than 4 million people were under flood watches, and 400,000 more were under flood warnings Wednesday night, mostly in Northern California, according to the National Weather Service.
Rain totals for the last week were 1 to 15 inches across the state, although some communities got significantly more, State Climatologist Michael Anderson told reporters Wednesday.
"In Santa Barbara in one day they had 15 inches," he said.
In Santa Cruz County, storms dumped 23 inches of rain over the past 10 days, damaging 130 homes and destroying eight, Santa Cruz County Sheriff Jim Hart said.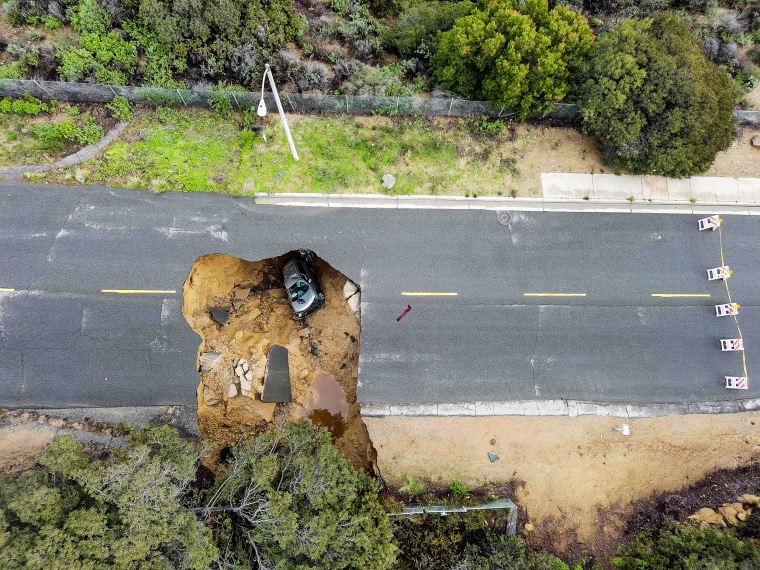 "Just a devastating series of storms where our low-lying coastal areas are covered in debris," Hart said on MSNBC's "Chris Jansing Reports."
"It's a mess. I've been here for 35 years [and] experienced fires, floods, earthquakes, a couple of tsunamis, and this is about as bad of a natural disaster as I've seen in this county."
Across the state, there have been 955 reports of flash floods, floods and landslides since the storms began arriving late last month, according to the National Weather Service.
Search for missing child
Rescuers in San Luis Obispo County resumed their search Wednesday for 5-year-old Kyle Doan, who was swept away by fast-moving water Monday.
The team was aided by members of the National Guard who arrived Wednesday afternoon, the first wave of more than 100 troops expected to help in the search, the San Luis Obispo County Sheriff's Office said.
The hours of waiting and uncertainty had taken an emotional toll on the family, his father said.
"It's hard to process," Brian Doan said Wednesday. "My wife is getting better, but the way things played out, she's struggling. We all are."
Lindsy Doan was driving Kyle to kindergarten Monday when their car reached a flooded dip in the road.
"So when I went into the dip, I realized that I had made a mistake because it was filled on the bottom and my car started to drift and it drifted and crashed into two trees," Doan told NBC Los Angeles.
After their car came to a standstill, Lindsy Doan wanted Kyle to come out the driver's side door, and that's when waters took him away.
"He came toward me, and the currents were so strong that when I tried to hold his hand [with] my hand wrapped around the tree and then the current pulled him away from me," she said.
"Kyle was drifting down the river, and I could see his head bobbing on the top of the river."
More fortunate Californians were able to venture outside Wednesday for the first time in days to survey damage and clear toppled trees.
Impact on drought
The heavy rains may have a silver lining: After years of drought, Anderson, the state climatologist, said Wednesday, the series of atmospheric rivers drenching California had provided "impressive" gains in reservoir storage.
Some of the state's smaller reservoirs were nearing capacity, while the two largest — Lake Oroville and Lake Shasta — had significant rises in water levels, he said. 
"The good news is they're off historic lows," he said. "The challenge is they still have a lot of recovery to make before they get back to normal operating conditions."
Snowpack in the Sierra, which provides just under one-third of the state's water supply, had also had significant gains, Anderson said. By Wednesday, a season's worth of snow had fallen, he said.
A major system is forecast to hit almost all of coastal California, from the Oregon border to Los Angeles, late Friday afternoon or evening. Forecasts show California could get 1 to 2 inches of rain around Los Angeles and 3 to 6 inches across much of the rest of the state, including Santa Cruz County.
"We just don't know where the next debris flow or mudslide is going to happen," the sheriff said. "But we have people in position in different communities to help out. So we're ready. We'll take on whatever comes our way."