WASHINGTON — In his first court appearance since his business partner cut a deal with special counsel Robert Mueller, former Trump campaign chief Paul Manafort pleaded not guilty in federal court on Wednesday to a superseding indictment.
Judge Amy Berman Jackson set a trial date of Sept. 17 and also reprimanded Manafort and his attorney for violating her gag order by issuing a statement last week after former co-defendant Rick Gates pleaded guilty.
Manafort, who returned to the Washington courtroom after being out of town for his father-in-law's funeral, said only two words during the brief arraignment: "Not guilty."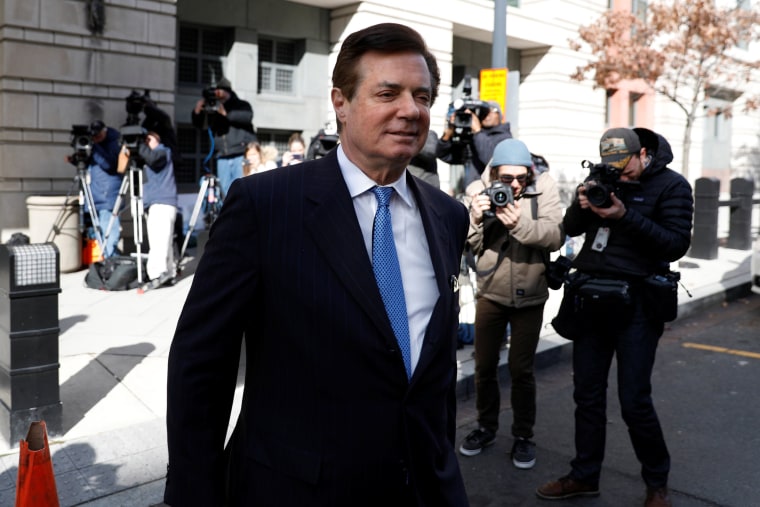 He is due to make a second court appearance Friday in Virginia where he faces a separate indictment.
Manafort and Gates were originally indicted in Washington in October on charges of conspiracy and fraud stemming from their lucrative lobbying work in Ukraine — a case that arose out of Mueller's investigation of Russian interference in the 2016 campaign and possible ties to the Trump campaign.
A second federal indictment charging the pair with new tax and bank fraud charges related to real-estate loans was lodged against them in Virginia last week.
Soon after, prosecutors announced they had struck a cooperation agreement with Gates, who is a former Trump campaign aide. And hours later, Manafort was hit with new charges in Washington — including an accusation that he secretly recruited and funded a group of former European politicians to lobby in the United States on behalf of Ukraine.
Manafort has not addressed those allegations beyond the not guilty plea. But last week he said he has no plans to cut a deal of his own with Mueller.
"I continue to maintain my innocence," Manafort said in the statement that angered the judge.
"I had hoped and expected my business colleague would have had the strength to continue the battle to prove our innocence," he added, referring to Gates. "For reasons yet to surface he chose to do otherwise. This does not alter my commitment to defend myself against the untrue piled up charges contained in the indictments against me."
Manafort's lawyer, Kevin Downing, said he plans to file a motion seeking clarification of the judge's ban on public statements about the case.
Charlie Gile reported from Washington, and Tracy Connor from New York.