Pennsylvania's governor won't appeal Tuesday's decision by a federal judge that struck down the state's ban on same-sex marriage.
After the state attorney general declined last year to defend the ban, Gov. Tom Corbett, R-Pa., hired outside counsel to carry on the fight.
But on Wednesday, his office announced he had decided against an appeal.
"I have thoroughly reviewed Judge Jones' opinion in the Whitewood case. Given the high legal threshold set forth by Judge Jones in this case, the case is extremely unlikely to succeed on appeal," Corbett said in a statement. "Therefore, after review of the opinion and on the advice of my Commonwealth legal team, I have decided not to appeal Judge Jones' decision."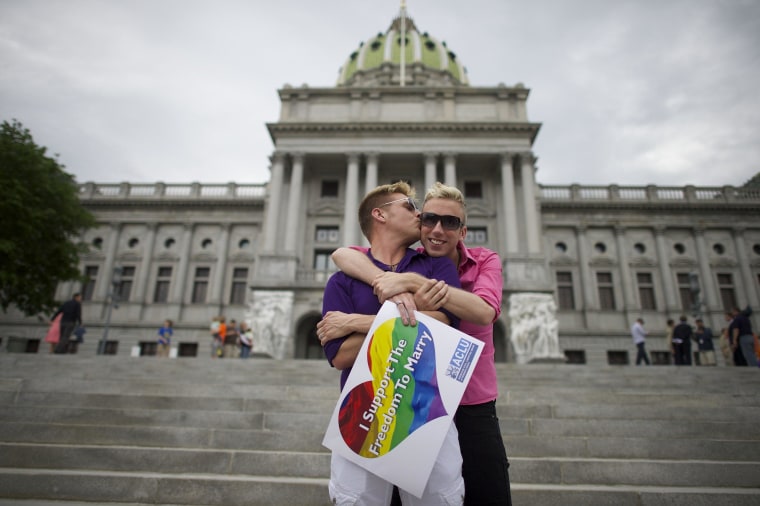 Nineteen states plus Washington, D.C., now allow gay marriage. On Monday, a U.S. district judge in Oregon ruled the ban on same-sex marriage in that state was unconstitutional. Oregon's attorney general, a Democrat, decided not to appeal the ruling.
In states that ban gay marriage, all but two — North Dakota and South Dakota — face challenges. If the bans are overturned, legal experts predict more states may not appeal, as they chose not to do in Oregon and Pennsylvania.
"I think that we're going to see more governors or state attorneys general really think through the question of whether it makes sense to appeal from a ruling against them on the marriage question," said James Esseks, director of the ACLU Lesbian Gay Bisexual Transgender & AIDS Project. "Since public opinion on the issue is changing so much, the politics of whether it makes sense to continue spending millions of dollars in taxpayer money on this issue is changing."
—Elizabeth Chuck
NBC News' Pete Williams contributed to this report.