Six people died after a pedestrian bridge collapsed on vehicles in Florida this week and authorities said they do not expect any more victims to be found beneath the wreckage.
"We believe that we've recovered the final two individuals, final two victims, from underneath the bridge," Miami-Dade Police Director Juan Perez said at a news conference Saturday night. The total number of killed was six, "and I believe that is the final count," he said.
"Although we expected that perhaps we may find more, thankfully, we did not," Perez said.
The 950-ton span near the Florida International University came crashing down on vehicles underneath shortly after 1:30 p.m. Thursday, officials have said.
Five people were recovered from underneath the bridge, and a sixth person died at a hospital, Perez said.
The cause of the bridge collapse is under investigation, including by the National Transportation Safety Board.
Related: 5 victims of Florida bridge collapse identified, including FIU student
The Florida Department of Transportation said Friday night that the lead engineer on the bridge project left a voicemail with the department on Tuesday saying that "some cracking that's been observed on the north end of the span," according to the department. But that message was not heard by a state employee until Friday because that employee was on assignment and out of the office, the department said.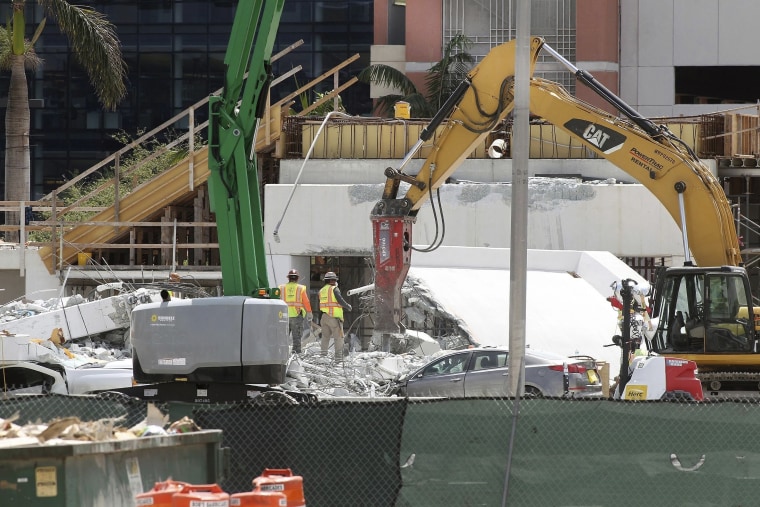 The engineer said in the voicemail that "from a safety perspective we don't see that there's any issue there, so we're not concerned about it from that perspective," according to a transcript released by the department of transportation.
Related: Collapsed Florida walkway was built using new 'accelerated' bridge technology
But FIU said in a statement on Saturday that the design team convened a meeting at 9 a.m. on Thursday to discuss the crack.
"The FIGG engineer of record delivered a technical presentation regarding the crack and concluded that there were no safety concerns and the crack did not compromise the structural integrity of the bridge," the university said, referring to FIGG Bridge Engineers, the company that led the design of the walkway
"This meeting lasted approximately two hours and included FIU and FDOT representatives," the university said.
An NTSB official said Friday evening that "a crack in the bridge does not necessarily mean it's unsafe," he said, though NTSB investigators made it clear that they had not confirmed whether there were cracks.
Sen. Marco Rubio, R-Florida, who has taught at FIU as an adjunct professor, said Saturday night that a thorough investigation was underway to determine what went wrong.
"Let there be no doubt: They will know why this failed," Rubio said of investigators. "And they will make sure that that is out there so it never happens again."