The winner of the $758 million Powerball is a medical center worker and mother of two from Chicopee, Massachusetts.
Mavis L. Wanczyk, 53, won the massive fortune on Wednesday night after the numbers — 6, 7, 16, 23 and 26, with a Powerball of 4 — were drawn at 10:59 p.m.
"I had a pipe dream and my pipe dream has finally come true," Wanczyk said during a press conference on Thursday.
Powerball is played in 44 states, Washington D.C., Puerto Rico and the U.S. Virgin Islands.
Wanczyk's win is the largest on a single ticket in North American history. The odds of picking all six numbers correctly were about one in 292.2 million.
"I work at Mercy Medical Center," Wanczyk said. "... I have called to tell them I will not be coming back."
Wanczyk said she was leaving work with a firefighter, whom she said had been a colleague for many years, on Wednesday night when she discovered she had won the lottery.
"I said, 'Oh, yeah, I know it's never going to be me. It's just a pipe dream I always had,'" she said. Wanczyk said she pulled out her ticket and began to realize her numbers matched the winning pick.
"He goes, 'you just won,'" she said.
Initially, Wanczyk thought her friend was just joking, but when she realized she had landed the windfall prize, she was in shock. Her friend told her to sign the ticket immediately.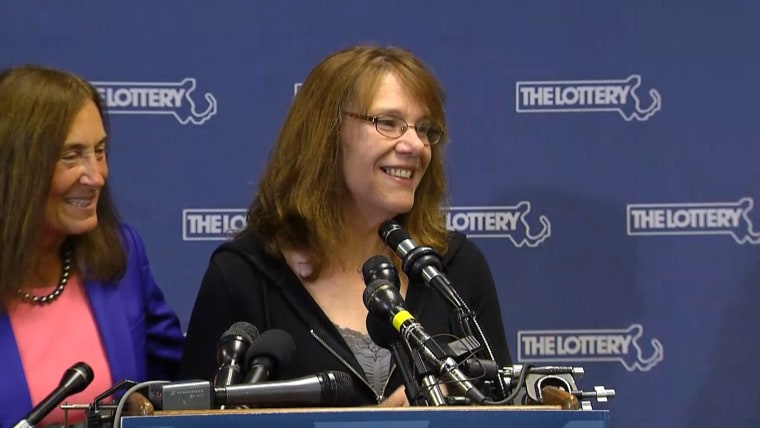 She said the numbers were a combination of birthdays, lucky numbers and random choice.
For now, Wanczyk said, she just wants to sit back and relax since she'll be able to retire. She didn't specify whether she will claim the 30 payments over 29 years, with an increase of 5 percent annually, or if she will claim the cash option, which would now be $480.5 million, before tax.
The single winning ticket was sold at the Pride Station & Store convenience store in Chicopee, the Massachusetts State Lottery announced.
Wanczyk said she stopped by the store on Wednesday for the sole purpose of buying a Powerball ticket.
Related: Powerball Jackpot of $758 Million Goes to Winner in Massachusetts
Pride founder Bob Bolduc told reporters on Thursday that he intended to donate the store's portion of the winnings.
"We're happy for our customer and we're happy for the charities we're going to give our commission to," Bolduc said. "They will all be local because we support all our local charities already. We will just be dividing it up between them."
The state lottery had originally said the winning ticket was sold in Watertown but corrected its announcement a few hours later.
"This was the result of a human error," Michael Sweeney, executive director of the Massachusetts State Lottery Commission, said at a news conference on Thursday. "Our internal systems, and I want to be clear about this, our internal systems always had the correct information."
Almost 10 million more players won prizes totaling more than $135 million, it said, and the New Jersey Lottery said two tickets worth $1 million each were sold.
Wednesday night's jackpot trails only a $1.6 billion prize that was divided among winners in three states in January 2016. The result means the next jackpot resets at "only" $40 million.